New York Knicks: Kristaps Porzingis Taking His Time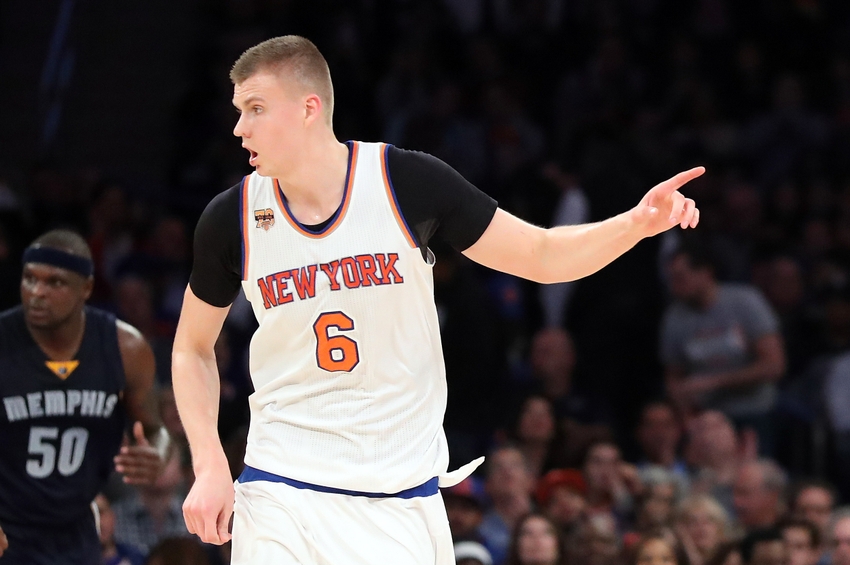 New York Knicks power forward Kristaps Porzingis has established himself as one of the more skilled players at his position. He's now learning to take his time.
---
The New York Knicks have boldly committed to building around a European basketball player. Despite playing in one of the most culturally diverse cities in the world, that's a rather new development for New York's own.
After trading Top 10 pick Danilo Gallinari in his third season in New York, the Knicks are far more committed to helping Kristaps Porzingis develop.
Porzingis started hot in 2015-16 and has since shown an uncanny ability to learn on the fly. Even during the occasional shooting slump, he's learned to value every up and down as a learning experience.
According to Al Iannazzone of Newsday, Porzingis is in the process of learning how to calm himself down during game situations.
"I wasn't as anxious as I was last year," he said. "I knew I had to calm myself down. I was still hyped, I was ready to go.

"At least I knew how to calm myself down. I think last year when I started, the first shot I took was an air ball. You could tell I was too excited. This year, I was excited, but I knew I had to relax a little bit and just let the game come to me. I did and it ended up good."
Porzingis can still do a better job of settling down, but the progress he's made is easy to see.
Phil Jackson explained why, "Such a good shooter [was] missing so many shots," in 2015-16. It wasn't because of a lack of ability, but instead the absence of patience and trust in Porzingis' own abilities.
It simply stands to reason that a 7'3″ player with a release point above his head can afford to take his time when going up for shot attempts.
When on the drive or coming off of the pick and roll, Porzingis still has a tendency to shoot without regaining his balance or proper shooting form. He's shot across his body on a number of occasions early in the 2016-17 season.
It may work, and it's far more forgivable when on the move near the basket, but the goal is to help Porzingis get to a point where he's confident enough to take his time.
Porzingis made 81 3-point field goals on 33.3 percent shooting from beyond the arc during the 2015-16 regular season. He's already made four 3-point field goals on 44.4 percent shooting through two games in 2016-17.
Knicks head coach Jeff Hornacek kept it simple when giving his thoughts on Porzingis:
"He's a great player. He's going to continue to get better."
That's terrifying news for opposing NBA teams and players.
It's a blessing to have Porzingis on the Knicks instead of against them.
This article originally appeared on