New York Knicks: Kristaps Porzingis Ready To Boost 2K Rating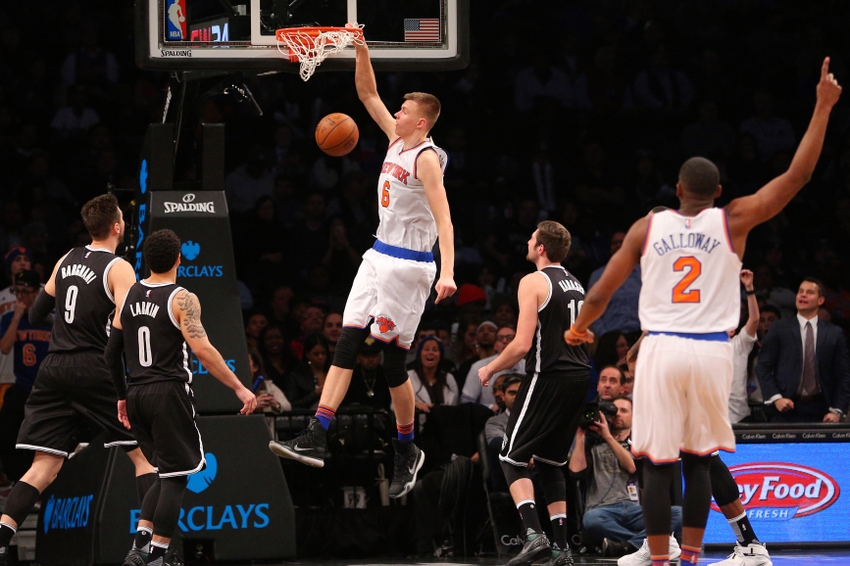 NBA 2K17 gave New York Knicks phenom Kristaps Porzingis a rating of 80. He's ready to boost that rating during the 2016-17 season.
---
Second-year New York Knicks big man Kristaps Porzingis is like a walking cheat code. He's a coordinated and athletic 7'3″ goliath with the physical ability and skill level to play either power forward or center on a full-time basis.
Despite his freakish versatility, the folks over at 2K Sports have given Porzingis a relatively pedestrian rating of 80 in NBA 2K17.
80 is a fair rating for a player who's about to enter his second NBA season. It's the sign that a player has enough talent to be considered star-caliber, but not quite enough of a track record to be a truly established star.
According to Stefan Bondy of The New York Daily News, Porzingis is ready to boost that rating.
Kristaps Porzingis on his 2K rating: "It's in my hands to prove I'm more than an 80."

— Stefan Bondy (@SBondyNYDN) September 17, 2016
NBA 2K17 isn't the real NBA, but it offers a fun barometer for greatness.
Porzingis finished the 2015-16 season with averages of 14.3 points, 7.3 rebounds, 1.3 assists, 1.9 blocks, and 1.1 3-point field goals made per game. He set the league ablaze with his well-rounded skill set and indescribable work ethic.
Between his size, athleticism, and well-rounded abilities, it stands to reason that the only thing standing between Porzingis and superstardom is how hard he's willing to work.
Fortunately, he's proven time and time again that he's willing to work.
Porzingis was the first rookie in NBA history to record at least 1,000 points, 500 rebounds, 100 blocks, and 75 3-point field goals made. The only other players to hit those marks in 2015-16 were Draymond Green and Al Horford.
That alone puts Porzingis in unique territory.
As he gets stronger, Porzingis will be able to do more on both ends of the floor. His statistics may reach unprecedented heights or they may settle into a place of consistency, but that won't define him.
Whether Porzingis produces like Kevin Garnett or Tim Duncan, he can do it all.
His 2K rating will show it at some point in 2016-17.
This article originally appeared on