New York Knicks: Kristaps Porzingis Reacts to NBA 2k17 Rating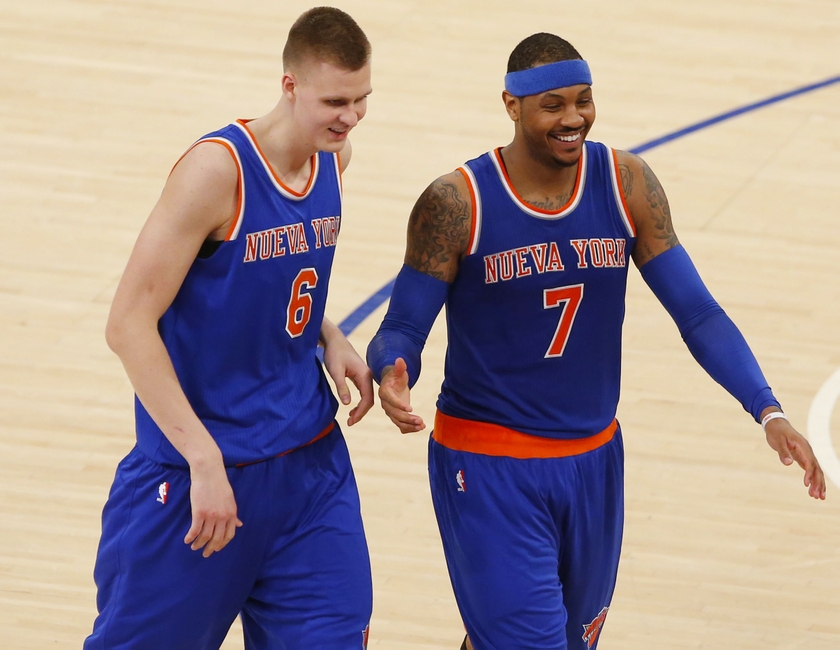 New York Knicks forward Kristaps Porzingis has received an 80 rating in NBA 2k17. What does he think about the rating?
It was an extremely successful rookie season for New York Knicks forward Kristaps Porzingis. People are quick to forget that Porzingis was booed on draft night when the commissioner called his name.
Knicks President Phil Jackson was heavily criticized for his selection of Porzingis, but it turned out to be a great move. Porzingis quickly went on to have a great rookie season for the Knicks. One of the major knocks on Porzingis was that he would be a liability on defense. Throughout the season, Porzingis gave fans highlight blocks to quiet those who said he can't play defense.
One of the most surprising things about Porzingis in his rookie season was his athleticism. In addition to the highlight blocks, Porzingis also had a number of wild put back dunks. Due to the new season starting, the extremely popular NBA 2K17 has their ratings for players, and Porzingis might have been slighted a bit.
The video game gave Porzingis an 80 rating to start the season, which is just one point about rookie Ben Simmons. It is also eight points behind Karl-Anthony Towns, who has an 88 rating. Porzingis didn't seem to upset about the rating, but it might be a slight motivational tool.
"That's OK; it's not in my hands," he said Saturday at a camp for kids he hosted in Westchester, New York to Ian Begley of ESPN.com. "I can affect what I can affect. It's in my hands to prove I'm more than an 80."
When asked about if he plays 2K like many other players, Porzingis sad that he is more of a fan of the soccer game FIFA.
"I'm not the biggest fan of 2K myself. I'm more of a FIFA guy," he said to Begley.
NBA 2k17 will be available in stores on September 20th, as Knicks fans can get an early start to see how the team looks.
More from Empire Writes Back
This article originally appeared on