New York Knicks: Kristaps Porzingis Idolizes Kobe Bryant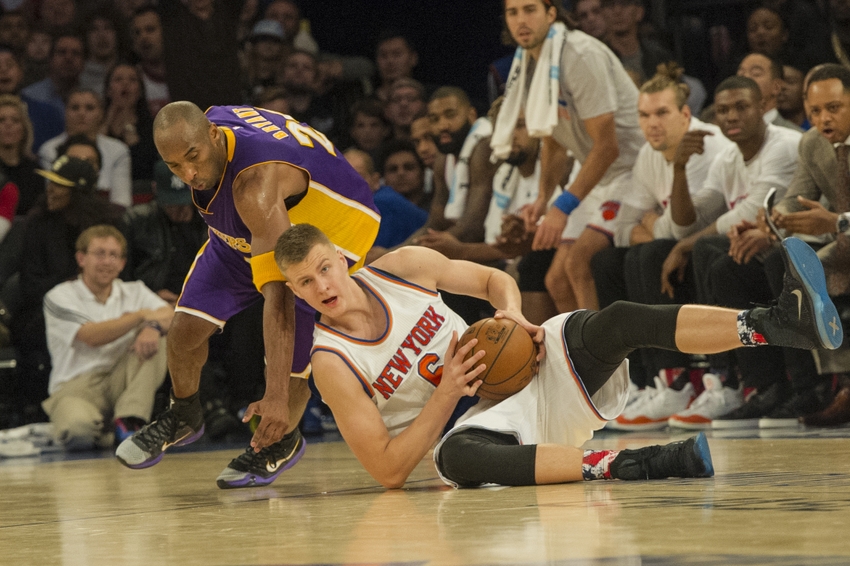 New York Knicks phenom Kristaps Porzingis penned an article on The Player's Tribune. In it, he revealed who his NBA idol is: Kobe Bryant.
---
When team president Phil Jackson selected Kristaps Porzingis at No. 4 overall in the 2015 NBA Draft, few supported the move. Revisionist historians will attempt to rewrite this story, but media members bashed Jackson for choosing Porzingis over Justise Winslow and Emmanuel Mudiay.
Porzingis has since silenced his critics by producing at a historic rate and flashing legitimate superstar potential.
Porzingis' upside has been compared to the usual suspects. As a tall and white European big man with range and polished fundamentals, he's inevitably been linked to the likes of Dirk Nowitzki and Pau Gasol.
In a post to The Player's Tribune, however, Porzingis revealed that his idol isn't Nowitzki, Gasol, or any of the other stereotypical choices.
It's Kobe Bryant.
We were playing the Lakers in the second half of the season. Kobe came up to me after the game, and he said, "You have a bright future ahead of you."

That blew my mind. Kobe's my idol. It was an honor!"
That's a revealing truth.
Bryant played for Jackson from 1999 to 2004 and 2005 to 2011. During that glorious stretch, The Black Mamba won five NBA championships, two Finals MVP awards, the 2008 NBA MVP award, and two scoring titles.
In the process, Bryant became a global superstar and the face of a generation.
Porzingis finished the 2015-16 season with averages of 14.3 points, 7.3 rebounds, and 1.9 blocks per game. All three of those numbers are the highest by a New York Knicks rookie since Patrick Ewing in 2015-16.
He also became the first and only rookie in NBA history to record at least 1,000 points, 500 rebounds, 100 blocks, and 75 3-point field goals made.
Porzingis is a 7'3″ power forward, which makes the comparison to Bryant, a 6'6″ shooting guard, loose. There are similarities worth exploring, however, including the potential for two-way dominance and the Jackson factor.
The question is: can Porzingis do for the Knicks what Bryant did for the Lakers?
43 years removed from New York's last championship, the city is certainly hoping so.
This article originally appeared on