New York Knicks: Kristaps Porzingis Dreaming Of First Game-Winner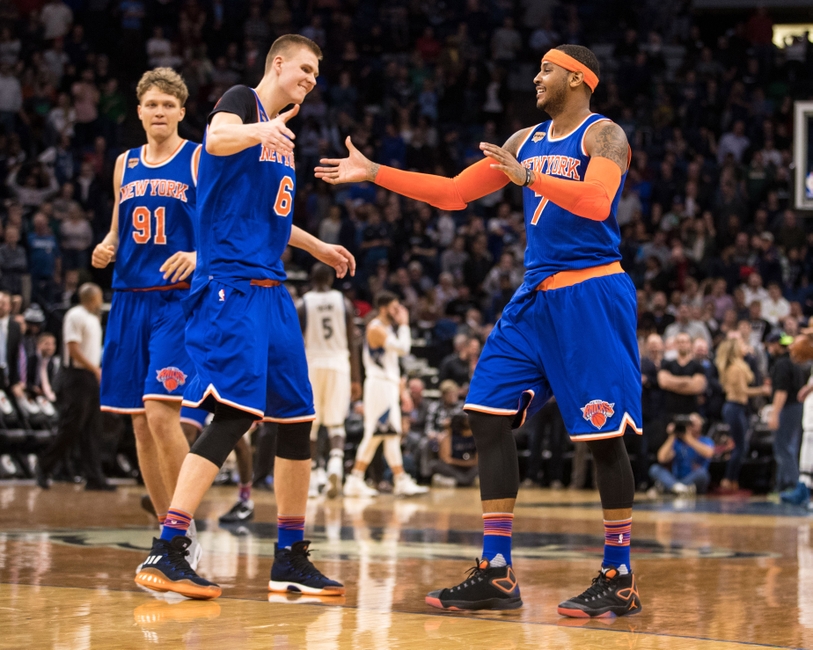 New York Knicks phenom Kristaps Porzingis still dreams of hitting his first game-winner. Carmelo Anthony's shot brought those feelings back.
---
Since being booed on draft night, Kristaps Porzingis has done virtually everything imaginable to eradicate his critics. He had an all-time rookie season, galvanized the fans at Madison Square Garden, and now has the Knicks off to a 9-9 start to the 2016-17 NBA regular season.
Though there are grander tasks on his agenda, Porzingis has a personal goal that he hopes to achieve in the near future: making a game-winner.
Carmelo Anthony has made two game-winners over the course of the Knicks' past four games. That's inevitably sparked the desire within Porzingis for a game-winning shot of his own.
According to Marc Berman of The New York Post, Porzingis is still dreaming of the moment in which the ball finds his hands during a clutch situation.
"Of course, it's always been a dream of mine in an NBA game,'' Porzingis said. "I still haven't done it. I was real close in the Charlotte game last season. We always try to look for the best option late in games. Derrick [Rose] has high percentage of late-game shots. He makes a lot of them. Carmelo is obviously clutch. My time will come. That's something I want to do as soon as possible.''
Porzingis has already shown a fearlessness in the clutch that few players possess.
Porzingis made what appeared to be a game-winning 3-point shot off of an inbound pass against the Charlotte Hornets in 2015-16. The shot was waved off, however, as Porzingis got it up a mere split second too late.
For those looking to relive that painful and heart-pounding game:
Roughly one year later, Anthony hit a game-winner that counted against the Hornets.
Despite the absence of a game-winner on his resume, Porzingis has been incredibly clutch in 2016-17.
During the previously alluded to 2016-17 win over Charlotte, Porzingis' late-game heroics were crucial to the victory. He hit a pair of clutch 3-point field goals late in regulation and sank another during the overtime period.
Between that and his waved-off shot in 2016-17, it appears to be only a matter of time before Porzingis adds a game-winner to his highlight reel.
With or without a game-winner, Phil Jackson ignoring public opinion and drafting Porzingis is one of the best things that's ever happened to Knicks basketball.
This article originally appeared on