New York Knicks: Kristaps Porzingis Doesn't Care Whose Team It Is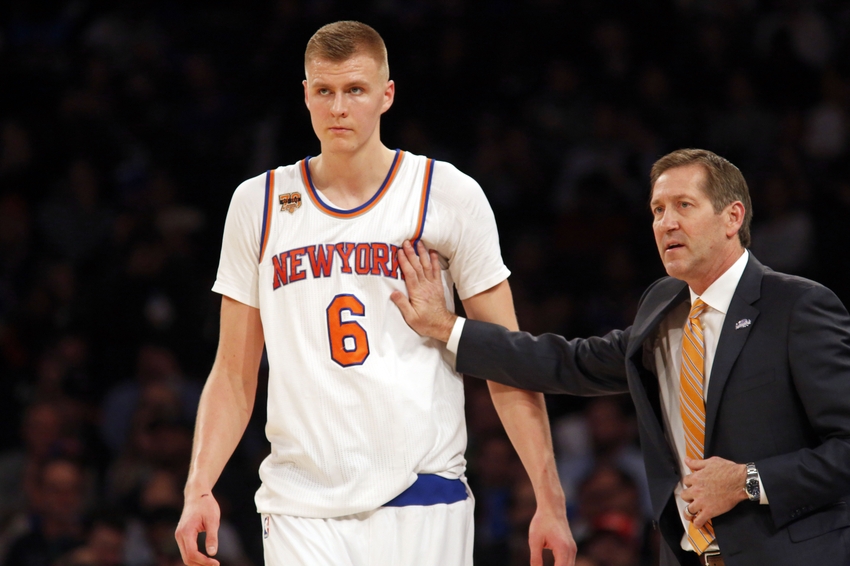 New York Knicks phenom Kristaps Porzingis isn't concerning himself with the questions about whether it's his or Carmelo Anthony's team.
---
The most tired and unnecessary conversation in the NBA is the question of, "Whose team is it?" That question must be answered to some extent, but generally speaking, teams that play selflessly fare better than those who worry about egos.
In the curious case of the New York Knicks, a debate is currently raging pertaining to whose team it is: nine-time All-Star Carmelo Anthony or 21-year-old phenom Kristaps Porzingis?
Both players merit consideration, but interesting points have been raised in recent days. Some have supported the notion that one player needs to claim the team, while others have dismissed the need for that to transpire.
According to Ian Begley of ESPN New York, Porzingis agrees with the belief that, as long as the Knicks are winning, no debate is necessary.
"That's not something I'm worried about. I read social media and twitter and all that. But a lot of that is just in and out (of my mind) and I don't really pay attention to it. It doesn't really matter. All that really matters is winning games. And as long as we're winning, it's not going to be a debate about whose team is it or whatever. So that's the main focus."
When the team wins, everyone wins.
During a recent broadcast on MSG, Mike Breen asked Walt Frazier if the Knicks were someone's team when he and Willis Reed led them to the only two NBA championships in franchise history. Frazier's comments were as telling as possible.
The conversation went as follows:
Mike Breen: "When you played, there was no discussion about whose team it was."

Walt Frazier: "Right. Just got out there and do your job. When the team wins, everybody wins."
Perhaps that's what the masses should be encouraging instead of asking whose team the Knicks are.
The Knicks admittedly have an important question to answer: who's getting the ball down the stretch? Thus far, the answer has been Anthony, whether he's having a good game or going 4-of-19, as he did against the Oklahoma City Thunder on Monday.
Head coach Jeff Hornacek has acknowledged that the Knicks haven't done a good enough job of getting Porzingis the ball, but that's a fixable mistake this early in the season.
Shortly thereafter, Porzingis hit three clutch 3-point field goals in the fourth and overtime of a 113-111 victory over the Charlotte Hornets.
So long as the Knicks play as a team, ego stroking shouldn't be a factor.
This article originally appeared on