New York Knicks: Kristaps Porzingis Already Admires Joakim Noah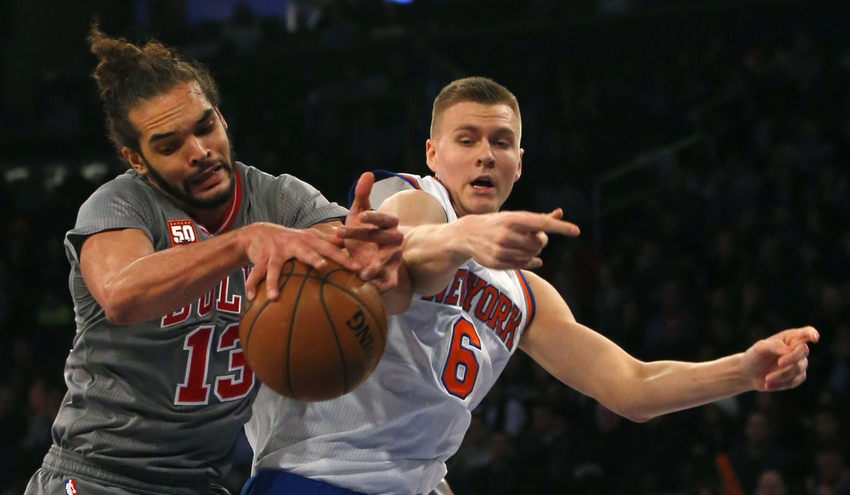 Joakim Noah was one of the big offseason acquisitions made by the New York Knicks, and he is already having an impact on the team.
It has been a difficult past few seasons for New York Knicks center Joakim Noah. Like his teammate Derrick Rose, injuries have been an issue and is a reason why he is no longer with the Chicago Bulls.
While playing with the Bulls, Noah has earned himself the reputation of being a very passionate and intense player. Knicks forward Kristaps Porzingis has already begun to admire these qualities in his new teammate.
"The first conversation we had, I was in the training room. He came in with his shirt off, and I was like, 'Oh man, you've been working out.'… And we kept on talking, and he just got so intense, like he really feels it. He was like, 'Yeah, man, this is a big opportunity; we've got to give it our all.'"
Porzingis is thrilled to have Noah on the team, as he has already impressed the second-year forward. Having a veteran like Noah around a young Porzingis can be a great thing for the Knicks. Noah is an extremely hard-worker, and that can rub off on his teammates.
"That's the type of guy that we want on our team," Porzingis said of Noah to Ian Begley of ESPN.com. "He brings that good energy. He brings that spirit, you know? So from the first opportunity that we got to talk, I fell in love with [his intensity]."
Adding Noah to the team and the locker room will be beneficial for the Knicks if he stays healthy. His pit bull style of play on the court will be loved quickly by Knicks fans. Furthermore, it will be interesting to see how Noah and Porzingis work together on the court, as it appears their relationship is off to a great start.
More from Empire Writes Back
This article originally appeared on