New York Knicks: Keeping A Third Point Guard On The Roster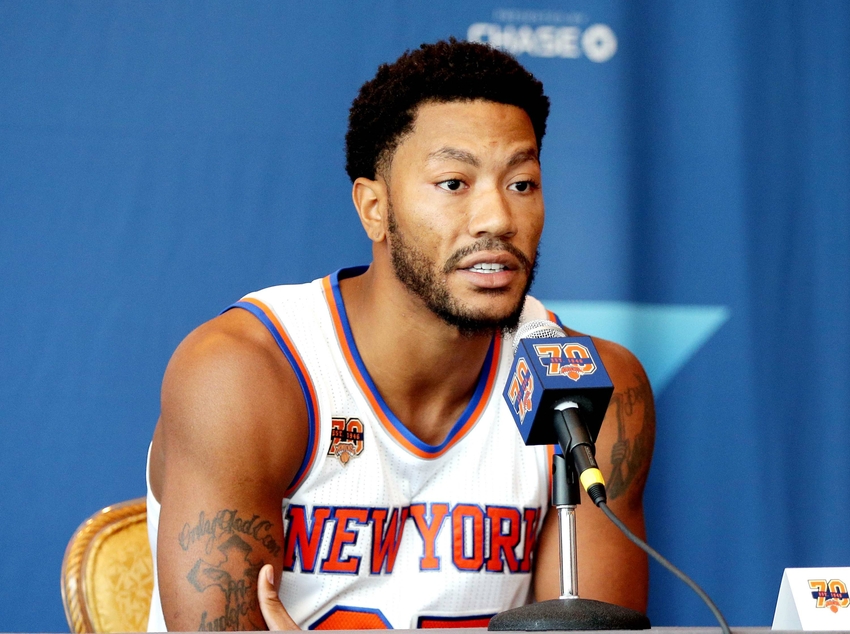 With Derrick Rose's pending case Brandon Jennings returning from injury and history, the New York Knicks should consider keeping a third point guard.
The 2016 offseason for the New York Knicks was designed around improving the point guard position.
The trio of Jose Calderon, Langston Galloway, and rookie Jerian Grant combined to form one of the weakest position groups in the league. They had some positives, but it wasn't enough as the Knicks missed the playoffs for the third straight season. President of Basketball Operations Phil Jackson went out with a desire to improve the roster, looking to the point guard position to upgrade.
It started with the Derrick Rose trade, moving three players to acquire the former MVP. On a one-year deal, it was a chance to buy low on Rose's talent, while offering a potential upgrade at the position. After letting Galloway go to New Orleans, the Knicks signed Brandon Jennings on a one-year deal worth $5 million.
And yet, the Knicks might need another point guard on the roster.
That's not to diminish either of Rose or Jennings, but neither has been the perfect modicum of health over the last two years. Rose has struggled to record 70 games played since his 2010-11 MVP season. In that time, he's battled numerous injuries, highlighted by his ACL tear in the '11 playoffs. Since missing the entire season, Rose has played 127 games in the last three years. It's not unfair to count him to miss a handful of games this season.
As for Jennings, his injuries came while he was playing at his best. In the midst of his best stretch of basketball with the Pistons, Jennings tore his Achilles, ending his season after 41 games. He returned last season and played 48 games with Orlando and Detroit. In those 48 games, Jennings shot just 36 percent from the floor and 57 percent at the rim, suggesting that he may not be all the way back from that injury.
And Rose's rape trail – I'll refrain from saying anything about the case, outside of saying this isn't a good look for Rose – also factors into this. At this stage, the Knicks would be wise in keeping a third point guard around. Based on this tweet from Marc Berman, it seems like the Knicks have a plan.
If Jennings starts, Hornacek indicated Sasha Vujacic likely will be backup PG. Said Chasson Randle and even Ron Baker are PG options.

— Marc Berman (@NYPost_Berman) October 7, 2016
This isn't a sound strategy. For most of his career, Vujacic has played more off the ball. Per Basketball-Reference, Vujacic hasn't played the point guard position since the 2005-06 season, where he played registered 71 percent of his minutes as the lead guard. With two guards who could very well miss some time this season, Vujacic doesn't make sense to me. Not to mention, don't you want another talented young player?
Much like the Knicks mining and finding Langston Galloway two seasons ago, the Knicks would be much better off looking for one of Chasson Randle or Ron Baker to fill that role. Both are younger options, meaning the Knicks could get someone with a bit more upside than the 31-year-old Vujacic.
Randle has point guard size but was more of an off-ball threat at Stanford. He never averaged more than four assists per game in college and registered a season with over 100 assists just once. I wouldn't mind him more if he went the Galloway route, i.e., sending him down to Westchester and allowing him to develop as more of a playmaker and creator for others. Though, Carmelo Anthony already bestowed his blessing upon him.
Consider me more in the Ron Baker camp. Similar to Randle, Baker did most of his work off the ball. However, due to his slightly undersized frame, Baker is projected to play some combo guard – point guard and shooting guard – at the next level. I'm a bit higher on Baker because he has better defensive tools and if he can't exactly fill the role of creator, you can stagger some of his minutes with Carmelo, who can initiate the offense.
And while Melo does that, Baker can assume a role similar, though not as good, as George Hill. Someone who can defend, operate the offense in spurts and knock down threes.
Entering the final stages of preseason are near, the Knicks will be shuffling some players around and making some tough decision on some final roster spots. Even though Brandon Jennings has played well in the preseason, the Knicks should still keep one of Baker or Randle as opposed to keeping Sasha or Lou Amundson. Based on the history of Rose and Jennings, they just might need one.
This article originally appeared on