New York Knicks: Karl-Anthony Towns Praises Carmelo Anthony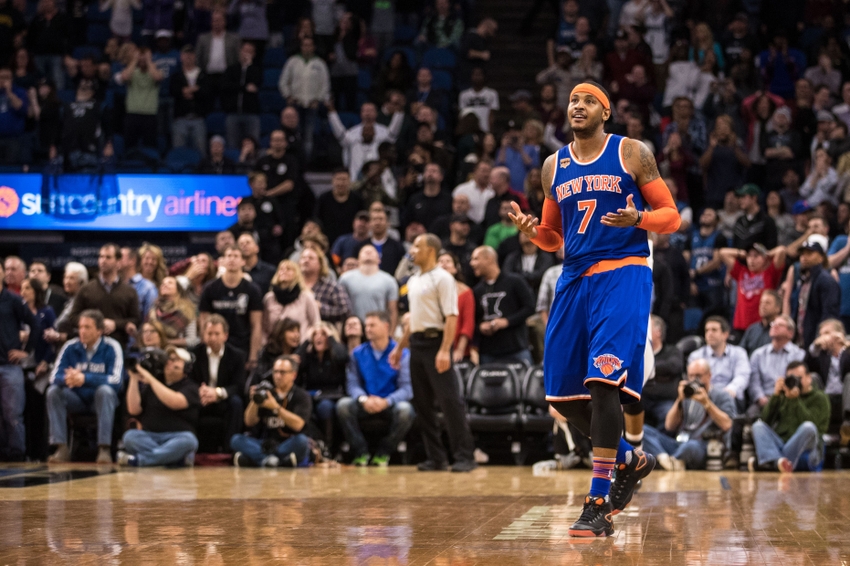 Minnesota Timberwolves big man Karl-Anthony Towns had high praise for the man who beat him at the buzzer: New York Knicks star Carmelo Anthony.
---
Carmelo Anthony is one of the most popular players in the NBA. The New York Knicks star has been one of the most prominent names in basketball since he led the Syracuse Orange to the program's first and only national championship in 2003.
On Wednesday, November 30, Minnesota Timberwolves rising star Karl-Anthony Towns received a first-hand look at what it is that makes Anthony so special.
Over the course of the game against Minnesota, Anthony looked like nothing special. He finished the game with shooting marks of 5-of-16 from the field and 1-of-6 from beyond the arc.
When the game was on the line, however, it was Anthony who stepped up with the biggest shot of the game.
According to Marc Berman of The New York Post, Towns praised Anthony's clutch performance as evidence that he's one of the greatest pure scorers in NBA history.
"That's why he's one of the NBA's best-ever pure scorers,'' Towns said. "He proved it in the last second. Even when he was struggling all game, he found a way to make the shot.''
That's high praise from a young man who just scored 47 points against Anthony and the Knicks.
Per NBA.com, Anthony received the second-most votes when the 2016-17 class of NBA rookies were asked who their favorite player is. Towns is in his second season, but his praise, as well as that survey, is evidence of how respected Anthony is amongst the younger generation.
The numbers certainly corroborate the support.
Anthony is currently No. 29 all-time with 22,897 points scored during his illustrious NBA career. He's less than 900 points away from making the leap from No. 29 to No. 25, which would entail passing Elgin Baylor, Adrian Dantley, Robert Parish, and Charles Barkley.
The fact that Anthony can even be mentioned in the same breath as those four players is a testament to his extraordinary scoring proficiency.
Through thick and thin, Knicks fans know one thing to be true: when it comes to scoring, there aren't many better than 'Melo.
This article originally appeared on