New York Knicks: Joakim Noah Is Back And Ready To Make His Mark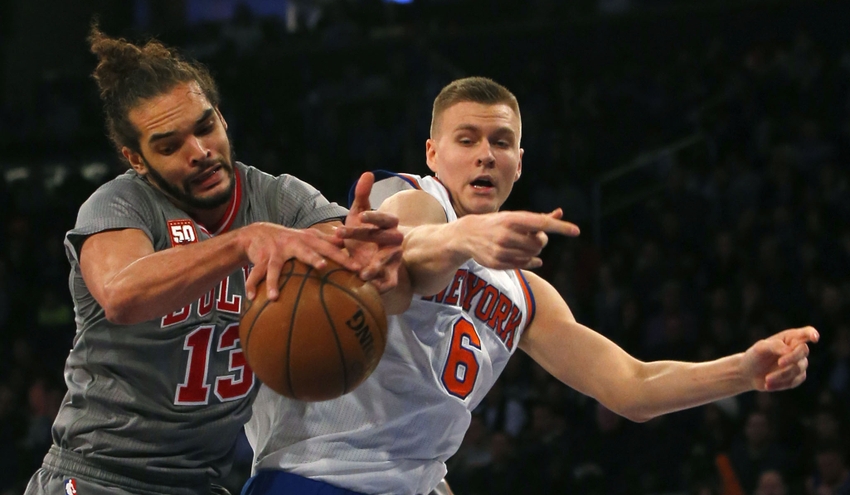 Starting center Joakim Noah is back and ready to make an impact for the New York Knicks. Head coach Jeff Hornacek and franchise player Carmelo Anthony already see it.
---
When the New York Knicks signed center Joakim Noah, a feeling of optimism rushed throughout the five boroughs. Not everyone loved the contract structure, but the general feeling was that Phil Jackson brought in the right player to change the culture.
After missing the first three preseason games with a hamstring injury, Noah is back and ready to make his mark.
According to Marc Berman of The New York Post, Noah guaranteed that he'll make his preseason debut on Saturday, October 15 against the Boston Celtics. That's wonderful news for a Knicks team made of up of predominantly new players.
Per Berman, head coach Jeff Hornacek acknowledged that the Knicks are a different team when Noah is playing.
"He makes a difference,'' coach Jeff Hornacek said. "Communication is a lot better with the guys. Some of the guys feel when he's out there, they can do different things. They're a little more aggressive defensively. He brings the energy. He talks, calling out for coverage. That's infectious."
Based on his track record, it's hard to argue.
Noah was the heart and soul of the Chicago Bulls from 2007-08 through 2015-16. He played in 60 postseason games, including the 2010-11 run to the Eastern Conference Finals.
It was the Bulls' first Eastern Conference Finals appearance since Michael Jordan's last year in Chicago: 1997-98.
Individually, Noah won the Defensive Player of the Year award and made the All-NBA First Team in 2013-14. He's also a two-time All-Star and a three-time All-Defensive Team honoree.
To further establish his winning mentality, Noah led the Florida Gators to the first two NCAA Championships in program history: 2005-06 and 2006-07.
Having ended droughts in Florida and Chicago, one can only hope that Noah can do something similar in New York.
What's separated Noah from the pack is how hard he works on both ends of the floor. He takes no plays off, isn't afraid to put his body on the line, and is the very definition of a vocal leader.
Franchise player Carmelo Anthony made note of the latter.
"He's like a caged animal out there,'' Carmelo Anthony said. "Loud. It's a different game out there with him. His energy and excitement being back on the court lifted everyone up. That's what he does. That's his game and aura.''
Noah holds everyone accountable.
The Knicks' defense was atrocious in the preseason opener, but has since settled down. New York is trying harder on defense, which is an encouraging first step, but it still needs a player to emerge as the leader on that end of the floor.
Noah is the perfect candidate to do so.
Welcome to the preseason, Joakim Noah. The New York Knicks have missed you.
This article originally appeared on