New York Knicks: Joakim Noah Calls DeMarcus Cousins Emotional Roller Coaster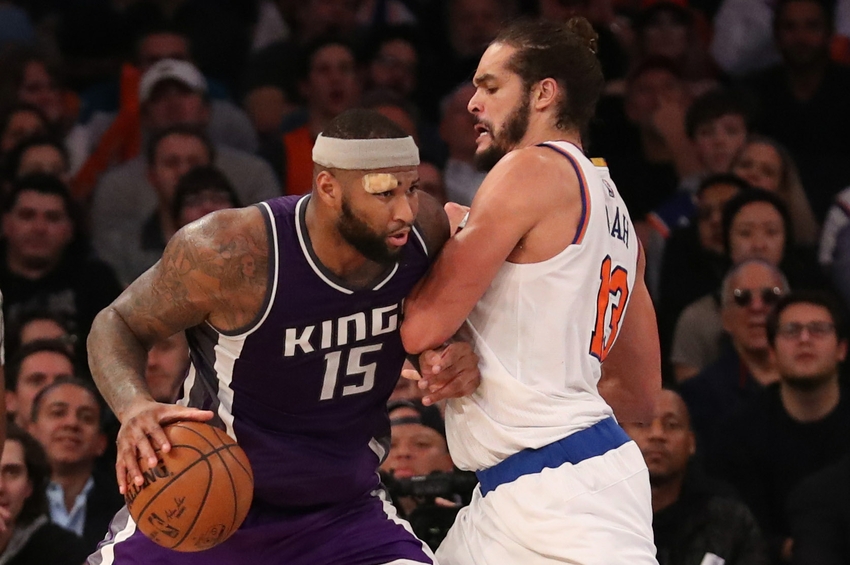 Joakim Noah and DeMarcus Cousins were issued technical fouls during Sunday's game. The New York Knicks center pulled no punches when describing the encounter.
---
There is no question that DeMarcus Cousins is a talented player. He averaged at least 20.0 points and 11.0 rebounds per game in each of the previous three seasons. Along with that, Cousins made the All-Star team and the All-NBA Second Team in 2015 and 2016.
The one thing that's been an issue with the Kings' center is his inability to control his emotions. There have been many instances where Cousins lets his emotions get the best of him and it has affected the team.
With a little over eight minutes left in the fourth quarter, the Kings were attempting a comeback. Sacramento was down by three and had the opportunity to tie the score. Just as Cousins attempted to get to the rim with a crossover, Joakim Noah shoved him and was issued a foul.
After that, that's where the 6'11" center shoved Noah twice and then swatted the referee's arm away.
On the play, both Noah and Cousins were issued technical fouls. The technical foul that was issued to Cousins was his seventh of the season, which is the most in the Association. If he's given nine more technicals, he'll be suspended for one game without pay
Last season, the former No. 5 overall pick was suspended in March due to technical fouls.
After the game, Noah praised Cousins' toughness, but stated that's is an "emotional roller-coaster." (h/t Ian Begley of ESPN)
"Boogie's tough. No question. He acts like he's your friend one minute, then one minute he gets a tech. He's an emotional roller-coaster."
Noah said that with a smile and a laugh, but he's not necessarily wrong.
While the New York Knicks walked away with the victory, DeMarcus Cousins finished with 36 points, 12 rebounds, and shot 4-of-10 from beyond the arc.
This article originally appeared on