New York Knicks: Jeff Hornacek Outlines Joakim Noah's Offensive Role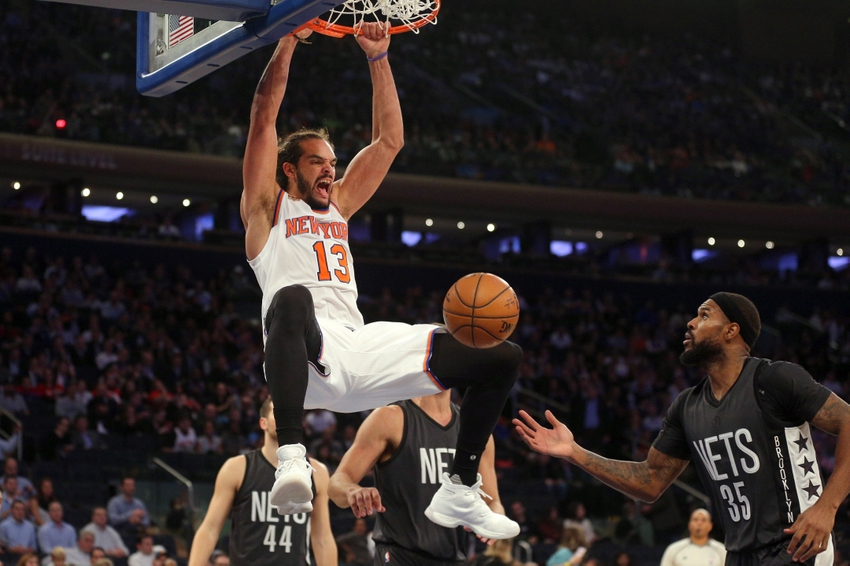 Following the New York Knicks' 93-77 victory over the Dallas Mavericks, some questioned Joakim Noah's place offensively. Jeff Hornacek addressed the topic.
---
The New York Knicks utilized an unorthodox lineup during the second half of the 93-77 victory over the Dallas Mavericks. Joakim Noah was replaced in the starting lineup by Justin Holiday, which resulted in improved offensive execution.
Following the Knicks' small-ball victory, many have questioned how Noah fits into the immediate future of the organization.
Noah played just 16 minutes during the clash with Dallas, while Holiday played 25 and Willy Hernangomez was active for 13. It's also worth noting that New York won handily and turned to the bench for garbage-time minutes during the fourth quarter.
Per Marc Berman of The New York Post, Hornacek responded to the commotion by outlining what he expects of Noah on the offensive end of the floor.
"We don't mind him taking the little mid-range shot, keeping teams honest if they're going to stay back,'' Hornacek said. "We want him to continue rolling to the basket, get low in the dunk area if guys penetrate and a big helps, he gets the dump and can just dunk it. If he stays outside, that's what another team wants. We want for him to be more aggressive when he does get the ball around the basket."
In other words: Noah isn't an obsolete non-factor on offense.
The notion that the Knicks are a better team without Noah is easy to poke holes in. The win over the Dallas Mavericks may have been impressive, but Rick Carlisle's crew was without starting power forward Dirk Nowitzki.
Furthermore, the Knicks are averaging a team-best 113.2 points per 100 possessions with Noah on the floor
The Knicks are averaging just 91.6 points per 100 possessions without Noah on the floor.
Noah currently leads the Knicks in rebounds, offensive rebounds, and steals per game. He's also dishing out 3.7 assists per game, including the 4.3 he's averaged during New York's four wins.
Perhaps most significantly, New York has a net rating of +2.4 with Noah on the court—the best of any Knicks player who has played at least 100 minutes this season.
By comparison, the Knicks have a net rating of -12.9 with Noah on the bench—a difference of 10.5 points per 100 possessions.
This article originally appeared on