New York Knicks: It's Time To Hand Kristaps Porzingis The Reins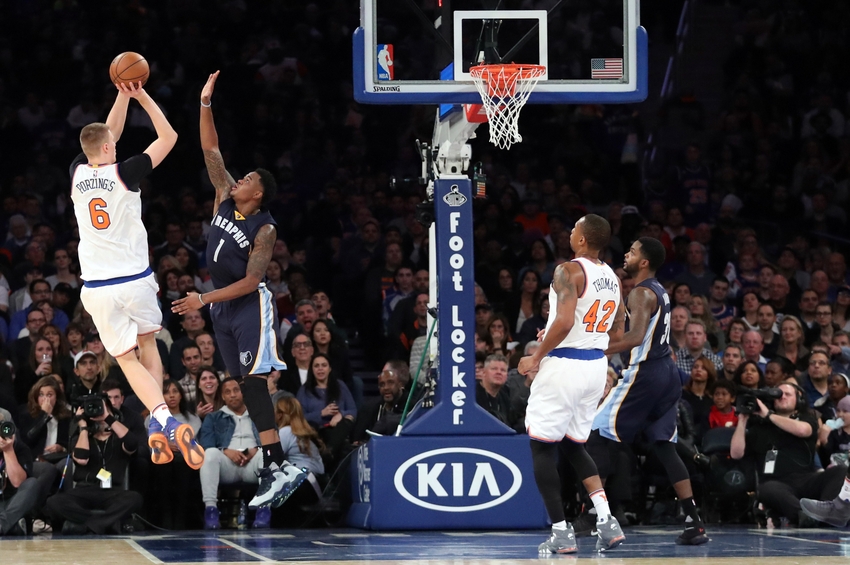 The New York Knicks are hovering around .500 and are right in the thick of the Eastern Conference playoff race after nearly a quarter of a season. Nevertheless they find themselves on the brink of a decision which could alter the course of this season, and the years to come
The New York Knicks are within three games of the East's top-seeded Cleveland Cavaliers, albeit through only 20 games. They are 9-3 at MSG and a majority of their losses have simply come against teams which are better than they are.
Going into this season, realistically, they were not title contenders; although, they are fighting to improve upon last year's disappointing 32-50 record.
Their offseason acquisitions of Derrick Rose and Brandon Jennings have provided the team with a revitalized athletic scoring point and someone to run the show off the pine. The team has played fairly well, but the development of their promising young power forward might force Coach Jeff Hornacek's hand.
More from Sir Charles In Charge
Kristaps Porzingis, now in his second NBA season, is already one of the more intriguing and entertaining players in the league. That being said, his development as a player has only just begun.
As Carmelo Anthony, who is now 32 years of age, begins to feel the breath of Father Time on his neck one has to wonder: When will the New York Knicks become Porzingis' team?
The best way to answer that question is to start from the beginning.
Most people know Kristaps Porzingis' story by now: He was an unknown commodity from Latvia, he was booed, a small child wept, and Phil Jackson – the Knicks general manager – was publicly mocked yet again.
What most didn't expect was for him to be, as Kevin Durant called him, a "unicorn."
Porzingis, the 7-foot-3 power forward/center hybrid, burst onto the scene early last season with a series of putback dunks and ferocious blocks. This marked the beginning of a season which ended with him finishing second in the Rookie of the Year voting and averaging 14.3 points, 7.3 boards and 1.9 blocks per game.
Fast forward to the present and not even a quarter of the way through his sophomore season, Porzingis has shown that he wants no part of the traditional sophomore slump. Through 20 games, the man dubbed by some to be the "Porzingod" has increased his field goal percentage from 42% to 48% and his 3-point percentage from 33% to 40%, while also averaging nearly four more shots and two more three-point attempts per game.
Melo's stats have not regressed noticeably and he is still one of the NBA's best isolation scorers, but his track record as an alpha dog speaks for itself. He has not been a poor leader, nor has he ever been a member of a "super-team" which supremely underachieved.
While he was able to team up with Amar'e Stoudemire, Stoudemire was often injured throughout his time in New York and the duo was never able to bring a championship to the city that never sleeps.
The fact that "whose team" the Knickerbockers are is a question we must ponder has more to do with the surprising success of Porzingis than Anthony. The lanky Latvian is unlike much we have seen before on the NBA level. He can dominate smaller defenders in the post, he is too quick for defenders who approach his towering 7-foot-3 height, and is an improving spot-up shooter.
It is hard to even quantify what the ceiling of his potential truly is because Porzingis is an enigma. Although, all signs appear to be pointing to him becoming an NBA superstar. It's easier to quantify the potential benefits and drawbacks of making him the focal point of the New York Knicks right now.
The New York Knicks with Carmelo Anthony at the helm are a playoff team, which might sneak into the second round before making their likely exit. How about with the "Porzingod" at the helm?
Well, in all honesty, they'll likely perform about the same either way. The main benefit of emphasizing Porzingis now rather than later would be that it would give him experience, at the NBA level, as the "man."
Now, as the number one option, Porzingis arguably stands to benefit Carmelo Anthony more than KP himself. Anthony has battled numerous minor, and a few more major, injuries since he came to New York. Taking a back seat to Porzingis would allow him to handle the ball less, which the presence of Derrick Rose has already allowed him to begin to do, and he would also be able to catch and shoot as Porzingis draws in the attention of the defense.
There might very well be growing pains if the reins are handed over to Porzingis this season, but it's better to get them out-of-the-way now rather than to wait for Melo to retire before exercising those demons. Therefore when Carmelo Anthony does inevitably call it a career, Porzingis will be primed and ready to put on a show.
As the "unicorn" develops and grows as a player, it becomes more and more clear that the Knicks will be his team before likely Phil Jackson even expected. The man whose potential has no ceiling should get the chance to be the New York Knicks number one option sooner rather than later. How will it end? No one knows, but we should enjoy the show because it has definitely only just begun.
This article originally appeared on