New York Knicks: It's Not Too Early to Talk About All-Star Porzingis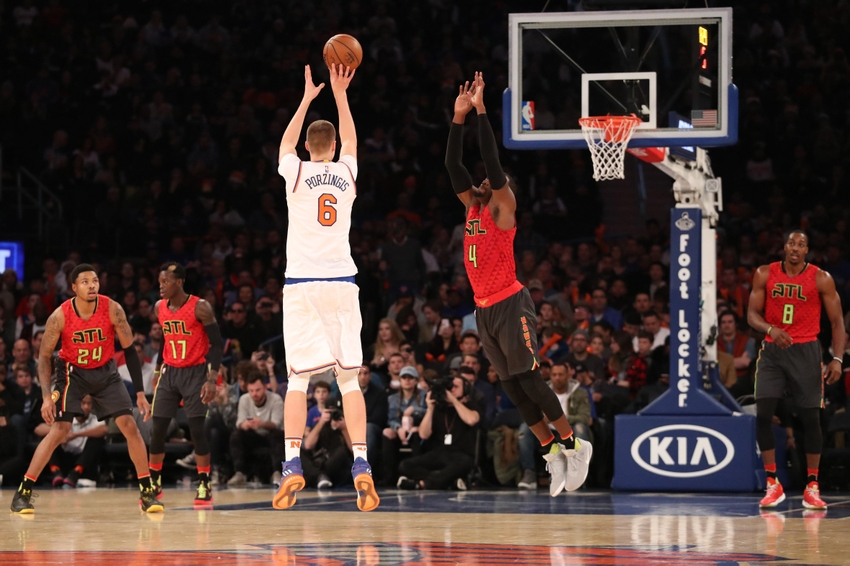 It may only be November, but it's not too early to talk about the possibility of New York Knicks power forward Kristaps Porzingis making the All-Star Game.
---
One year ago, Kristaps Porzingis was a 20-year-old rookie from Latvia full of unknown and question marks. The New York Knicks had selected Porzingis fourth overall in the 2015 NBA Draft after the 7'3 big man impressed in Spain from 2011 to 2015.
The pick was met with a backlash, as a lot of Knicks fans, including Stephen A. Smith, wanted to see the team take a more known prospect such as Justice Winslow or "Stanley Robbins out of Arizona."
Fans had reason to be concerned. The team had lost out in the lottery to take the college superstars in D'Angelo Russell, Karl-Anthony Towns, and Jahlil Okafor.
Porzingis was just some lanky kid that no American fan had ever seen play.
Porzingis exceeded expectations his rookie season, as he made a major impact.  He averaged 14.3 points per game, 7.3 rebounds, and almost two blocks. He showed it all; a deadly perimeter jumper, some nice post moves, and great rim protection. Besides that, Porzingis showed his personality is made to play in New York.
Today, he's a budding star and one of the top performing power forwards in the league.
Porzingis is currently averaging 20.2 points, 7.2 rebounds, and 1.1 blocks per game. He's shooting considerably better from deep and has shown the ability to create his own shots. As of now, Porzingis has the third-highest Player Efficiency Rating of any power forward in the NBA, trailing only Anthony Davis and Blake Griffin.
Jeff Hornaceck and the Knicks have figured out who Porzingis is as a player, and have used him in every way.
While it's only November and a lot could happen, Porzingis is well on his way to being an All-Star at just 21 years old. Think about that last season as a rookie; Porzingis finished sixth in frontcourt Eastern Conference All-Star voting with 473, 579 votes.
That number put him above guys like Kevin Love, Hassan Whiteside, and Paul Milsap.
The international factor and playing in New York makes Porzingis a real threat to get in via fan voting. LeBron James is a shoo-in for the frontcourt, but after that, who else is?
Paul George, Andre Drummond, Dwight Howard, and Hassan Whiteside should all receive plenty of votes, but are any as popular as The Unicorn? What about his teammate, Carmelo Anthony? Could he really beat him out in the fan vote?
It's a possibility, believe or not, and if it happened, it would definitely make major headlines.
Porzingis is only going to get better as the season goes along. The Knicks have been playing better as of late—3-1 in their last four games—and are realizing Kristaps Porzingis needs to be a focal point of the offense.
If healthy, Porzingis should have the numbers of an All-Star and the fan support to go with it. Last All-Star Weekend Porzingis was dropping 30 points in the Rising Stars game against the best young players in the league.
This year, he should be competing with the best overall players in the NBA.
Knicks fans should get their credit cards ready to buy an Eastern Conference Porzingis jersey.
This article originally appeared on