New York Knicks Finally Embracing A Sense Of Urgency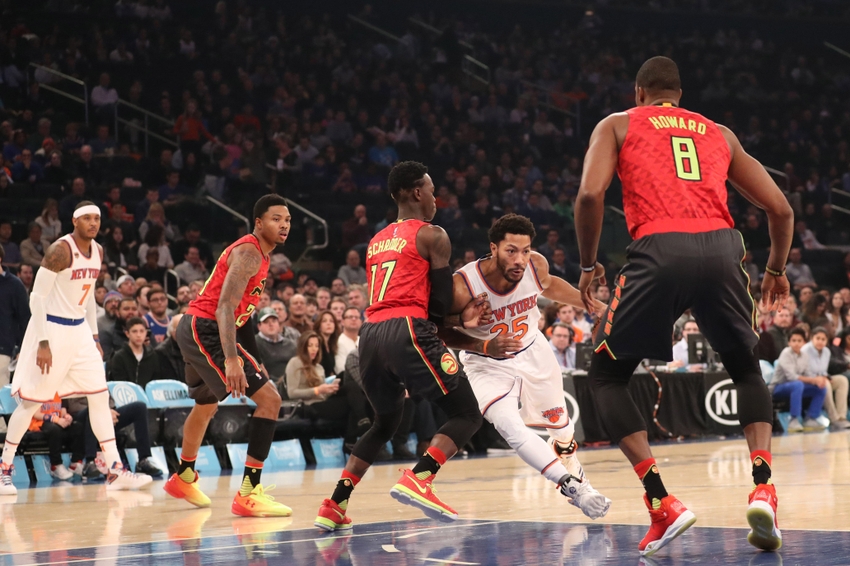 The victory over the Atlanta Hawks was encouraging, but the New York Knicks know that one game and a meeting aren't enough to turn the season around.
---
Sunday, November 20 was a day to remember for New York Knicks fans who have remained loyal to the organization. Despite playing a man down with Joakim Noah sidelined, the Knicks stepped up and secured a 104-94 victory over the Atlanta Hawks.
Though the win was easily the Knicks' best performance this season, it wasn't enough to turn the season around on its own.
New York's win over the Hawks helped it improve to 6-7 on the 2016-17 season. It's close to .500 and could've been well above it if not for a number of inexcusable fourth quarter collapses, but the expectations are much higher than .500.
According to Steve Popper of The Record, starting point guard Derrick Rose understands that while the meeting was productive, New York needs more than one win to right the ship.
"I just can't sit here and say it changed everything," Rose said. "It's only one meeting. It was only one game. If we lose (to Portland) I mean what's the point of talking about the things? So like I said I want it to be consistent before I really get in depth about talking about it."
Fellow starting guard Courtney Lee agreed with Rose's take on the matter.
"Exactly. Yeah, it's meaningless," Lee said. "So it's on us, players on the court to go out there and give that effort night in and night out on a consistent basis."
Those aren't the supportive comments one might have hoped to hear, but they display a long-awaited and desperately needed sense of urgency.
New York has won three of its past four games, but its loss was a disaster. It fell 119-112 to the Washington Wizards in what was far more of a blowout than the final score may imply.
The Knicks scored 47 of their 112 points in the fourth quarter, when the score was already lopsided and the game out of reach.
Fortunately, the win over Atlanta provided a swing of momentum.
Portland poses a significant threat with two accomplished players in All-NBA point guard Damian Lillard and reigning Most Improved Player C.J. McCollum. Both are a threat to score 30 points without a moment's notice.
The question is: can the Knicks step up and secure a second consecutive victory over a postseason-caliber team?
A victory against Portland could set the stage for a massive run towards the postseason by the Knicks.
This article originally appeared on