New York Knicks Fans Selected To The Fandom 250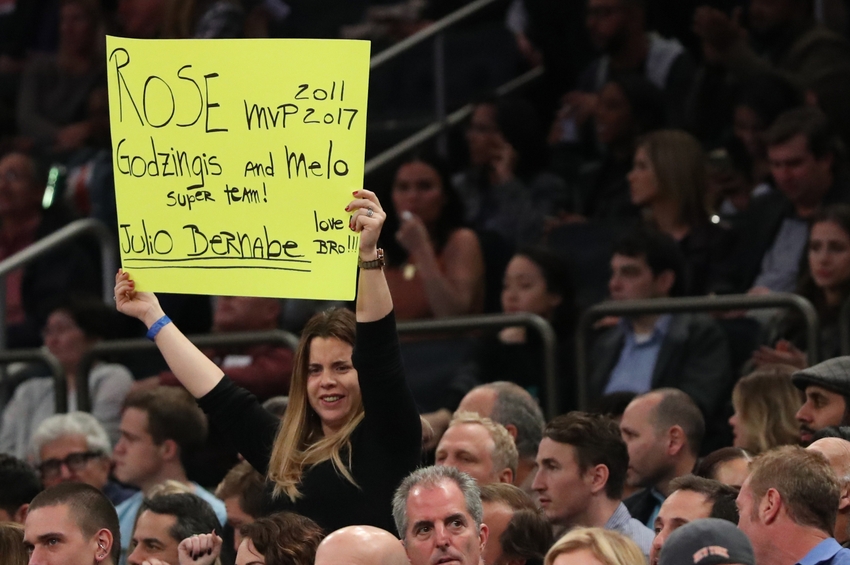 The New York Knicks have one of the greatest fanbases in the world. FanSided has rewarded their support by including Knicks fans in the Fandom 250.
---
There are few fan bases more resilient than the diehard supporters of the New York Knicks. Though the franchise may have built-in exposure from playing in New York, being a Knicks fan isn't for the weak of heart.
Though it's not an elusive NBA championship, FanSided has rewarded Knicks fans by including them in the Fandom 250.
The Fandom 250 will rank the 250 most passionate fanbases in the world. That includes every franchise in every sport, as well as the legions of fans who relentlessly support musicians, actors, television shows, and so forth.
On Thursday, November 3, 2016, FanSided revealed 10 of the fanbases that made the cut:
Garth Brooks
Carrie Underwood
Blake Shelton
Los Angeles Lakers
Boston Celtics
New York Knicks
Cleveland Cavaliers
Golden State Warriors
Katy Perry
Taylor Swift
Knicks fans most certainly deserve to be there.
New York won NBA championships in 1970 and 1973 behind the efforts and leadership of Willis Reed and Walt Frazier. Other legends from those teams include Dick Barnett, Bill Bradley, Dave DeBusschere, Jerry Lucas, Earl Monroe, and Cazzie Russell.
Current Knicks team president Phil Jackson was on the 1970 and 1973 rosters, earning significant minutes during the 1973 run to the title.
Since 1973, however, the Knicks have failed to win a single NBA championship. There have been a number of decorated players—Carmelo Anthony, Tyson Chandler, Patrick Ewing, Bernard King, Anthony Mason, Amar'e Stoudemire, and John Starks come to mind—but no rings.
Ewing led the Knicks to the NBA Finals in 1994, however, and Allan Houston and Latrell Sprewell helped him take New York on an unforgettable run in 1999.
Despite what's going on a 44-year title drought, the Knicks have one of the best and most supportive fanbases in the world.
New York Knicks fans are harsh on the organization, but they'd never abandon it. Jumping ship isn't an option, even with the Brooklyn Nets just one borough—and significantly cheaper ticket prices—over.
Through good times and bad, Knicks fans have remained true to an organization that hasn't exactly rewarded their faith.
New York deserves to be near the top of the list on FanSided's Fandom 250.
This article originally appeared on