New York Knicks: Don't Let Ron Baker Be The One Who Got Away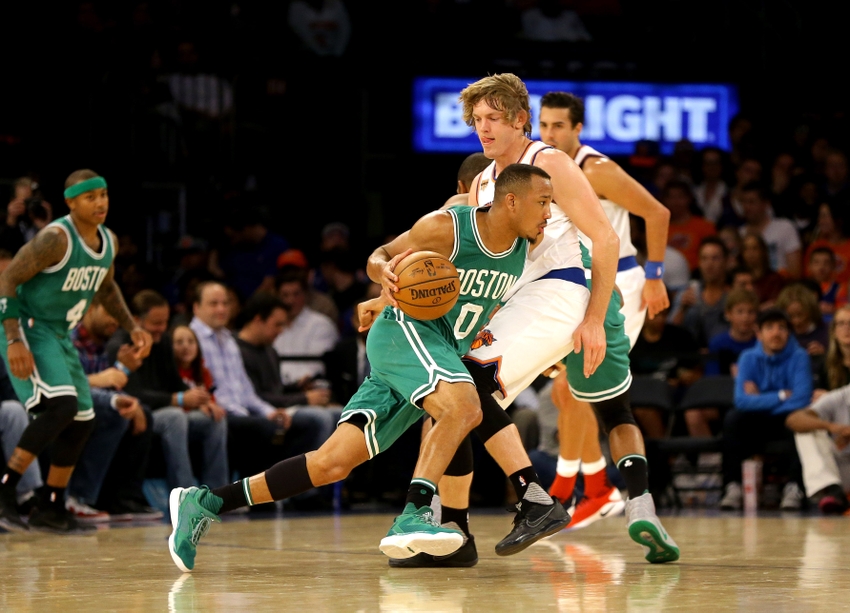 Why is Sasha Vujacic, a declining veteran, getting playing time over Ron Baker, a promising young rookie for the New York Knicks?
---
Sasha Vujacic is 32 years old, and prior to last season where he appeared in 61 games for the New York Knicks, had played in only two games since the 2010-11 season. The Slovenian, known as "The Machine", is a veteran presence on the Knicks' roster, and an experienced authority on the triangle offense.
The system that team president Phil Jackson insists on implementing, but is used in only a handful of possessions per game.
Ron Baker, a combo guard out of Wichita State, has struggled to find court time for the Knicks this season, appearing in only two of the first six games. As a result he was assigned to the D-League affiliate Westchester Knicks on Tuesday November 8th to get some court time.
Baker tallied 26 points in 26 minutes, shooting 5-of-8 on 3-point field goals to go along with six rebounds, three steals, and two assists in a win over the Long Island Nets.
Baker has now been recalled to the Knicks' roster and will be available to coach Jeff Hornacek for the team's tough back-to-back road trip this weekend against the Boston Celtics and Toronto Raptors.
As his D-League debut showcased, Baker does a bit of everything on the court. He spaces the floor with his shooting ability, is a surprisingly good on-ball defender, and is a capable and willing passer, which is important for a Knicks team whose offense can get stagnant.
In his short time with the Knicks, he's also made a name for himself with his intangibles. He works hard, and has a veteran like feel for the game, which quickly made him a fan favorite at Madison Square Garden.
His ability to impact the game without needing the ball is exactly what the Knicks need with two ball-dominant stars in Carmelo Anthony and Derrick Rose.
Ironically, Baker actually has the ideal skill set to act as the lead guard in the triangle offense. He has the size at 6'4″, shooting, passing, off-ball skills, and the basketball IQ to understand the triangle's innumerable options. This is probably the thought process that led Jackson to sign the 23-year-old.
Fortunately, Hornacek doesn't seem to be running much triangle this season. His roster, with Derrick Rose's driving ability and Kristaps Porzingis' 3-point shooting, is much better suited to a modern pick and roll heavy offense.
The Knicks need to figure out what they have in Baker, who appears to have the tools to be an effective NBA rotation player. Frankly, it makes little sense, now or for the future, to give minutes to Vujacic over Baker.
Unearthed NBA talent languishes on benches every season, held back by positional depth or styles of play that don't suit them. The Knicks have neither of these excuses, and need to give Baker an opportunity to showcase his value.
The NBA is littered with quality players who were under-appreciated enough coming out of college to not get drafted or sit on a bench for their rookie year.
Wesley Matthews was undrafted before being picked up by Jerry Sloan and the Utah Jazz and going on to become one of the best two-way players in the league. Kent Bazemore signed a $70 million contract this offseason, but was a glorified mascot his first three years in the league.
Khris Middleton was an afterthought when he was traded along with Brandon Knight from the Detroit Pistons to the Milwaukee Bucks for Brandon Jennings.
This isn't to say that Baker necessarily has the talent of these three players, but he fits the common NBA archetype of a potentially undervalued player. The Knicks haven't overlooked him yet—they've played six games—but choosing to play Vujacic is a strange and worrying early decision.
Finding talent outside of the draft and free agency is an important part of roster construction for teams with limited assets who are unlikely to have a lottery pick anytime soon—teams like the Knicks.
Baker is an asset, either to trade in the future or as a young piece to grow alongside Porzingis on what is a worryingly aging roster. Vujacic, whilst a veteran with knowledge of the triangle—a system the Knicks barely run despite the rumored nostalgic grumbles of Phil Jackson—is not an asset, with neither trade or future on-court value.
There's a pretty strong argument that, primarily because of his defensive value and Vujacic's defensive frailties, Baker is a better player already.
Let's hope Baker gets an extended opportunity to prove himself soon, and doesn't slip through the Knicks' fingers. At some point, New York's front office will have to bring in some players to fit the age timeline of franchise cornerstone Kristaps Porzingis.
There's a good chance they have one sitting at the end of the bench – if only they'd use him.
This article originally appeared on