New York Knicks: Derrick Rose Praises Carmelo Anthony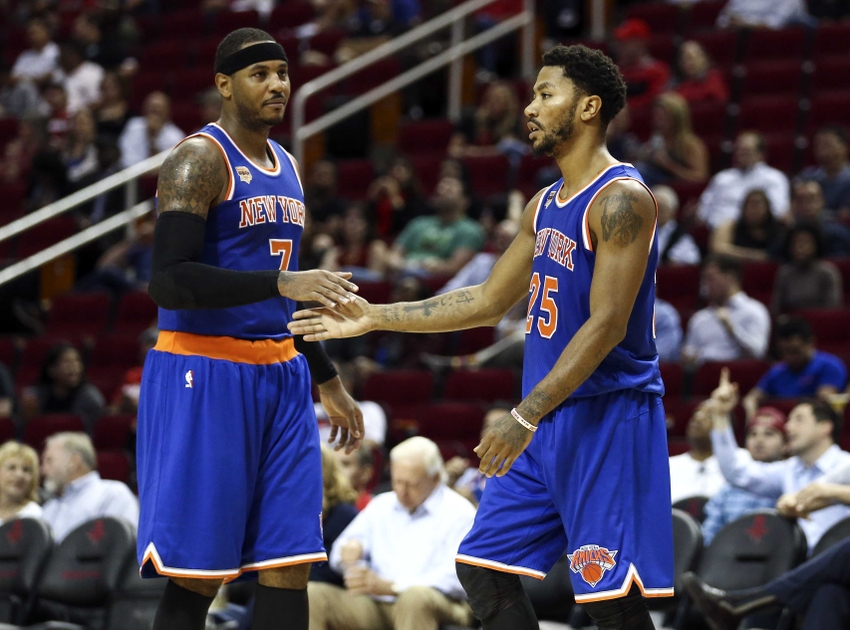 New York Knicks starting point guard Derrick Rose has never played with a scorer like Carmelo Anthony before—and he knows it.
---
Carmelo Anthony is one of the most decorated scorers in NBA history. The New York Knicks' franchise player is No. 29 on the all-time scoring list and has a genuine opportunity to crack the Top 25 by season's end.
It's only taken seven games for starting point guard Derrick Rose to realize how gifted of a scorer Anthony truly is.
Rose has played with the likes of Jimmy Butler, Luol Deng, and Pau Gasol during his decorated NBA career. With all due respect to those three stars, Anthony is a scorer of a different cut and caliber.
According to Ian Begley of ESPN New York, Rose acknowledged that he's never played with a scorer like Anthony.
Derrick Rose on Carmelo: "This is my first time ever being up close to a scorer like that. I've never played with a player like Melo."

— Ian Begley (@IanBegley) November 10, 2016
There aren't many scorers in NBA history who have been as proficient as Anthony.
Anthony has averaged at least 20 points per game in all 13 of his completed NBA seasons. He holds a career average of 24.9 points per game, which ranks No. 13 all-time.
Anthony has an efficient career slash line of .453/.343/.812 and a skill set that's as versatile and complete as any in NBA history.
Thus far in 2016-17, Anthony is averaging 22.7 points on a slash line of .457/.243/.821 through seven games. He showed just how brilliant of a scorer he is when he made six consecutive field goals during the Knicks' 110-96 victory over the Brooklyn Nets.
Few players can heat up like Anthony, and his performance against the Nets was the necessary evidence.
Rose has done an efficient job of scoring, as well, with an average of 16.0 points on 45.7 percent shooting in 31.4 minutes per game. He's creating penetration at virtual will and flashing a similar level of explosiveness to what he displayed in 2010-11.
The question is: can Anthony and Rose lead the Knicks to the success that fans have been longing for?
At 3-4, the Knicks' new dynamic duo is a couple of inconsistent moments away from an extraordinary start to the season.
This article originally appeared on