New York Knicks: Derrick Rose Isn't Trying To Be Vintage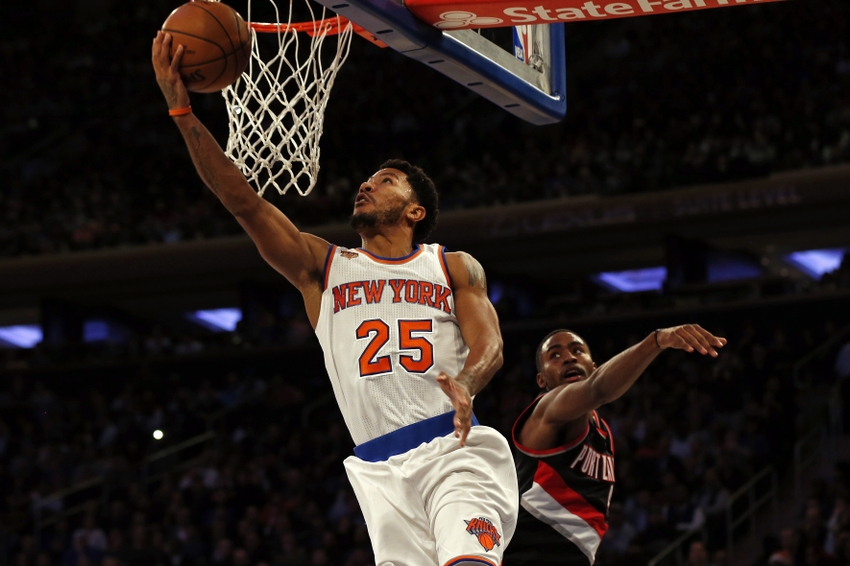 New York Knicks point guard Derrick Rose isn't trying to be the player that he was with the Chicago Bulls. He's trying to be smarter.
---
The New York Knicks are giving starting point guard Derrick Rose an opportunity to revitalize his career. He's spent the past five seasons battling injuries and enduring criticism for not being the superstar he used to be.
Though it'd be ideal for Rose to win another MVP award and reach the All-Star Game, he's far more concerned with helping his team win.
Though this term should be utilized loosely with Rose, he's been nothing short of explosive in 2016-17. He's been creating penetration at will and finishing at the rim with a similar level of creativity and confidence as he displayed in the past.
According to Al Iannazzone of Newsday, Rose has moved on from the player he used to be and become a smarter and less reckless point guard.
"That vintage is gone, man," Rose said. "The question should be: 'Can I hoop?' I can hoop. It shouldn't be like, 'He's playing like his old self. If I can hoop, I can hoop, no matter if I did that when I was younger or now. I can play the game of basketball."

"I was young, I was reckless, I was learning the league," Rose said. "I think my IQ got a lot higher than when I first got into the league. Now I have a chance to re-establish myself here, and just take off from here."
That's the only rational way for Rose to approach the future of his NBA career.
Rose is coming off of what was one of his best games as a member of the Knicks. He posted 18 points, five assists, four rebounds, two steals, and a block on 8-of-15 shooting from the field and a perfect mark of 2-of-2 at the free throw line.
Most importantly, Rose took over in the fourth quarter and closed out the game with his clutch heroics as a scorer and facilitator.
You can't teach clutch.
Clearly, the step-back jump shot to seal the victory is more important than anything else in the short-term. In the long-term, however, it's nothing short of vital that Rose has been moving with speed, agility, and explosiveness.
For those who still are skeptical about that comment, just watch Rose glide through the air for a signature up-and-under finish.
Through the first 14 games of the 2016-17 NBA regular season, Rose has been a consistent contributor. He's averaging 15.8 points, 4.8 assists, and 4.0 rebounds in 31.6 minutes on a slash line of .443/.286/.875.
Rose's performance against Portland marked the first time that the Knicks won a game when the 28-year-old scored at least 15 points.
Encouraging as that all may be, Rose is in the right to say what he did. He's re-establishing himself as a starting-caliber point guard by doing what the Knicks need him to, no matter what that entails.
For what it's worth, the Knicks have a net rating of -1.4 with Rose on the court and -7.3 when he's on the bench.
Instead of wishing for the old D-Rose, embrace the player he's becoming. It's special in its own way.
This article originally appeared on