New York Knicks Defeat Portland Trail Blazers During Last Seconds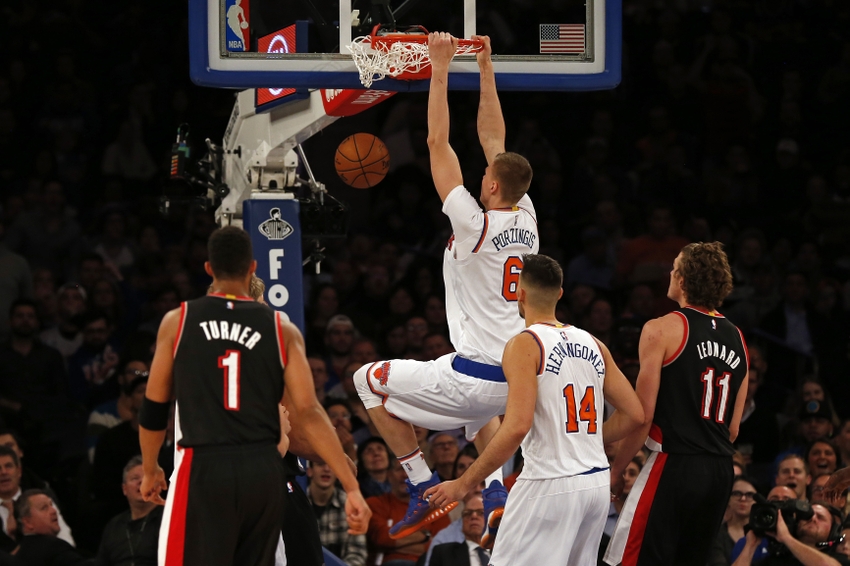 The New York Knicks pulled back to an even .500 with a a massive victory over the Portland Trail Blazers. Find out how the Knicks secured the win.
---
The New York Knicks are proving the doubters wrong. New York carried the momentum from their win against the Atlanta Hawks into performing well enough to defeat the Portland Trail Blazers by a score of 107-103 at Madison Square Garden.
With the win, the Knicks pulled back to .500 at 7-7.
Even though critics have been skeptical about the Knicks' bench, the second unit played a huge role in clinching the W for the Knicks. Jeff Hornacek has been shaking up the lineups lately. He's given more playing time to Porzingis alongside Brandon Jennings, Justin Holiday, Willy Hernangomez, and Mindaugas Kuzminskas.
Their chemistry has flourished.
Porzingis takes full advantage of the matchups when combined with this lineup and is able to stand out further in comparison to the Knicks' role players.
Porzingis contributed a 31-point performance, establishing himself as the Knicks' go-to guy against Portland. Jennings' 11 assists helped Porzingis shine brightly. He has a knack for finding him when the defense least expects it.
Anthony had an off night; inevitably it will happen again as the season continues to progress, making Porzingis a lethal weapon on the offensive end for the Knicks.
Seeing this young group of talented players succeed isn't only refreshing, but downright impressive. Critics were bashing the Knicks' "loaded" roster before the season began, insinuating that what's displayed on paper wouldn't deliver.
Now we're seeing the franchise regain their stripes. Madison Square Garden is a legendary arena, to say the least.
It's nice to see some life being breathed back into a loyal fan base that's been waiting for the Knicks to blossom into a championship contender.
This article originally appeared on