New York Knicks: Courtney Lee Isn't Satisfied With Strong Performance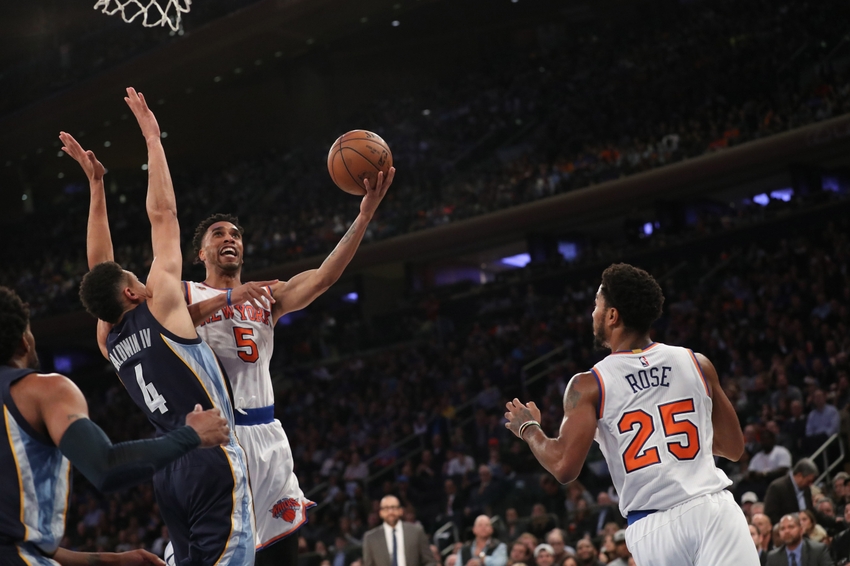 New York Knicks guard Courtney Lee rebounded from a poor opening performance with an outstanding showing against the Memphis Grizzlies. He isn't satisfied.
---
Starting shooting guard Courtney Lee began his New York Knicks tenure by scoring zero points in 20 minutes against the Cleveland Cavaliers. It was a disheartening performance by a player whom the Knicks brought in to help stabilize the offense.
Fortunately for the Knicks, Lee followed that performance by recording 16 points on 6-of-11 shooting in 34 minutes during a 111-104 victory over the Memphis Grizzlies.
Lee isn't expected to average 16.0 points per game, but he is expected to provide consistency. His 3-point shooting and defense are well-documented strengths, but his ability to create offense when the stars go cold could make or break the season.
According to Marc Berman of The New York Post, Lee isn't letting one strong performance birth a feeling of complacency.
"No, no, no," said Lee, who signed a four-year, $50 million free agent deal with the Knicks over the summer. "[It lasts until] the next game. You get in practice, you're thinking about it. You're thinking about it the whole time. The only way to forget about it is to get out there and get a win the next game and try to play good the next game."
Lee has a heavy burden to carry in 2016-17, which makes his sense of urgency an encouraging sign.
Lee's performance against the Grizzlies was as much of a character-building activity as it was an effort to restore his confidence. He went up against the team that traded him and helped anchor the effort to achieve victory.
That includes the vital improvements he's made from one game to the next in 3-point shooting.
After going 0-of-2 from beyond the arc in the season opener, he sank a pair of 3-point field goals against Memphis.
Lee's defense is an expected strength, and it will be far more influential than his offensive potential. Having said that, the Knicks run a motion offense that requires the role players to provide consistent support to the stars.
Per Al Iannazzone of Newsday, franchise player Carmelo Anthony was thrilled to see Lee playing at the level expected of him.
"The way he started off the game, he was a totally different player.," Carmelo Anthony said. "He felt more ease and looked more comfortable and confident. That's why we brought him here. He can do that he can knock down open shots and play defense."
It was an encouraging performance by one of the most valuable players on the roster.
Anthony, Kristaps Porzingis, and Derrick Rose will receive the lion's share of the offensive touches. Joakim Noah will play a critical role as a facilitator and Brandon Jennings is coming along as an all-around playmaker.
It's Lee, however, who will be turned to as a source of consistency and stability for the Knicks.
The performance against Memphis proved how influential his offense can be.
This article originally appeared on