New York Knicks: Carmelo Anthony Ready to Share the Spotlight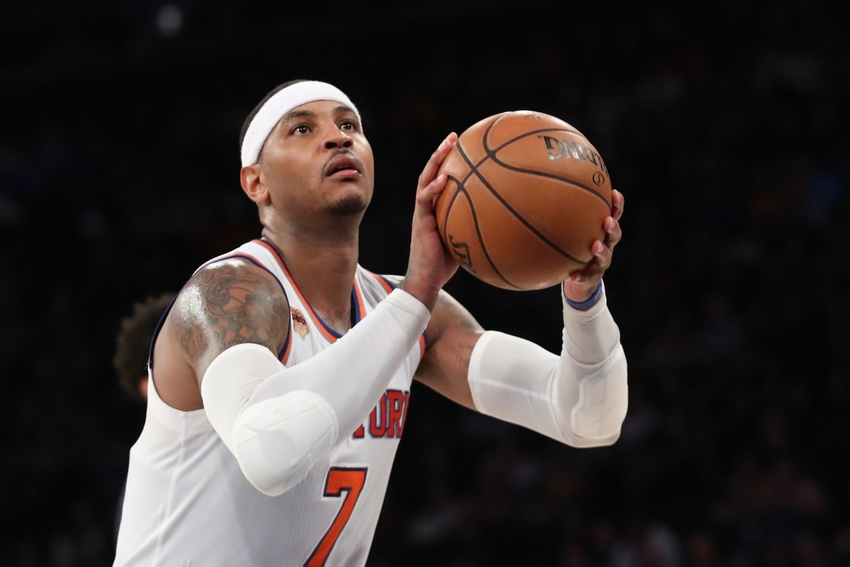 The New York Knicks were able to get their first win of the season. In the win, it was clear that the Knicks can win without Carmelo Anthony having a great game.
In recent years, the New York Knicks have relied on Carmelo Anthony to be their star. Without a great supporting cast, the Knicks have struggled despite Anthony being one of the best scorers in the NBA.
This offseason, Phil Jackson made some great moves to add talent to the roster. The additions of Derrick Rose, Joakim Noah, Brandon Jennings, and Courtney Lee has given the Knicks a whole new look. Anthony has been used to be the No.1 option and at sometimes the only option for the Knicks. Now, the Knicks can spread the wealth more on offense, and Anthony is perfectly fine with that. In the Knicks' recent win against the Grizzlies, it was obvious to see that the team can win even if Anthony isn't at his best.
"You don't see me complaining about it. You didn't see me out there making a face," Anthony said to Ian Begley of ESPN.com. "[It's] something that I embrace. I look forward to just being out there with guys who can control the game and make plays, and when it's my time, it's my time."
One of the most impressive things that the Knicks were able to accomplish in the win was their ball movement. Noah did an excellent job passing the ball from all positions of the court, and he showed some great chemistry with Anthony early on.
"We know that the ball doesn't have to be in my hand every single time down the court for us to make things happen. There will come a time where that has to happen, but right now, we're just trying to get comfortable with one another and play off of each other and guys do what they do best."
In previous years, the offense would run through Anthony. Now, with Rose as the point guard and a great passing center in Noah, the Knicks have plenty of ways to run their offense. When the chemistry develops more, this team could have a really lethal offense with the starting unit that they have.
Furthermore, Anthony will still be the leader of the Knicks despite the new acquisitions. A lot of the credit and the blame for the Knicks' successes or failure will go on him. However, trust in his new supporting cast will make his job a lot easier every night.
More from Empire Writes Back
This article originally appeared on