New York Knicks: Carmelo Anthony Makes Kristaps Porzingis Better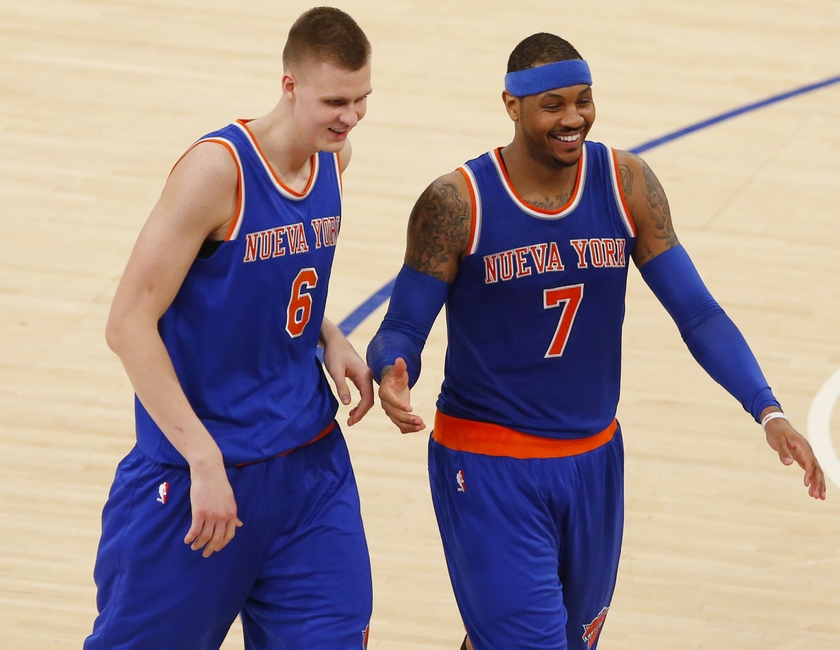 A belief exists that Carmelo Anthony and Derrick Rose are preventing Kristaps Porzingis from realizing his potential. The New York Knicks phenom responded.
---
Kristaps Porzingis is a 7'3″ phenom with unprecedented athleticism and coordination for a player his size. He's also a lethal 3-point shooter with a wealth of post moves and a confidence that's beginning to border on unflappable.
As Porzingis flashes his star potential with more consistency, New York Knicks fans, as well as those around the NBA, have hypothesized that it's time for him to take over.
Porzingis is currently in his second season as an NBA player. He's averaging 20.2 points, 7.2 rebounds, 1.2 assists, 1.1 blocks, and 2.1 3-point field goals made in 32.4 minutes per game.
Per Ian Begley of ESPN New York, Porzingis responded to the idea that he'd be better off without Carmelo Anthony and Derrick Rose.
"Without Melo, it would be much more difficult for me to get those 30 points, or 28. People don't realize that. But that's how it is. He draws a lot of attention, and he's the main focus for the other team. That opens up stuff for me. So without him, it would be much more difficult.

"I'm happy to have him and D-Rose and guys who are really aggressive driving to the basket, who draw so much attention for me to be able to get those wide-open looks and then attack. It's good sometimes that we have that. Without them, it would be much more difficult."
The numbers support what Porzingis is saying.
With Anthony on the court, Porzingis is averaging 21.6 points per 36 minutes on a slash line of .520/.457/.735. With Anthony off the court, Porzingis is averaging 24.5 points per 36 minutes on a slash line of .448/.261/.826.
Porzingis may be scoring more with Anthony on the bench, but his efficiency plummets from the field and 3-point range.
A similar story is told via the statistics when Rose is on the court with Porzingis. Porzingis averages 24.1 points per 36 minutes on shooting marks of .450/.292/.800 when Rose is on the bench.
His scoring declines to 21.9 points per 36 minutes with Rose on the court, but his efficiency dramatically improves to a slash line of .515/.444/.762.
Though Porzingis may be finding his own form of greatness, there's no denying how much easier Anthony and Rose make it for him. Anthony continues to be one of the best scorers in the NBA and Rose has been penetrating at will throughout the 2016-17 season.
With both players on the court, defensive rotations are made and openings are presented for Porzingis to step into and score.
The notion that Anthony and Rose are stunting Porzingis' development is clearly disputed by the numbers and the player himself.
All statistics were provided by NBA.com.
This article originally appeared on