New York Knicks: Carmelo Anthony Is Still The Source Of Hope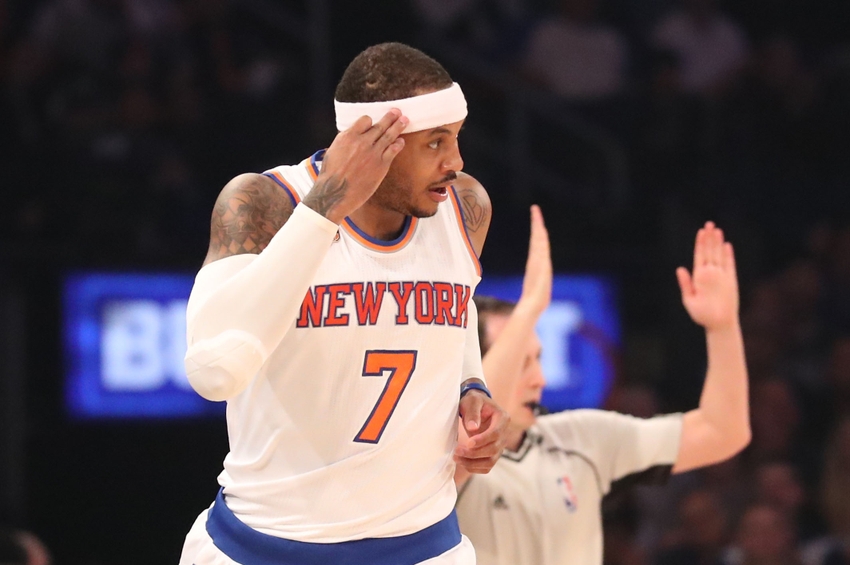 Kristaps Porzingis is the star on the rise, but it's Carmelo Anthony who gives the New York Knicks hope for a postseason appearance in 2016-17.
---
The New York Knicks have a promising young player with superstar potential for the first time in decades. One could argue that, prior to the arrival of Kristaps Porzingis, such a scenario hadn't presented itself since the days of Patrick Ewing, Mark Jackson, or Michael Ray Richardson.
For as promising and productive as Porzingis may be, the Knicks' postseason aspirations still rest on the shoulders of one Carmelo Anthony.
Anthony has taken it upon himself to help orchestrate the best stretch of the Phil Jackson era. The Knicks have won five of their past six games, including an incredible streak of six consecutive wins at home—a streak that continued with a 113-111 overtime win over the Charlotte Hornets.
After missing a game-winner in regulation, Anthony knew he had to step up and convert in overtime. Per Ian Begley of ESPN New York:
"I wanted that shot. I wanted that moment, to be honest with you," he said. "I felt like I had an opportunity to close it in regulation and in overtime I did want that situation."
That's the sign of a great player: wanting the ball in the biggest of moments.
Anthony was nothing short of legendary against the Hornets. He went off for 35 points, 14 rebounds, five assists, two steals, and a block on 14-of-25 shooting from the field, a 3-of-6 mark from distance, and a perfect 4-of-4 performance at the free throw line.
No shot mattered more than the game-winner that Anthony made with 3.1 seconds remaining in overtime.
The clutch gene: you either have it or you don't.
Porzingis has made headlines over the past few weeks, and with good reason. He's currently averaging 20.7 points, 7.3 rebounds, 1.2 blocks, and 2.3 3-point field goals made per game on a slash line of .493/.400/.780 in just his second season.
Porzingis even made two 3-point field goals in the fourth quarter, another in overtime, and had a number of clutch defensive plays.
For as well as Porzingis is playing, the Knicks need Anthony to excel in order to be relevant. It's KP who pushes New York into postseason-caliber territory, but it's Anthony who enables New York to be good enough for that push to transpire.
No matter who you believe is the better player, it's Anthony and Porzingis who will make this Knicks team go.
Anthony is currently averaging 23.3 points, 6.2 rebounds, 2.7 assists, 1.0 steal, and 2.1 3-point field goals made per game. He's doing so on an efficient slash line of .470/.352/.864 and is turning it over just 2.0 times per game.
Bigger than the individual numbers is the manner in which he's impacting the Knicks.
The Knicks currently have a net rating of +0.9 when Anthony is on the court—easily the highest mark by a Knicks starter this season. The Knicks have a net rating of -11.8 when Anthony isn't on the court, which is easily the lowest mark for any Knicks player this season.
With a difference of 12.7 points per 100 possessions and a clear inability to play quality basketball without Anthony, there's only one rational determination: the Knicks need Anthony.
Fortunately for Jeff Hornacek, Phil Jackson, and Knicks fans everywhere, Anthony is playing two-way basketball and New York is winning because of it.
If Anthony continues to defend and rebound as well as he has over the past three games, the Knicks should be hosting a playoff series in April.
This article originally appeared on