New York Knicks: Carmelo Anthony Is In Awe Of Kristaps Porzingis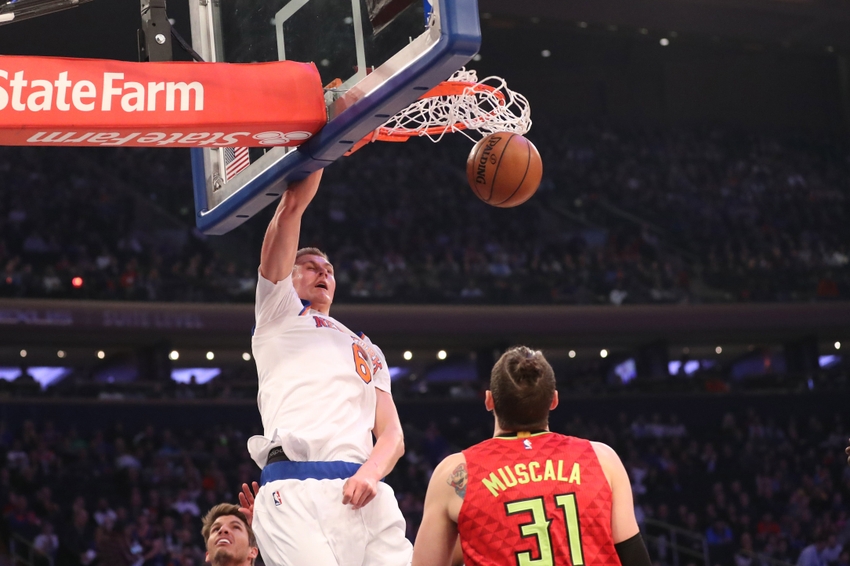 New York Knicks phenom Kristaps Porzingis seems to drop jaws whenever he takes the court. Even his teammates are in awe of what he's able to do.
---
The New York Knicks are 6-7 overall, 5-2 at home, and 1-5 on the road. The latter number is rather disheartening, but the Knicks have been resurgent and resilient, winning three of their past four games.
One could argue that the driving force behind the Knicks' recent stretch of success has been power forward Kristaps Porzingis.
During New York's past three wins, Porzingis has averaged 26.0 points, 9.7 rebounds, and 2.0 3-point field goals made per game. Those are superstar numbers from a 21-year-old with an open mind to how he can improve.
According to Ian Begley of ESPN New York, franchise player Carmelo Anthony is just as in awe of Porzingis as the rest of us.
"I'm still in awe of kind of some of the things he does on the court. Like yesterday, he made a move and I'm like, 'Damn.' You know what I mean? I'm still like a fan of kind of his talent and his skill level," Anthony said after Monday's practice. "I always thought it would kind of take longer to get acclimated. He's doing a great job with just kind of taking it day by day, still getting a feel for the game and figuring it out on the fly."
Forgive me for the cliche, but as it pertains to Porzingis, the sky is the limit.
Though the numbers are beginning to turn heads, Porzingis is very much a player whom you have to see to believe. It's not as much about the fact he's scoring 20-plus points with relative consistency as it is the absurd skill set he possesses.
Being a lethal 3-point shooter at 7'3″ is enough, but he's also a smooth post player who has pulled out Dream Shakes and Dirk Nowitzki step-backs, and a dynamic athlete who has pulled out Euro Steps and up-and-under cradle layups on the drive.
That only scratches the surface of what Porzingis has already proven to be capable of offensively.
Capability and consistency are different conversations, but Porzingis is already approaching the latter stage of his development. He's playing with far more confidence than he did a season ago—or even early in 2016-17.
Fresh off of scoring a career-high 35 points against the Detroit Pistons and recording 19 points and 11 rebounds against the Atlanta Hawks, Porzingis' confidence is as high as it's ever been.
Like the rest of us, Anthony is left in awe of the loose pieces.
One can't help but dream of the day when Porzingis has put them all together.
This article originally appeared on