New York Knicks: Carmelo Anthony Discusses Game-Winning Shot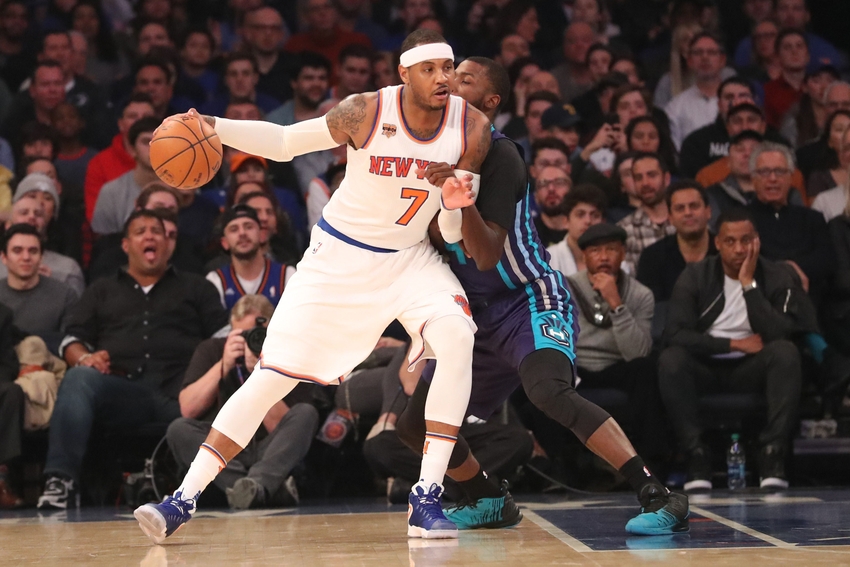 The New York Knicks were able to defeat the Charlotte Hornets in a thrilling overtime game. Carmelo Anthony had the play of the game to seal it for the Knicks.
It was a really exciting night in Madison Square Garden on Friday night. In a great game between the New York Knicks and Charlotte Hornets, we saw some big plays from players on both teams.
For the Knicks, their best player all night was forward Carmelo Anthony. In the win, Anthony totaled 35 points, 14 rebounds, and five assists. In the win, Anthony was able to deliver the big shot for the Knicks in overtime to win it.
"I wanted that shot. I wanted that moment, to be honest with you," he said to Ian Begley of ESPN.com. "I felt like I had an opportunity to close it in regulation and in overtime, I did want that situation."
In the fourth quarter, Anthony had an opportunity to win the game but had his shot just narrowly miss. Prior to taking the shot, Anthony did miss a wide-open Kristaps Porzingis underneath the basket. Anthony was able to make up for missing Porzingis at the end of regulation with his clutch shot in overtime.
There has been a lot of discussions recently about who is the best player on the Knicks, as the emergence of Kristaps Porzingis has sparked that conversation. While that debate will be ongoing all season, the Knicks have the luxury of having Anthony, Porzingis, and Derrick Rose all being capable of hitting a big shot. For head coach Jeff Hornacek, that is a great thing to have.
"You can run all of the plays you want … but Melo has the experience," Hornacek said to Begley. "He makes big shots; that's a luxury to have."
The Knicks will be playing the second half of the back-to-back against the Hornets on Saturday night. We will have to see if Anthony is able to have another special game like he did on Friday.
More from Empire Writes Back
This article originally appeared on