New York Knicks: Brandon Jennings Knows Who Needs The Ball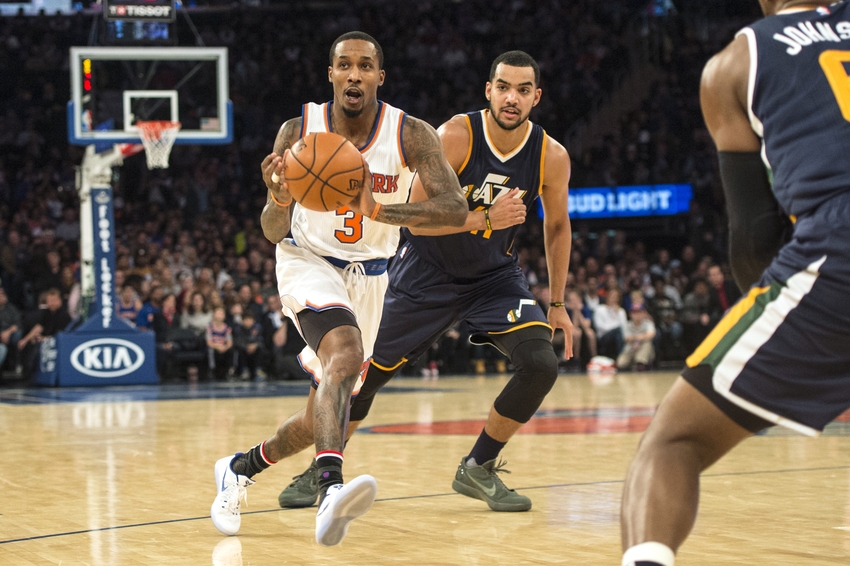 New York Knicks point guard Brandon Jennings has been tasked with facilitating the offense. Fortunately for the Knicks, he knows who needs the ball.
---
The New York Knicks signed Brandon Jennings to be the leader of the second unit. A career starter who's just now entering his prime, Jennings has a reliable 3-point shot and an under-appreciated efficiency as an assist man.
Having established himself as a facilitator early in the 2016-17 NBA regular season, Jennings is proving himself to be one of the catalysts for team success.
Jennings is still developing a rhythm and finding his form after rupturing his left achilles tendon in January of 2015. He's taken steps to return to his borderline star status during his brief time with the Knicks.
Against the Brooklyn Nets, Jennings had what may have been his best performance when he recorded a rather historic 11 assists.
The last bench player to dish out 10 assists for the Knicks was Baron Davis on March 14, 2012.
Jennings recorded just three points, but had 11 assists, three rebounds, and a steal. More importantly, he recorded a +/- of 24 in a 14-point victory—the best +/- of any player on the team.
The key to Jennings' performance was the knowledge of who he needed to get the ball to and when.
Jennings' confidence in Carmelo Anthony resulted in the Knicks' star making six consecutive shots and leading New York back into the game.
A true facilitator does more than just rack up assists. The key to a truly valuable facilitator is the willingness to play without the ball if it means placing their teammates in the optimal scoring positions.
Jennings' proficiency as a facilitator carried over from the third quarter into the fourth quarter, when the Knicks took over and won behind the early efforts of Kristaps Porzingis.
Jennings also helped Hernangomez scored 14 points in the fourth quarter alone.
Jennings is still attempting to find his shot, but he's been one of the more productive 3-point shooters in the NBA. He's made an average of 1.8 3-point field goals per game over the course of his 467 appearances.
The fact that he knows who needs the ball is why he's of incredible value to the Knicks.
Jennings' facilitating could be the deciding factor in the 2016-17 NBA regular season.
This article originally appeared on