New York Knicks: Brandon Jennings Is Revitalizing The Organization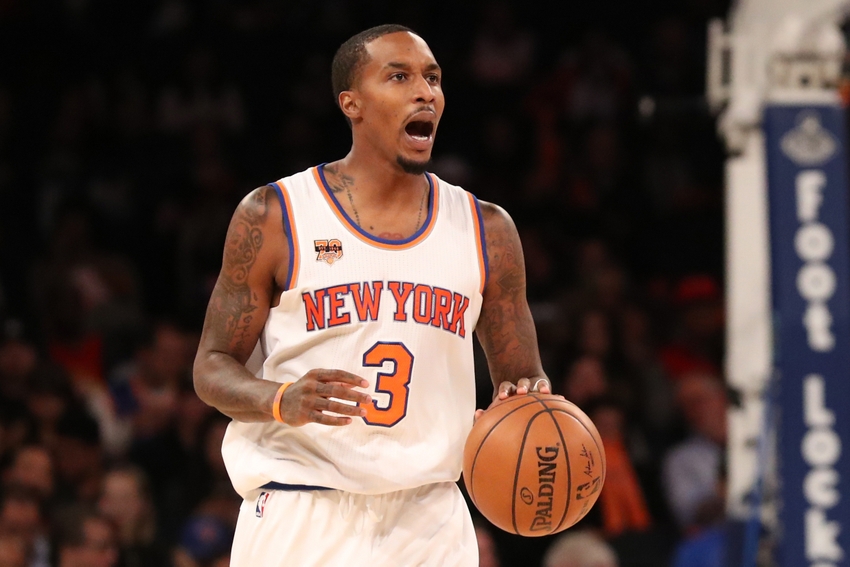 Point guard Brandon Jennings is revitalizing the New York Knicks. He's taking it one flashy, brilliant, and exhilarating play at a time.
---
Though outsiders may never understand it, Jeremy Lin was more than just a tremendous story. He was a revitalizing force whose fearlessness and dynamic playmaking ability breathed new life into the dormant New York Knicks.
Though it's only the preseason, it's beginning to look as though Brandon Jennings will have the same effect on the Knicks in 2016-17.
It's only been three games, but Jennings has already become a fan favorite. Between his flashy handles, his gorgeous passes, and his New York-style creativity as a scorer, Jennings has already reinvigorated Madison Square Garden.
That started with winning over franchise player Carmelo Anthony.
Melo on Jennings: "I felt like we got a steal."

— Al Iannazzone (@Al_Iannazzone) October 11, 2016
Thus far, it's difficult to argue.
The Knicks signed Jennings to a one-year deal worth just $5 million. For a player who has started 416 regular season and 11 postseason games, that's as much of a low-risk, high-reward contract as you'll find in the NBA.
At the very least, the Knicks signed a player with everything to gain and everything to lose—the perfect combination to create a motivated contributor.
Jennings ruptured his left achilles tendon in January of 2015, but the way he's moving makes it seem as though that never happened. His speed and agility are both back, and his confidence is following along with it.
That's significant progress from 2015-16, when Jennings understandably seemed to have trouble trusting his body.
Jennings is rarely going to have the best field goal percentage or the lowest number of, "Did he just shoot that?" moments. What he will do, however, is energize a crowd that's had few reasons to be excited over the past three years.
Knicks head coach Jeff Hornacek understands exactly that.
For those who can't watch the video, Hornacek's comments were as follows:
"He's gonna bring that energy, the activity, the pushing the ball. He's going to be a crowd favorite. He's going to do some crazy stuff sometimes and get the crowd going. We just have to kinda let him be Brandon for a bit. If it gets too carried away, then we'll rein him back in. But he's very good at that. You can tell him, 'OK Brandon, now we've gotta settle it down a little bit,' and he'll do that.

He's gonna bring that energy level. He just loves to play basketball. That's all he did all summer was just play pickup games. He'll just go down to the neighborhood gym or the neighborhood playground and just play. That's the type of kid he is. He's enjoying the game. He's having fun with it and I think that kind of transfers to some of the other players."
It's not hard to see why his teammates are so excited to have him around.
The Knicks have been searching for a dynamic point guard since Lin left in 2012. That's a troubling reality when one considers the facts that Lin, A) Left four years ago and, B) Only played 35 games in New York.
Before Lin, the best point guard the Knicks have run with in recent memory was Raymond Felton, who was traded halfway through the 2010-11 season.
In the modern NBA, point guard play can be the difference between making the playoffs and simply being talented. New York learned that the hard way in 2015-16.
Despite having a balanced and productive frontcourt, the Knicks were slow into their sets and unable to create penetration. Jose Calderon could've been a solid backup, but he lacked the speed or agility that New York needed at point guard.
Jennings has it in spades.
If Jennings and Derrick Rose can remain healthy and responsibly aggressive, the Knicks can make a triumphant return to the NBA Playoffs.
This article originally appeared on