New York Knicks: Brandon Jennings Embracing New Role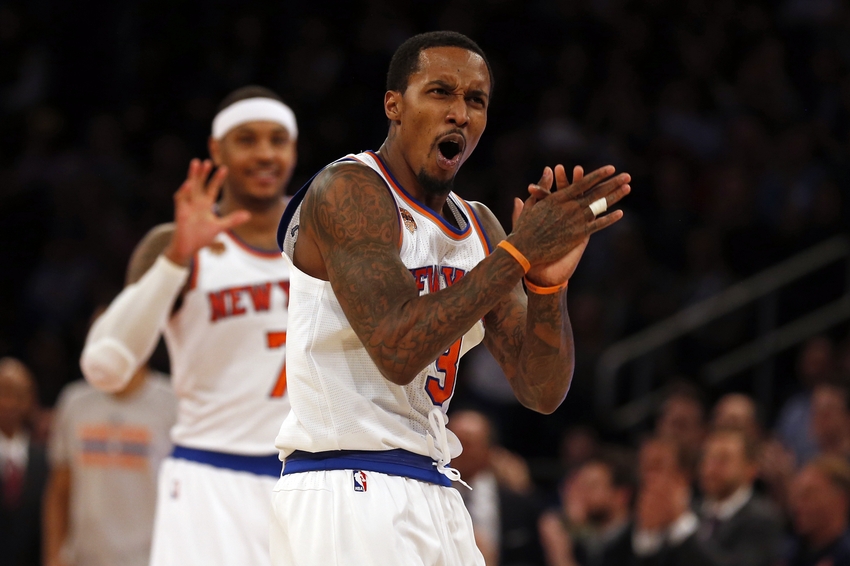 Brandon Jennings has long been known for his scoring, but he's embraced his new role with the New York Knicks: irritating defense and dynamic playmaking.
---
The New York Knicks signed Brandon Jennings to a one-year deal worth $5 million during the summer of 2016. Though his efficiency as a facilitator has been present throughout his NBA career, most expected the signing to yield New York an explosive scoring threat off the bench.
14 games into his Knicks career, however, Jennings has embraced his role as a playmaker—no matter what that means for his scoring.
After 14 games, Jennings is averaging just 6.7 points on a slash line of .372/.295/.739. He's attempting just 6.1 shots per game, however, and is dishing out a team-leading 5.2 assists per game.
According to Marc Berman of The New York Post, Jennings is embracing his role as a pass-first playmaker.
"My role has changed here,'' said Jennings, in his first full season since his 2015 Achilles tendon tear. "I don't have to score a lot. I can set the table. Not that it means I still can't score. I have to sacrifice my game for the team. I'm playing with some of the best scorers in the world. I definitely have to change my game and found other things I can bring to the table.

"At first it was a challenge,'' Jennings said. "I've accepted it. I know my role is to play defense, come with a lot of energy and set guys up and play hard."
That's a testament to how much of a team player Jennings truly is.
Jennings consistently passes up scoring opportunities to create for his teammates. That may or may not be the most ideal strategy once the Knicks are in mid-season form, but early on, it's exactly what New York has needed.
With a young and inexperienced second unit, as well as a rising star who's still figuring out his game, Jennings has taken it upon himself to build their confidence.
Brandon Jennings: "KP is 7'3. He can go for 30 every night. I told him before the game I wanna see 30 points tonight. He said, 'Alright.'"

— Tommy Beer (@TommyBeer) November 23, 2016
The results have been exceptional.
Kristaps Porzingis is averaging 21.0 points per game and has credited Jennings' playmaking as a reason for his improvement. Willy Hernangomez has shown flashes, as well, with Jennings being one of the primary sources of his offense.
Mindaugas Kuzminskas has benefited from Jennings' presence, as well, as the veteran has consistently set the rookie up for open jumpers.
With Jennings setting the table, the Knicks' young players have been playing with confidence in 2016-17. The same can be said for Carmelo Anthony, who's shooting 38.2 percent from 3-point range with Jennings on the floor and 31.3 percent when he isn't, per NBA.com.
The common theme for players across the roster is that they play with confidence and energy when Jennings takes the floor.
As for Jennings himself, he's averaging 11.2 points, 8.7 assists, 5.3 rebounds, 1.6 steal, and 1.6 3-point field goals made per 36 minutes. That's quality production that any team would be lucky to have from a sixth man.
The Knicks would benefit from Jennings shooting with improved efficiency, but his playmaking has been a catalyst to team success.
As a facilitator, defensive irritant, and vocal leader, Jennings has already won over many jaded Knicks fans in his brief New York career.
This article originally appeared on