New York Knicks: Bench Players Key For Filling In Holes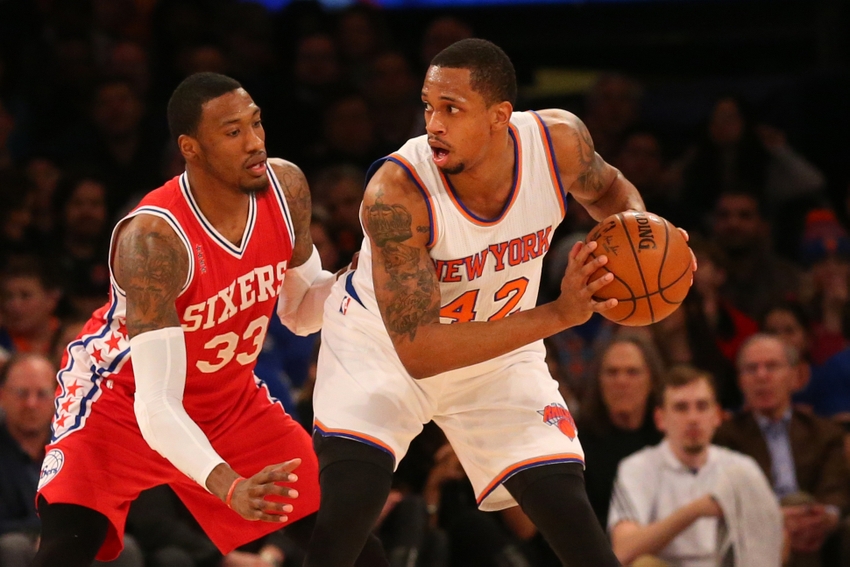 The additions of Derrick Rose and Joakim Noah created "Superteam" vibes, but it'll be the bench players that will be key for the New York Knicks this upcoming season.
It only took one day of free agency to see the New York Knicks in the midst of a massive roster facelift. 
It started with the Derrick Rose trade, shipping two point guards and starting center Robin Lopez to Chicago for the former MVP. Although Rose battled injury over the last four years, the Knicks expect Rose to come in and provide a dynamic element to the team's offense. The hope for Rose is that he can both get the rim and create with the ball in his hands, leaving Carmelo Anthony off the ball.
Continuing the raid of former Bulls, the Knicks added Joakim Noah, replacing Lopez, on a four-year deal worth $72 million. After playing in just 29 games last season, Noah has quietly deteriorated since his All-NBA nod.
Nevertheless, New York believes that Noah could be an excellent complement to Kristaps Porzingis, as well as providing another playmaker on the floor. Throw in Courtney Lee ($50 million over four seasons) and New York's revamped starting five was created.
The lineup of Rose, Lee, Anthony, Porzingis and Noah makes sense on paper. Two intimidating defenders in Noah and Porzingis, shooting all over the floor with Lee, Anthony and Porzingis and versatility on defense. This lineup also has some warts. Rose and Noah have missed their fair share of games and Lee, Noah and Anthony are all over the age of 30.  And again, a ton of hope rests on Rose returning to form.
With those concerns, it'll be up to New York's bench to fill those holes if — and possibly when — the Knicks will need other options.
Lance Thomas is a key piece to New York's bench. After three nondescript seasons with three different franchises, Thomas was acquired by the Knicks in a three-team deal with Oklahoma City and Cleveland.
Thomas found his niche in the league just last season, knocking down 40 percent of his threes and playing defense against three positions. As a result, the Knicks locked him up for $22 million over four years.
The advanced statistics aren't fond of Thomas. Last season, Lance finished 61st among 76 small forwards in ESPN's defensive real plus-minus statistic. However, The Knicks were two points worse on defense with Thomas off the floor last season. New York's defense fell off a cliff at the end of the season when Thomas got injured, going from a 102.2 defensive rating before March 2nd, to 103.9 after March 2.
The most notable bench piece, however, is Brandon Jennings. As the offseason dried up, Jennings found himself without a team after a so-so 2015-16 campaign with the Pistons and Magic following an Achilles injury.
For one-year and $5 million, Jennings signed with the Knicks to serve as a reserve and rebuild his stock for 2017 free agency.
The hope for Jennings is for him to return to his pre-injury form. Before his injury in January of 2016, Jennings was averaging 20.9 points and 7.2 assists per game while shooting 38 percent from three. He can serve as insurance for Rose and his potential injuries, as well as serve as a creator off the bench, though it wouldn't shock me if he took over and got some starts for the Knicks at some point this season.
Jennings serves as the headliner, Thomas is arguably their best piece who can assist the New York's best player, but the two unheralded bench pieces that will be vital are Kyle O'Quinn and Justin Holiday.
Both provide versatility and defense — two things the New York Knicks could desperately use. Holiday isn't a great offensive player, but at 6'7″ with a 7'0″ wingspan, Holiday can play both wing positions and serve as a defensive stopper. Same for O'Quinn, who had a decent season with the Knicks last year. He's not a floor spacer, but O'Quinn can defend and create at the center position.
The New York Knicks will rely on their starting five and an innovated offense from new head coach Jeff Hornacek. However, if the Knicks want to make the playoffs next season, it'll be their bench that will assist. The creation from Jennings, the versatility of Holiday and Thomas and the size and defense of O'Quinn will be key as the Knicks try to turn it around in the Carmelo Anthony era.
This article originally appeared on