New York Knicks: An Improved Team Set To Battle The Cleveland Cavaliers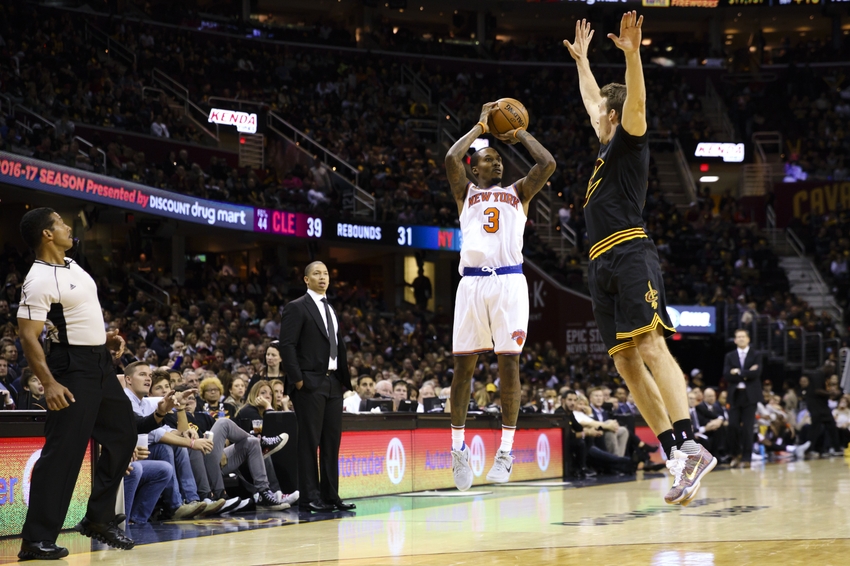 After suffering a 29-point loss to the Cleveland Cavaliers on opening night, the New York Knicks are an improved team. Will the result be different?
---
The New York Knicks opened the 2016-17 season on the road against the defending NBA champion Cleveland Cavaliers. The Knicks trotted out a starting lineup that didn't have the opportunity to mesh together and develop chemistry during the preseason.
Derrick Rose missed five preseason games due to his trial and Joakim Noah missed three with a hamstring injury.
When New York's projected starting five hit the court for the first time, it was in front of a rabid crowd at the Quicken Loans Arena, home of the Cavaliers. Not to mention, Cleveland received their championship rings shortly before the game.
The Knicks offense struggled early on and only mustered 64 points after three-quarters of play. By the start of the fourth quarter, New York was down by 18. While three Knicks scored in double-figures that night, two of the Knicks' starters—Courtney Lee and Joakim Noah—were non-existent on the offensive end.
After the poor performance in their first meeting in Cleveland, Jeff Hornacek believes the bench will have to come alive against the Cavaliers. (h/t Rebecca Haarlow of MSG Network)
"To try be those guys, you can't have any letups. If you think you're going to take them two minutes and kind of cruise through things, all of a sudden they'll throw 10 points up on us. For us, we're going to have to play all 48 minutes like we did that second half with activity. If things aren't going our way, we got to battle even harder. And I thought our bench in the first half struggled. I thought the second half was great. They're going to have to come alive tomorrow, too."
Since then, the team has been working well together and are managing to find the players in the right situations. Brandon Jennings has stated on many occasions that he's trying to set up others on the team, including Kristaps Porzingis.
In their meeting against the Brooklyn Nets, Jennings dished a nice bounce pass to Porzingis, who slammed down a one-handed dunk with authority.
On multiple occasions, the second-year forward has displayed how well he can work in transition. That's a strong asset he can bring to the offense. There aren't many 7'3″ players in the league, let alone 7'3″ players that can get the ball in transition and finish at the rim like him.
Along with that, the Knicks are looking for the mismatches that Porzingis can pick up and capitalize on.
Carmelo Anthony has proven that he's still one of the top scorers in the league. He can work well in the post, especially in pinch-post sets, and can drain shots at an effective rate. When Anthony saw mismatches against the Miami Heat, i.e. Rodney McGruder, he took full advantage of that and gave the rookie a tough challenge.
Even when the Knicks head to the second unit, Jennings has dazzled the team with his flashy passes.
While Jennings most important attribute is his ability to be a distributor and set up teammates, he can also knock down shots, especially the 3-ball. In eight games this season, the Knicks guard has dished out seven or more assists eight times.
Not only has Jennings sparked the team so far, but he believes this team has improved since their first game (h/t Rebecca Harlow of MSG Network).
"I think that was a wake up call for us our first game of the season. We're better than we were our first game. We're playing at home where we play very well at, so we just got to bring a lot of energy and a lot of intensity."
The New York Knicks are 9-3 in their last 12 games and are looking to extend their four-game winning streak with a victory against Cleveland. The Knicks are playing at home, which should be beneficial as they are 9-3 at Madison Square Garden.
Even with a solid home record, New York has a tough challenge in front of it.
This article originally appeared on