New Orleans Pelicans Will Test Rookie Guard Buddy Hield Early And Often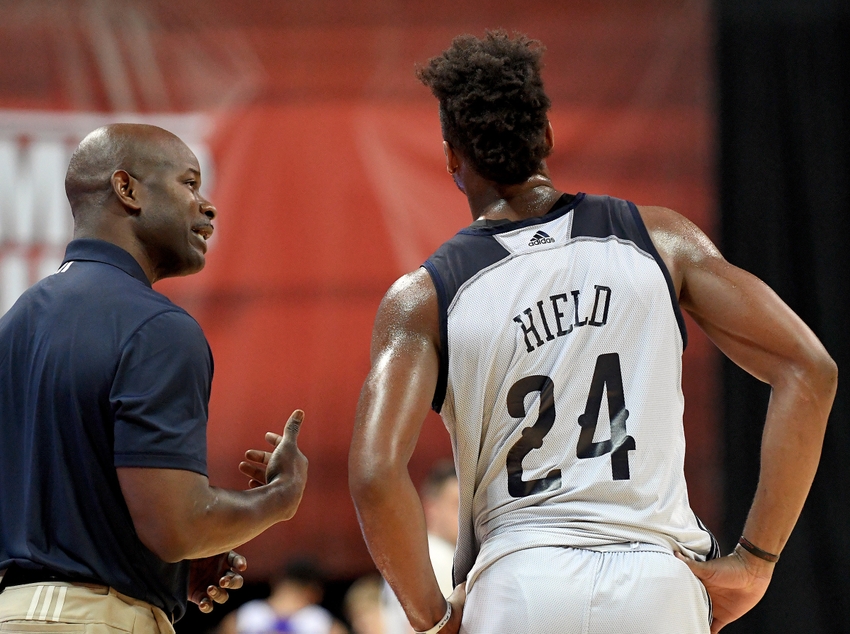 The New Orleans Pelicans' injury woes will force the team to test rookie shooting guard Buddy Hield early and often in the 2016-2017 season.
New Orleans Pelicans' rookie guard Buddy Hield was tested quite a bit in his debut at the NBA Las Vegas Summer League.
He will be tested even more when the NBA season begins.
The Pelicans are facing a harsh reality, as starting guards Jrue Holiday and Tyreke Evans will both be out to start the season. At this point, it is uncertain when either will return to the team.
It leaves New Orleans in a pickle. They have made the signing of Lance Stephenson to help remedy the situation. Along with E'Twaun Moore, Langston Galloway and Tim Frazier, they have some depth to work with.
However, Frazier and Moore will likely be asked to play the point guard, while Stephenson is still a question on if he'll even make the roster. It leaves the Pelicans lacking a true starting shooting guard.
That's where Buddy Hield comes into play.
Hield is a capable scorer and defender straight out of college. His four year stint at Oklahoma shows his ability to shoot the ball with ease and has the athleticism to keep up on defense. There's still obvious work that needs to be done to improve his game, yet he's ready to compete right away.
New Orleans will need him. Not only will they surely play him, but they will test him often. Without Holiday and Evans, the Pelicans lack players that can drive to the basket. Hield will likely be asked to be that guy, as the rest of the lineup is focused on spacing the floor for Anthony Davis.
On the defensive end, he'll be asked the same thing as everyone else on the team. They'll need him to be flexible and able to switch on pick-and-rolls on the fly. He will be tested on defense with everything from point guards to possibly power forwards.
The Pelicans will need an improved Hield in the regular season, compared to his summer league performances. Buddy averaged 16.8 points, 5.4 rebounds and 3.8 assists per game in the summer. Those numbers look great, until the realization comes Hield took 19.6 shots per game and shot 33.7% from the field.
On defense, he had okay performances. Still, he'll need to improve that in order for New Orleans to be successful, especially with guys like Klay Thompson and Kris Middleton early on in the schedule. The Pelicans have some early tests in Golden State and San Antonio, yet also have some beatable teams in Phoenix, Milwaukee and Denver.
For New Orleans to get off to a good start, Hield has to adjust quickly and smoothly. With the team lacking their quality guards, they need someone to step up and attract defenders, in order for Davis and others to get space. With no one else capable, the Pelicans will ask that of Buddy. It's a big test, but one he'll be put on the spot to pass.
Buddy Hield will get quite the test in his rookie season as a New Orleans Pelican. The team will ask him to take a major role in the system, due to missing players. He's shown the capabilities to succeed in college, but this is the NBA. It's a whole new ballgame. Hield will need to be up to the challenge if the Pelicans want a realistic chance at sneaking into the 2017 NBA Playoffs.
More from Pelican Debrief
This article originally appeared on