New Orleans Pelicans: Will Archie Goodwin Help The Winless Pelicans?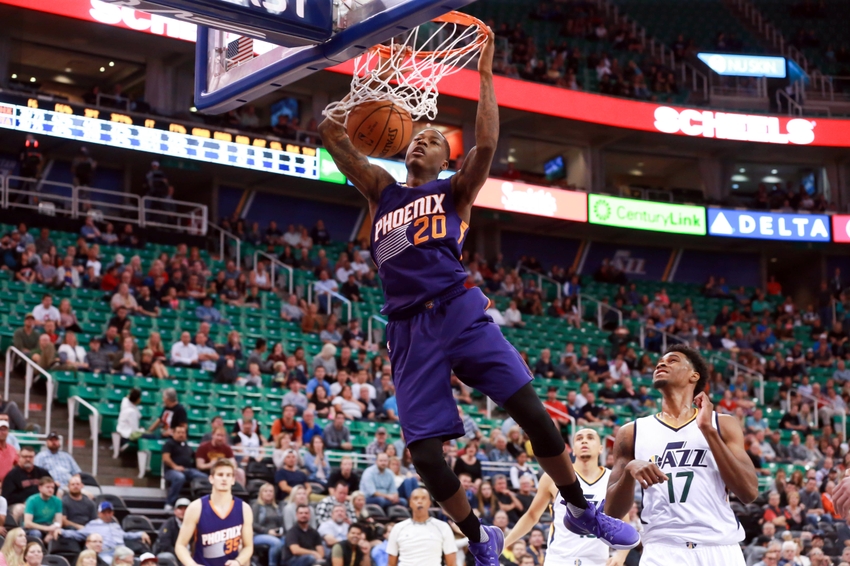 Archie Goodwin is getting a second chance with the New Orleans Pelicans after being crowded out of Phoenix. What does the guard bring to the table for a team that is fighting for their first win?
Alvin Gentry's New Orleans Pelicans have been hit hard by the injury bug for the second consecutive season. Quincy Pondexter and Tyreke Evans were already out due to surgery rehab. Jrue Holiday is also away from the team due to personal reasons.
That was followed up on Saturday with the announcement that swingman Lance Stephenson was diagnosed with a groin injury. Sources told Yahoo Sports that the timetable for recovery could be six to 10 weeks.
With the losses on the roster — and on the court — piling up, the Pelicans had to make a roster move. On Monday, they waived Stephenson and signed guard Archie Goodwin, recently released by the Phoenix Suns.
Stephenson's time as a Pelican saw him as a high-energy playmaking wing. Stephenson was second on the team in assist rate (29.9 percent) at the time of his release and was effective at getting to the basket (65.2 percent at the rim).
Lance had such a high motor that he could hustle all over the floor in transition while averaging 27.1 minutes a game off the bench.
Archie Goodwin comes to New Orleans after 150 games in three seasons with Phoenix. The Suns drafted him after a year at Kentucky and the organization developed him as a long-term prospect.
Goodwin struggled for minutes behind Eric Bledsoe and Brandon Knight. The sudden ascent of fellow Wildcat alum Devin Booker rendered Archie an afterthought in the Suns rotation under coach Earl Watson.
Goodwin and Stephenson do share some similarities in their repertoire. However, Gentry stated at Monday's team shootaround that he does not expect Archie to be exactly the same player as Lance.
"I don't know if I see him exactly in that situation. I think he has a little bit of a capability of doing that, but he's just a good athletic player that we can stick out there and try to see what he can do".
Archie's claim to fame is his ability to score in bunches. He does this mainly by getting to the bucket. Last season, he averaged 5.1 drives per game, good for 54th in the NBA. He's also known for creating shots off the dribble and impressive finishes.
Goodwin could slash, but had his troubles once he got to his destination. He shot 39.8 percent on his drives and 54.4 percent overall at the basket.
Lance fares better at the rim, but he doesn't get to the line nearly as much as Archie does. Stephenson sported a .225 free throw rate between last season and this year. That contrasts with Archie's .457 free throw attempts per field goal attempt in 2015-16.
Goodwin could stand to improve his shot outside the restricted area. He shot a mere 13.9 percent in the rest of the paint on 36 total attempts last season. He shot 23.2 percent from three, better at certain spots on the floor than others.
Archie struggled from the right corner (0-for-10) and the left wing (5-for-38). He shot 36.7 percent from everywhere else on the perimeter.
But Archie can be unstoppable once everything clicks on offense. He really hit his stride in the middle of last season when he racked up seven 20-point games from Jan. 21 through Feb. 22.
His last big moment with the Suns came during the 2016-17 preseason. Goodwin helped Phoenix erase a 30-point deficit against the Utah Jazz. The exclamation point was a go-ahead slam with three seconds left in the game.
The Pelicans DNP'd Goodwin in their Monday tilt at Golden State, but he was available to play. The 116-106 loss was the front end of a NorCal back-to-back. Gentry might have held him out to allow him to get an understanding of the game plan before putting him in live action.
Goodwin could potentially debut on Tuesday at the Sacramento Kings.
He will be thrown into the shooting guard rotation with starter E'Twaun Moore and rookie Buddy Hield. If Archie can find the spark he had at times in Phoenix, he could soon supplant one of his teammates on the depth chart
In order to do that, he'll have to be a more efficient scorer. He has a career PER of 10.9, and finished at 11.1 in 2015-16. Compare this to some of the Pels this season. The outgoing Stephenson has a 11.1 PER, Hield has a 6.0, and Moore has an 11.5.
Even league-average efficiency (a 15.0) could garner him some crucial starts during this trying time for the Pelicans.
Even with his shades of offensive prowess, Goodwin didn't focus that much on the defensive end of the ball. Archie has a career defensive rating of 109 points allowed per 100 possessions, and had a 111 rating last year.
He stated in his Monday shootaround interview that he wants to improve that side of his game.
"Defensively is where I'm going to have to step it up a lot. This year I'm really going to turn in up on defense because I want to be a two-way player. And I feel like offensively we got AD, got plenty of scoring, but defensively is something that I can help really contribute to".
As Coach Gentry said in his interview, Goodwin's athleticism will help him improve on defense. The key will be his desire to get better. The above quote makes it clear that he has that desire.
The Suns did not release Archie Goodwin due to a lack of talent. He still has plenty of potential. The right opportunity would allow the 22 year-old to develop into a major contributor in this league.
We'll see if that right opportunity is in the Crescent City.
This article originally appeared on