New Orleans Pelicans: What Does Tyreke Evans' Return Mean?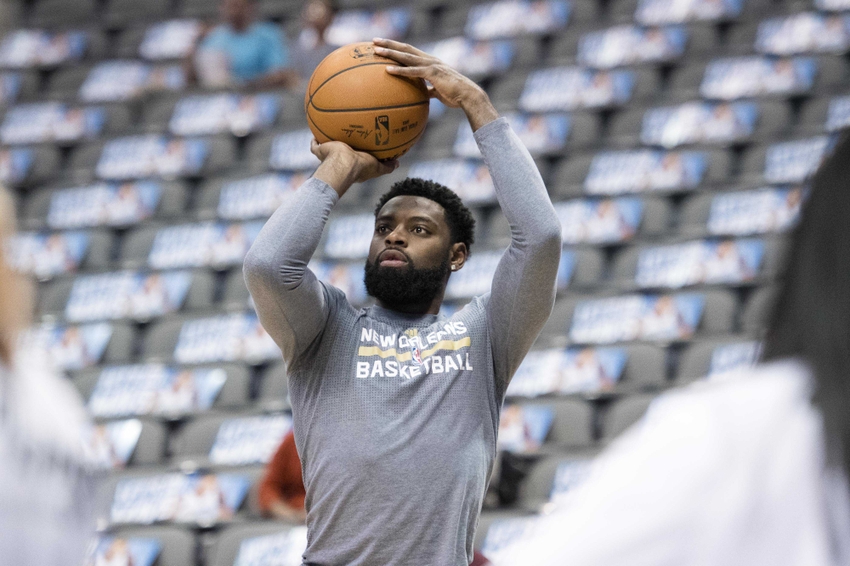 With the return of talented combo-guard Tyreke Evans on the horizon, what should the New Orleans Pelicans expect to change?
New Orleans Pelicans fans may not realize it, but the return of Tyreke Evans is imminent.
Fox Sports New Orleans' Jen Hale reported a week ago that Evans is looking towards the first week of December, to return to the court. This is after he indicated that he is feeling pain free, after struggles with a knee injury since January.
The return of Tyreke Evans is a big deal for a struggling Pelicans squad. With a 7-12 record to start the year, New Orleans needs to turn their season around sooner, rather than later. Tyreke's skill set can help the team for the better.
So what exactly will Tyreke bring, that the Pels currently lack?
According to Pelicans fans, the biggest things Evans will highlight when he returns is slashing and playmaking.
@RickStoneNBA @MasonGinsberg slashing rebounding and playmaking in general,badly needed

— Fernando Sanchez (@Soulkraven) November 29, 2016
@RickStoneNBA We really need him to provide some slashing for us along with his playmaking

— CrescentCityConnect (@neyonirvana) November 29, 2016
Tyreke Evans is known for his ability to attack the paint and force defense to collapse. While he's no Jrue Holiday, he is capable of passing out of a tight defense in the paint, to find the open man.
However, it may be tricky for him to fill that role, when two Pelicans are already excelling this year in their slashing and playmaking.
Many expected Jrue Holiday to return to form and become a dynamic facilitator. However, Tim Frazier has done a fantastic job as well. In his 18 games so far, Frazier is averaging 11.6 points and 7.7 assists per contest. Tim's small stature and ability to drive into the paint and find assists has helped the Pels stay afloat.
It's tough to make the case for either losing their job to Tyreke, who has not seen the basketball floor of an NBA game in almost a year. While Evans probably has more upside as an overall player than Frazier, he will not be the player that he was immediately upon his return.
The other big idea the Pelicans may have for Evans, that has been proposed and attempted before, is playing the small forward. New Orleans has had problems with the position all year, as Solomon Hill has not lived up to expectations.
Between Hill's struggles and the injuries to Dante Cunningham and Quincy Pondexter, the Pelicans are desperate for small forward help. Tyreke Evans could help at the position and be a slashing option next to Jrue and Anthony Davis. However, the big problem with the small forward role in Alvin Gentry's system is the need for shooting.
New Orleans relies on their  wings to be able to shoot the ball from behind the arc, in order for Jrue to be able to slash and Davis to be able to work in the paint. Evans is not a prolific three-point shooter. His career numbers have not been the greatest and only found real success last year, with an average of 38.8%.
The likelihood Evans will do that again, especially following a serious injury, is near zero. However, those kind of numbers will be what Pelicans fans desire, if he's put into that role.
Simply put, it's not realistic.
Tyreke will struggle to find his form. As a small forward option, he'll likely be tasked with small forward matchups. Even with the constant switching Gentry likes to run, this will not be successful for a man still working on returning from a major knee injury.
He is not going to become the Dante Cunningham fill-in at small forward, nor will he replace Frazier's success. So where can he succeed? The answer might come down to Jrue Holiday's health and some manuvering around.
Mason Ginsberg of Bourbon Street Shots brought up the idea that Jrue and Frazier combo-ing the starting unit might work best on Reke's return.
What if you start Frazier & Jrue with AD & 2 of Moore/Hill/Asik? Because that's what I would do when Reke gets back. https://t.co/9hSgTRkkm3

— Mason Ginsberg (@MasonGinsberg) November 29, 2016
This is something the Pelicans tried just last night in their win against the Lakers. Holiday and Frazier played on the starting unit together. Based on how last night went, it's safe to say the idea is off to a good start.
Evans would then be the lead guard off the bench unit, working with either E'Twaun Moore or Langston Galloway. Taking some time to think about it, the logic is there for sure.
Jrue Holiday and Tim Frazier have seen the floor together quite a bit in crunch time. Their success as being a double-trouble of effective drive-and-kick basketball helped the Pels win four in a row. Keeping those two together on a starting unit, when Jrue is ready to play starter minutes, would work well.
Off the bench, Tyreke would be a fresh set of legs that can fit in a comfortable role running the offense. Moore or Galloway will be a good fit next to Tyreke, as both are near the top of the team in three-point percentage.
Giving Moore a role more focused on shooting and less on creating might become a positive all around. Same with Galloway, who has shined when he's focused on being a catch-and-shoot player.
While crunch time is still a question Gentry will have to figure out as he goes, having two units of guards that compliment each other would be the best fit going forward. It means even more, considering how much time Evans will need to find his form. Giving him a smaller role off the bench and putting players that can score around him, like Terrence Jones, is the smartest bet.
Tyreke Evans' return has New Orleans Pelicans fans excited, yet expectations do need to be tempered on his return. The best bet will be a slow, safe role for him to slip into, until he gets back into his old form. This year is especially important for Evans, who will be a free agent once this season ends. However, if the Pels want what's best for Tyreke to succeed, they will be very careful upon his return to the basketball court. Here's hoping for a strong year for Evans, whatever role he plays.
More from Pelican Debrief
This article originally appeared on