New Orleans Pelicans Weekly Recap: The times they might be changing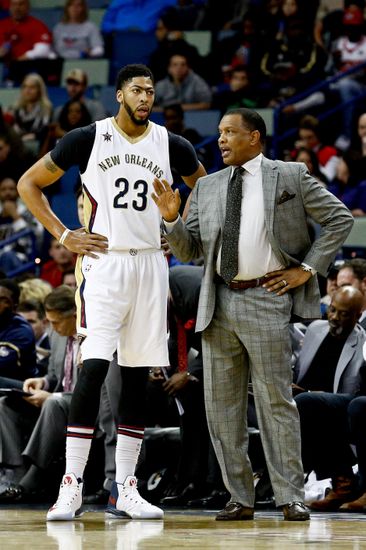 Two close losses and another Clippers blowout highlighted the struggle of a rough start to December for the New Orleans Pelicans.
We're back with a New Orleans Pelicans Weekly Recap just in time to discuss the worst week in recent memory. I said in this space two weeks ago that "We're all struggling with what to make of a New Orleans Pelicans team that can be flashy and dynamic one night and deeply unimpressive the next." Still true. It's impossible to tell what version of this team we'll see from night to night, and most of the versions are unimpressive.
Individual slumps, more injuries, and heaps of disappointment made this week feel like the turning point downward for this Pelicans season.
LAST WEEK'S GAMES
Monday vs. Memphis Grizzlies: 110-108 2OT L
The first game of a four-game week would of course go to double-overtime. The Pelicans were actually in control for most of this matchup, which brings up a troubling pattern that hadn't really manifested itself until this week: blowing leads. It's an inexcusable habit normally reserved for young squads or ones that are poorly led. The Pelicans usually don't fall into either of those camps, but with injuries once again devastating the team, too many inexperienced players are being forced into heavy minutes.
The Marc Gasol buzzer-beater:
Thursday vs. Philadelphia 76ers: 99-88 L
What a terrible performance all around. Generally it's easy to diagnose the problems the Pelicans suffer from: injuries, lack of depth, or the inability for secondary guys to make plays on offense. Those are pretty constant at this point.
Thursday's contest was atrocious in completely unique ways. There was Anthony Davis's inability to keep Ersan Ilyasova in check; Buddy Hield refusing to take and struggling to make open looks; Tim Frazier having a completely off night. It was rough, and the organization seemed to think so too.
After the game, the team was broken down. Davis called it the most disappointing loss of the season, and Alvin Gentry started cursing about job status in the post-game presser. Yikes.
Saturday @ Los Angeles Clippers: 133-105 L
It's almost like Chris Paul still marks these games on his calendar at the beginning of the year. The former Hornet played one of the best games of his entire career on Saturday night, tallying a symmetrical 20-points and 20-assists without a single turnover. According to the Clippers' broadcast, no player in NBA history has had that kind of game. A quick Basketball-Reference search shows the same.
The Clippers also scored their season-high in points, and basically used the game as a re-launch from a difficult stretch in their schedule. You're welcome, CP3.
However, this was the game that instilled the most hope all week. Cheick Diallo filled in off the bench for the resting Anthony Davis, playing 30 minutes and notching a double-double against mostly bench units. Still, get excited:
Sunday @ Phoenix Suns: 120-119 W 
A win! A real-life, legitimate victory. Hallelujah.
With the full armada back in tow (E'Twaun Moore and Jrue Holiday had missed the previous three games with injuries), the Pelicans were able to eke out a victory over a Suns team they struggled to defeat the last time around. As is so often true for the Pelicans, sometimes it's just a matter of being healthy: The last time these teams squared off, the combination of T.J. Warren and Devin Booker was too much to overcome. This time, with Warren out and Holiday back for the Pels, the scale tilted in their favor.
Also, a Tim Frazier triple-double, which is apparently (according to ESPN Stats and Information) the first such game for any Penn State alum in NBA history. He's such a valuable player in a bench role; very cool for him.
OUR PLAYER GRADES FROM THE FUN ONE 
BEST OF PELICAN DEBRIEF
We've been trying here at PD to give you more in-depth analysis as things get more dire for the organization, and we hope you've enjoyed what you've read. This week, we had Charles LaRocca looking at the problem with Anthony Davis playing so many minutes. In response (because Gentry surely reads our work), Davis sat out the Clippers game to rest.
Then, me (Brendon) on how the match-up with the super-high-ceiling 76ers magnifies the failures of the Pelicans' rebuild around Anthony Davis over the past four years.
Just click on those highlighted words up above to read the pieces mentioned!
BEST OF THE REST OF THE WEB
Since we missed last week's recap, here's a vital briefing on the Tyreke Evans situation by ESPN's Justin Verrier. Of note:
Demps said Evans is in "tremendous shape" and that the team is pleased with his recovery. The Pelicans plan to work him back in slowly to get into "basketball shape." Pelicans coach Alvin Gentry said there's "no way" Evans can play long stretches of minutes right now.
And finally, a column on the work Buddy Hield is putting in to improve on a rocky first six weeks, by The Advocate's Scott Kushner. There is also a tidbit near the end about the Pelicans signing NBA journeyman Reggie Williams from the D-League's Oklahoma City Blue, as well as Kushner's usual "Three-Pointer" to finish.
THIS WEEK
Tuesday vs. Golden State Warriors
Thursday vs. Indiana Pacers
Friday @ Houston Rockets
Sunday @ San Antonio Spurs
This is an awful week to see this slate of teams; three of the Western Conference's top four and a talented Pacers squad are not the group the Pelicans hoped to face after a 1-3 week. That's before mentioning another back-to-back and the inevitably defeating Warriors face-off.
Look for more news on Diallo– the Pelicans have been tricky moving him around whenever the team ventures into Texas for away games, and sending him to Austin to practice with the Spurs' affiliate and play in their game on Thursday and Friday before bringing him back to the team on Sunday might make some sense.
Stay patient, friends. Anthony Davis is still healthy, and the season is young.
More from Pelican Debrief
This article originally appeared on