New Orleans Pelicans season preview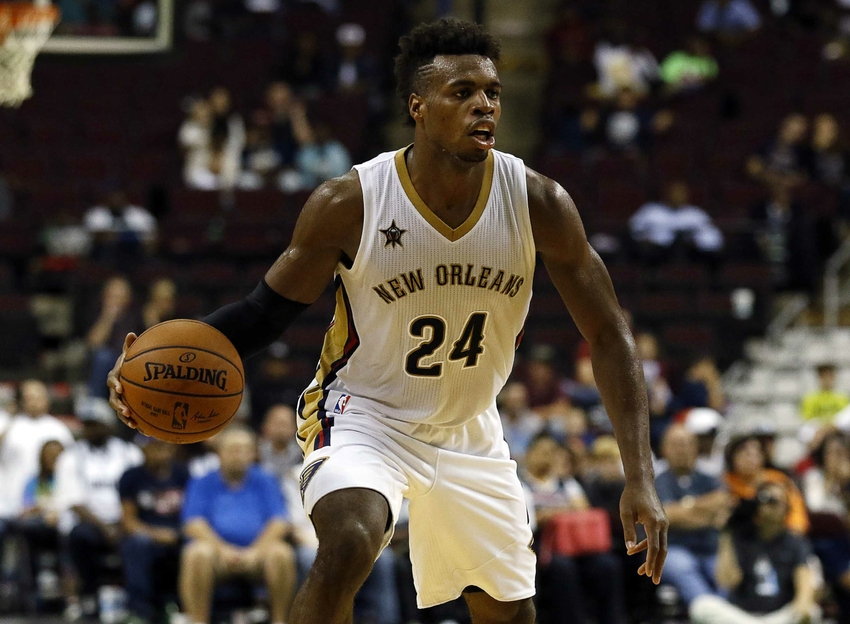 The NBA season will be here before you know it and FanSided is here to get you ready. In the lead up to Opening Night, we'll be previewing two teams each day, reviewing roster changes, discussing important players and challenges, and hearing the perspective of our FanSided site experts. Let's get ready for basketball!
Roster Changes
Inputs: Buddy Hield (SG, NBA Draft pick No. 6); Cheick Diallo (PF, NBA Draft pick No. 33); Solomon Hill (SF, signed for four years, $52 million); E'Twaun Moore (SG, signed for four years, $34 million); Langston Galloway (PG, signed for two years, $10 million); Terrence Jones (PF, signed for one year, $1 million); Robert Sacre (C, signed for one year, partially guaranteed); Lance Stephenson (SG, signed for one year, partially guaranteed); Shawn Dawson (SF, signed for one year, partially guaranteed)
Outputs: Ryan Anderson (PF, signed with the Houston Rockets); Eric Gordon (SG, signed with the Houston Rockets); Toney Douglas (PG, signed with the Cleveland Cavaliers); Luke Babbitt (SF, traded to the Miami Heat); James Ennis (SF, signed with the Memphis Grizzlies); Kendrick Perkins (C, unsigned); Jordan Hamilton (SG, unsigned); Norris Cole (PG, unsigned)
Retained: Tim Frazier (PG, signed for two years, $4.1 million); Alonzo Gee (SF, signed for one year, $1.4 million)
Most important addition
The New Orleans Pelicans needed to get star player Anthony Davis some help in the 2016 NBA Draft. With the sixth pick in the 2016 NBA Draft, the Pelicans selected Oklahoma Sooners star shooting guard Buddy Hield.
Hield led the Sooners to the 2016 Final Four, and was the Naismith College Player of the Year and the John R. Wooden Award winner. At 22-years old, the Bahamian national is ready to contribute right away in Alvin Gentry's Pelicans offense.
Hield may not ever develop into a superstar for the Pelicans, but he will score in the NBA. That's exactly what the Pelicans need on their roster that has been devoid of reliable scoring talent for years.
Davis may have his durability issues, but Hield projects to be the go-to scorer the Pelicans will need out on the perimeter. It's like the Pelicans are getting a better version of Eric Gordon, one who actually wants to play for New Orleans.
The Pelicans thought so highly of Hield coming out of Oklahoma that they were more than comfortable in letting Gordon and stretch four Ryan Anderson leave in free agency for the Southwest Division rival Houston Rockets.
New Orleans' ceiling this season is that of a fringe playoff team. The Pelicans can get a No. 7 or No. 8 seed if the team grows under Gentry's leadership in 2016-17. Davis will have to be All-NBA, but more importantly Hield will have to be first-team All-Rookie.
Biggest weakness
New Orleans' Achilles' heel is their front office. Thank goodness that the Pelicans were able to get a proven team-builder into the fold in former Atlanta Hawks general manager Danny Ferry.
Ferry may be disgraced from the Luol Deng comments that cost him his job in Atlanta, but he's their only executive that can get the Pelicans out of their front office quagmire.
Where to begin? The Pelicans are owned by 89-year-old billionaire Tom Benson, who also owns the NFL's New Orleans Saints. He's allowed the Saints to become one of the worst teams in the NFC. The Pelicans are middle of the pack, despite having a superstar in Davis.
Mickey Loomis is the head of basketball operations for the Pelicans and the general manager of the Saints. It's painfully obvious that he has bit off more than he can chew in managing both teams.
Loomis' ridiculous workload has allowed Pelicans general manager Dell Demps to do a questionable job the last few years. By January, the Pelicans were trotting out a roster of five NBA players and a bunch of D-Leaguers. New Orleans has constantly overpaidfor often-injured stars on the decline.
Ferry should help right this ship. The Hield pick was solid. The Solomon Hill signing was underrated. Letting Anderson and Gordon walk were the right moves. The Pelicans are making progress in the front office, but it's still one of the bleaker situations in all of basketball.
What does success look like?
— Brendon Kleen, @PelicanDebrief, Pelican Debrief
When a team goes young and fresh to rebuild their roster, a transition period is expected. The Pelicans added six (!) new players 25-years old or younger this offseason, overhauling a stale roster with exciting new parts. Yet, that transition period will have to be accelerated for a team expecting its additions to propel it back into the playoff race. Buddy Hield will need to earn his draft hype, and surprisingly high-dollar players like E'Twaun Moore and Solomon Hill will need to prove they were worth their deals.
Success in 2017 for the Pelicans, then, would be each of these six new players (and several already on the roster, such as Anthony Davis, Tim Frazier, and Alexis Ajinca) continuing along their respective upward trajectories. Hill must rebound and shoot like he has at his best, making small lineups zing. Moore must become the perfect combo guard. Hield has to add new skills to his dynamite jumper, and even Davis could use some polish on defense and when moving the ball.
The team could use a Terrence Jones reboot, and if Frazier could steady the ship while Jrue Holiday helps his wife recover from brain surgery, they'd be a lot better off. Every team has their group of guys that represent the wild-card for the season; for the Pelicans, that group is almost the entire roster. For the Pelicans to have success this year, those guys must improve.
Yet their improvement in those expected categories is itself the best sort of success.
This article originally appeared on