New Orleans Pelicans Season Outlook: Solomon Hill looks to earn his contract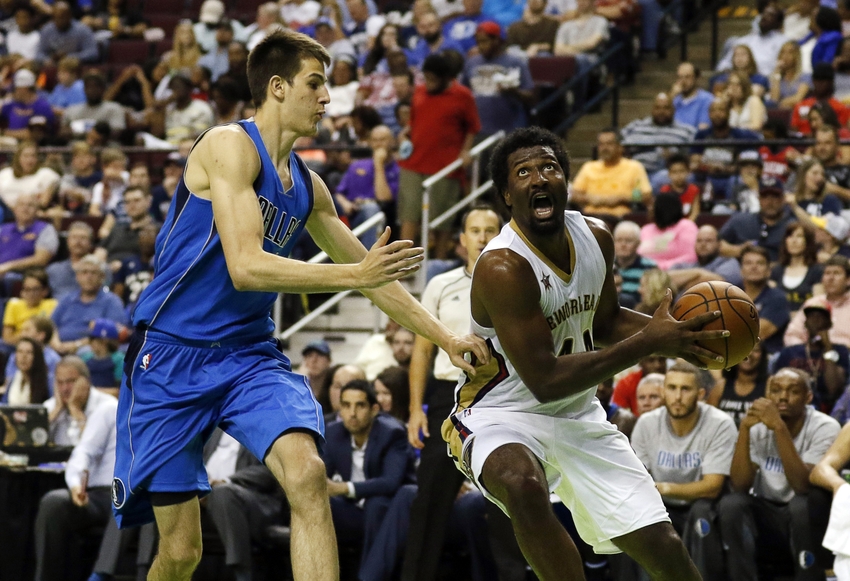 How can Solomon Hill earn the sizable contract the New Orleans Pelicans gave him this summer? By developing an elite skill.
The NBA is built around its wing talent. While point guards like Stephen Curry or Russell Westbrook might be the league's face, its wings are what makes the supremely watchable and lovable product that the NBA puts out. There was an era in the mid to late-2000s where the evolution of human bodies seemingly outpaced NBA strategy, and we were left with a "tweener" archetype that ended so many careers. Then the Steve Nash Suns, Big Three Heat and late-era Duncan Spurs came around and showed that a beautiful blend of athleticism and skill could overcome the awkward fits that positional designations provide. If this offseason showed us anything about the New Orleans Pelicans, it's that they may finally be coming 'round to this foundational truism of modern basketball.
That all starts with Solomon Hill, who signed a 4-year, $54 million deal this summer to be the Pelicans nominal frontcourt swingman. To put that contract in context, it's important to understand the deals that similar players received:
All of these guys have on thing in common, and that's their newfound value in the league. Besides Barnes, each of these guys would have been considered a "tweener" just a few years ago, and some of them actually were. Yet now we found value where teams past saw flaw, and the cash flows accordingly.
Solomon Hill is a step below this tier in terms of salary after blossoming at the tail end of his rookie deal in Indiana. But looking closer, this isn't really the cream of the crop in terms of proven talent– Kent Bazemore rode a 64% increase in minutes and a 5% boost in Usage Rate (per Basketball-Reference) toward a payday; Marvin Williams exploded in a contract year, boasting rim protection and off-the-bounce sleekness; Evan Turner worshipped at the altar of President Brad Stevens. It almost makes you wonder why Hill didn't make more, considering that his size makes him an ideal candidate to spend more time up a position and benefit like these folks did.
The basic answer is that each of these players presents a marketable skill, something their respective employers are sure they'll receive as a return on this investment. For Turner, it's playmaking; for Barnes, it's #buckets; for Smith, shooting. Solomon Hill, to this point, has not made that elite-level skill apparent. If anything, his value comes from his ability to do everything sort of well. The ability to dribble and pass "sort of well" is valuable in a power forward, but less so in a small forward. On the other hand, his bulk and defense is a matchup problem as a three. You see the value, but putting a dollar value to it is difficult. Therein lies the challenge the Pelicans were faced with this summer.
All things considered, here's what you have in Solomon Hill: a decent rebounder from the three spot, a ball-mover, an inconsistent shooter, and a nice defensive piece with no shot creation on offense. You almost have to tally on either side of a pros/cons list to get a sense of how to value him. All in all, he's a player who deserves to stick in the league and see his skills solidify into a finished product, and the market dictated that he was a step below guys who were making heaps of money, so he'll make slightly smaller heaps of money for the next four seasons.
Yet based on what the Pelicans need, they're betting nearly $50 million on him becoming the specific square peg for their square hole. He simply has not shown enough outside of the playoffs last season to believe that he can be an above-average stretch four. For all the value that some players have gotten as a result of the changes in on-court tactics, it's not as simple as sizing up a player and his numbers and expecting that transition to be seamless. And the simple truth is that Hill isn't worth $12 million per year as a small forward.
So as the Pelicans enter the season with Hill starting in that spot, one of the top storylines/stratagems to focus on will be how this grand plan works out. As it looks now, the Pelicans are replacing the still-improving Dante Cunningham with Hill, and hoping the upside Hill has rarely flashed comes to fruition. Solomon Hill will turn 26 during the season. He is now valued as a second-tier wing in this league, a reputation that might have outpaced his skill and production levels.
If the rebounding and shooting get to league-average-or-better levels for players of his ilk (~20% defensive rebounding percentage, a three-point percentage in the high thirties), he'll make quite a few lineups bang. That upward positionality can be the elite skill he develops to earn his spot on the payroll and in the rotation. If he simply slogs through a season as the team's small forward and fails to make an impact in any specific realm, watch out. An extraordinary part of the Pelicans' ceiling rests on Solomon Hill's shoulders.
This article originally appeared on