New Orleans Pelicans: Recapping Media Day 2016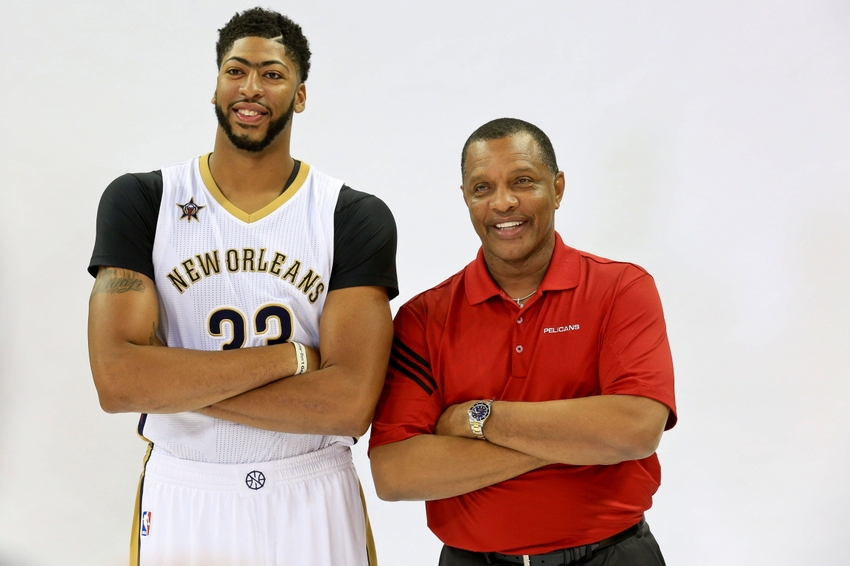 Friday's candid Media Day marked 33 days until the start of the New Orleans Pelicans season.
On a day generally reserved for audacious predictions and sensational imaginations, the New Orleans Pelicans served honesty up on a platter to those in attendance for Friday's Media Day. The candor was of the reserved, cautious variety; fresh off a firestorm of injuries last year, disappointment has been in the air since about November of last season. Remember, these Pelicans lost their first twelve games last year- even after a promising offseason, there's little room for optimism.
Among the most popular buzzwords surrounding losing teams – especially since the rise to prominence of former Philadelphia 76ers General Manager Sam Hinkie – is "Process". That capital "p" is earned; a tried and tumultuous series of odds-gauging bets made and won by Hinkie carried a name that outgrew its more measured manifestation. For the Pelicans on Friday, that word took on a new meaning, and one with a less distinguishable definition.
It was there, under the surface, when Demps passed over the never-ending injury situation. It came to the surface in reference to the slower approach to those injuries that the team is taking this season; Tyreke Evans isn't expected back until December or January, with Quincy Pondexter on pace to finally make a reappearance about a month earlier. Lauren Holiday successfully delivered a baby girl, but her recovery from brain surgery will keep her husband Jrue away from the team until around the start of the new calendar year as well.
"Process" was certainly a part of the decision to allow Jrue to walk away from superficial basketball responsibilities to spend time watching over his wife and daughter; take the long view, when Lady Luck passes you over. And allow the ravishing Lady to bless you when your turn finally comes: Omer Asik and Alexis Ajinca, both painfully aware of a missed opportunity for growth last year, are optimistic heading into this season. As reported by Jim Eichenhofer of NBA.com shortly before Media Day, Ajinca worked with a track coach over the offseason to improve his running stamina and technique. Asik made clear his priorities:
Omer Asik: I wasn't very good defensively last year and that's my main thing. I have to be better on defense this year

— Will Guillory (@WillGuillory) September 23, 2016
"Process" reigns supreme; player development over everything.
And then there's of course the literal processes that take place over the course of an NBA season: recovery, game-planning, practice, adjusting. For rookie Buddy Hield, that adjustment will be major; a child of the Bahamas and a four-year college player, the bright lights of the NBA have been a long time coming. Making his way through an 82-game season healthy and productive will be the key for the sharpshooter:
"I can't wait to show the city what I can do." Buddy Hield

— Rod Walker (@rwalkeradvocate) September 23, 2016
Anthony Davis will have to make the same types of adjustments to prove to himself and others that he can withstand the beatings of the NBA calendar and emerge unscathed. While keeping the star player(s) healthy is surely a key part of the Process, the Pelicans must push Davis this year, and on the court they'll rely on him greatly. Per Davis himself, besides the restrictions placed on him by the coaching and training staffs, he's "all in", though his dedication was never in question.
Another player who appears as dedicated and eager as any is the Pelicans' other draft selection, the Malian big man Cheick Diallo:
Demps: "Cheick Diallo is loved by his teammates — he works so hard."

— Oleh Kosel (@Redhopeful) September 23, 2016
Cheick Diallo says if D-League is in Pelicans' plans, he doesn't mind. He just wants to get better.

— John Reid (@JohnReid64) September 23, 2016
You want to talk Process; I mean come on, the D-League? Willingly? Come on, Cheick, we're blushing.
With a bloated roster that currently includes camp signees Shawn Dawson, Lance Stephenson, Robert "a different kind of physicality" Sacre, and Chris Copeland, the most fun part of Media Day quickly became the pictures. Here are a couple of the best:
We got nothing as juicy as Tyreke at the point or "keep shooting long twos, Mr. Cunningham" this year. Instead we got some stinkin' Process talk, Straight Outta Philly. No fun.
In all seriousness, a measured approach to the start of camp is cause for celebration; the stakes are as low as the expectations, players are excited to improve, and any success will be a surprise. Youngsters dot the roster, there is vertical buy-in throughout the organization, and Anthony Davis just signed an extension. The future is nigh; Media Day 2016 was a picture of that future, and the future loves Orange Crush.
More from Pelican Debrief
This article originally appeared on