New Orleans Pelicans Preview: Pelicans Get Tall Task in Kings
Rick Stone/FanSided via Pelican Debrief

Fansided
The New Orleans Pelicans will have a tall task tonight, as they get ready for a late-night duel with the Kings in Sacramento.
After a big win Friday night, the task is about to get taller for the New Orleans Pelicans to keep on winning.
Tonight will be a duel with the Sacramento Kings and massive big man DeMarcus "Boogie" Cousins.
Sacramento holds a 22-32 record going into tonight's game, one game better than the Pels.
The Kings hold the second worst road record of all the Western Conference teams, going just 11-15 on their home turf. That only trails the Phoenix Suns, who are 9-17 at home.
Sacramento's big positive is their offensive flow and shooting. The Kings are 13th in the NBA in assists per game, averaging 22.6 each contest. Sacramento's shooting is still their highest mark, averaging 45.7 percent from the field and 36.6 percent from behind the arc. With New Orleans' struggles defending three-point shooters, the Kings could take full advantage and make tonight a tough one for the Pelicans.
What may be surprising is the weak point of this Sacramento team. The Kings are the second worst rebounding team in the NBA, averaging just 40.8 boards per contest. Sacramento also struggles on the defensive end, giving up 105.9 points per game. The Kings, while being a good shooting team, are a slower-paced unit that relies on getting stops and good execution. While their offense is okay this year, their defense is getting victimized.
Sacramento is a big team. They rely on their bigs to command the game inside the paint and control the flow. Cousins has been starting next to Kosta Koufos, a 7'0″ center. The Kings know they want to play massive and go to it very often. New Orleans will have to speed the game up and use Sacramento's lack of speed to their advantage, in order to win.
The race for the eighth seed makes this game even more important. The Pelicans is 3.5 games back of the final playoff spot, while the Kings are just 2.5 games back. Whoever wins this game will likely gain a massive edge in that race.
The duel that steals the show will be Anthony Davis versus DeMarcus Cousins. Sacramento could use Koufas on him, but there will likely be plenty of time, where A.D. will deal with Boogie on defense and on offense. DeMarcus uses his massive size advantage to its full potential. Davis will need to space the floor and attack in transition. Cousins has plenty of success versus the Pelicans in the past. Anthony will need to temper Boogie, if New Orleans wants a shot in this contest.
Jrue Holiday will battle his former teammate from UCLA in Darren Collison. The duo, who teamed up in college during the 2008-2009 campaign, will face off in a battle of quickness and execution. Holiday will likely have the advantage in most areas, but Collison is no joke. Darren is averaging 13.5 points per game and shooting 42.2% from deep. He's an offensive threat Jrue will need to harass all night.
These two teams faced off in November of this season, with Sacramento winning 102-94. While the Kings held firm in that win, they are now without Rudy Gay, who suffered a devastating Achilles injury, The two teams face off two more times, with their final meeting coming March 31st. If New Orleans wants a shot at winning the season series, they need to win tonight.
This game will come down to who dictates the pace. If this is a track meet of fast-paced action, New Orleans should have the advantage. On the other hand, a slow grind will be in Sacramento's favor. The victor of the game will likely be the squad who grabs hold of the tempo.
With time running out and the deficit growing for a run at the playoffs, beating teams in striking distance is a must. Tonight, the New Orleans Pelicans need to show Sacramento they are the more talented roster, ready to make a big leap up in play.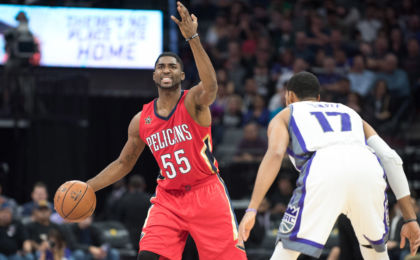 Who, When and How to Watch
When and Where: The game will be played at 8:00 PM CST in Sacramento.
How To Watch: The game will be broadcast on NBA TV.
Injuries:
New Orleans: Quincy Pondexter (Left Knee) is out. Tyreke Evans (Ankle) is probable. Terrence Jones (Thumb) is questionable. E'Twaun Moore (Personal) is doubtful.
Sacramento: Rudy Gay (Achilles) and Garrett Temple (Hamstring) are out. Omri Casspi (Right Tendon Strain) and Ty Lawson (Groin) are questionable.
Probable Starting Lineups:
New Orleans: PG Jrue Holiday, SG Buddy Hield, SF Solomon Hill, PF Dante Cunningham, C Anthony Davis
Sacramento: PG Darren Collison, SG Aaron Afflalo, SF Ben McLemore, PF DeMarcus Cousins, C Kosta Koufos
Other Players to Watch:
New Orleans: Tyreke Evans, Terrence Jones, Donatas Motiejunas, Tim Frazier and Langston Galloway
Sacramento: Ty Lawson, Malachi Richardson, Matt Barnes, Anthony Tolliver and Willie Cauley-Stein
What's Next for the Pelicans?
The New Orleans Pelicans stay on the road for the second of a back-to-back. They continue their road trek to Phoenix Monday night to play the Suns. Tip-off is scheduled for 8:00 p.m. CST.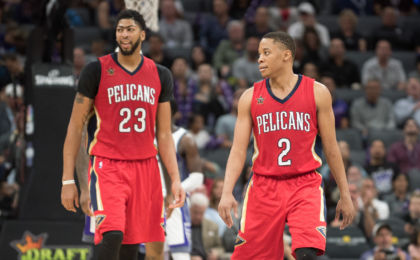 Key to the Game: Winning the Bench Battle
The New Orleans Pelicans will likely need their bench to step up big in tonight's battle.
Sacramento is a big team and that includes their bench unit. However, their backups are more known for their physical play. The main anchor of that physicality is Matt Barnes.
Barnes has been a key small forward around the league. He's also known for getting into the opponents heads and has a somewhat unorthodox style. For the Pelicans to make sure the Kings' bench does not affect the outcome, their bench needs to steal the show away form them.
New Orleans might not have Tyreke Evans, but Tim Frazier has done well in his time filling in. His play, alongside Jrue Holiday, has done wonders for the speed and execution of the offense. E'Twuan Moore's defense could be a big key, as the Kings have plenty of scoring guards on their roster.
Another big key for the Pelicans' bench will be their flexibility. The Kings play with a focus inside the paint. Switching will be important, as the Kings will likely look to get the mismatch off of a switch and post up. For guys like Moore, Langston Galloway and Dante Cunningham, their defense on post-ups will need to be strong.
Then there's Donatas Motiejunas, who will likely command minutes on Boogie in this game, when he shares the floor with Davis. He will need to be key, defending strong against Cousins without fouling. DeMarcus averages almost 10 free throws attempted a night. Donuts will need to keep him in check.
For the New Orleans Pelicans to win, their bench will have to hold the fort just as much as the starters. The Pelicans rely on their backups for key contributions to the team. Tonight will be no different, if New Orleans wants to rattle of their second straight road win of this stretch.
This article originally appeared on