New Orleans Pelicans Player of the Week: Omer Asik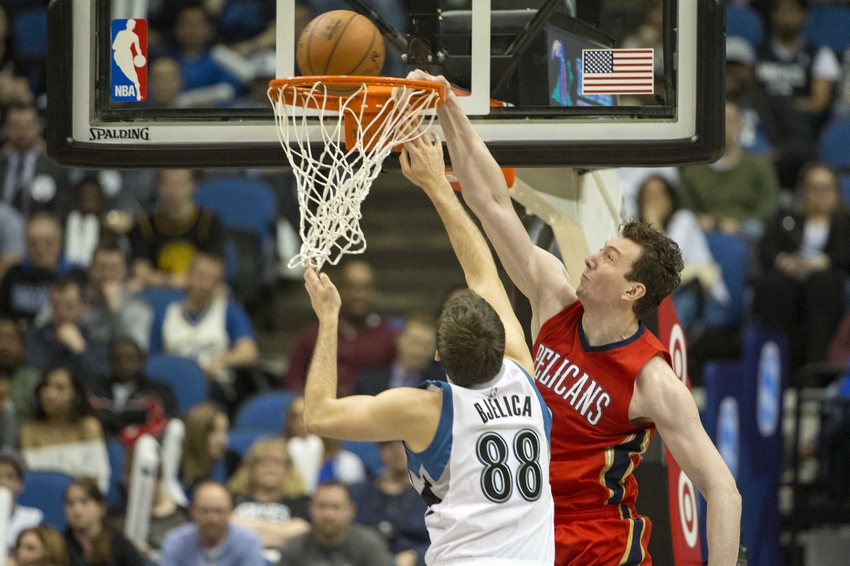 Each Sunday, Pelican Debrief veteran Charles LaRocca (@CLaRoccaJr) will choose one player to highlight as New Orleans Pelicans Player of the Week. We'd love to hear your feedback, in the comments or on his Twitter timeline.
Heading into a defining season, there were reasonable questions about how Omer Asik might perform. Yet through two weeks and six games, he's been a revelation, and the Pelicans' best interior defender.
The New Orleans Pelicans finished their second week of the regular season like they started, with zero wins. The Pelicans went 0-3 in their search for a win, including two home losses to the Suns and Bucks and two overtime falls to the Suns and Grizzlies.
This week saw the Pelicans' best opportunity so far to grab at least one win. The Pelicans held close in every game, but offensive woes down the stretch would be their undoing. However, despite this not being the start anyone envisioned, there have been some positives. The highlight of these positives is Pelicans center Omer Asik.
Omer Asik has been heavily scrutinized both nationally and locally for failing to live up to his large contract. Asik's large contract is typically regarded as one of the worst in all of the NBA and there were legitimate questions as to if he belonged on a NBA roster. Well, at least so far this year he has displayed that he has still has something to offer.
When it was first announced that Asik was to be benched for Dante Cunningham, it was fair to wonder if Asik was in the future plans of the team. After all, Asik is on record as not responding well to being benched. Fortunately for Asik and the Pelicans, he has responded by playing some of his basketball in a long while.
Game by Game Breakdown  
Omer Asik vs Milwaukee Bucks:
Against Milwaukee, Asik came off the bench in what was initially thought to be a match-up based decision. Asik played a very modest 13 minutes in this contest, and spent most of that shadowing the Bucks low-post scorer Greg Monroe. Now, many other players posted better raw numbers than Asik's 2 points and 7 rebounds. However, Asik posted the third best +/- of any Pelican, with a +6. Asik was also the only bench player responsible for a positive +/-.
On the defensive side, he clearly hampered Monroe's effectiveness, limiting him to a modest 2-6 shooting night. Of course, the Pelicans defense as a whole struggled, which led to that loss. Asik was not perfect either; at times, he was to reluctant to help off of Monroe, but he still showcased that he is the best low post defender on the Pelicans roster.
Omer Asik vs Memphis Grizzlies
Coming off of a back-to-back, it was fair to assume there would be a spike in Asik's minutes to lessen the burden on other players, and that is exactly what happened. Asik once again came off of the bench, but would play a season-high 35 minutes, possibly also as a reward for his solid showing the night prior.
The Grizzlies – like the Bucks – have a low-post scoring big on their bench. Asik would go head-to-head with Zach Randolph and at times guarded Marc Gasol as well. The results were immense, as both Grizzlies struggled to get going. The usually-efficient Gasol shot a woeful 3-18, while low-post bull Zach Randolph managed only a 5-18 shooting line on the night.
Asik was superb on the defensive end this game, forcing tough shots and battling in the post all game long. And while Asik did not record a block, he clearly altered several shots. This physical, slow-paced affair suits Asik, and he thrived on it Wednesday night. Him and Davis actually dominated the inside against a top-tier frontcourt, rewarding Alvin Gentry for the minutes increase.
Omer Asik vs Phoenix Suns
Asik continued his solid play in the overtime loss the Phoenix Suns. His minutes would decrease from the 35 minutes he played against the Grizzlies to only 24:56, a number that will likely be his average for the season.
What is an encouraging sign for the Pelicans is that in that short span, Asik was able to grab 11 rebounds. That was good for a 22.7 TRB % per Basketball-Reference, which is an incredibly efficient rate. What is probably most important is that Asik finished with a 97 DRtg (points allowed per 100 possessions).
This Suns game was the perfect showcase for what Asik brings to the table, a rebounding grinder whose large frame can clog up the paint.
Synopsis
I chose to highlight Omer Asik this week not because he put up amazing raw numbers or played out of his mind, but because he showed he can play a role . This is evidenced by the fact that Omer Asik is posting a team-leading 89.6 defensive rating, and is so far the only Pelican to have a positive net rating.
This performance is also important because it showcases that his lack of offense is not negating his efforts on defense. Asik's play as of late has afforded him more minutes, and certainly should have solidified his place in the rotation over Alexis Ajinca.
The declarations of Omer Asik's demise may have been premature. His ability to defend the rim and corral rebounds is still there. And as of now, Asik is rebounding and protecting the paint at a rate that is making him the Pelicans' best interior defender.
Final Thoughts
Take Omer Asik's fine play for what it is. He is still a matchup-based center that should top out at around 20-25 minutes. His minutes can and will fluctuate based on those matchups, but there are many positives to take away from his play so far this season.
For one, the things that he is thriving at (defense and rebounding)  are certainly sustainable. As frustrating as it is to watch Omer on offense, his defense and rebounding have always been his calling card. This means that it is not foolish to think that Asik could keep up his play.
It is also important to remember that Asik was battling an injury all year long last year. That injury clearly affected his play, but this year he appears to be healthy and so far its making a difference.  Before the season I wrote how this season would be a crossroads for his career. At least early on, it's encouraging to see Asik get back to his roots.
More from Pelican Debrief
This article originally appeared on