New Orleans Pelicans Player of the Week: Anthony Davis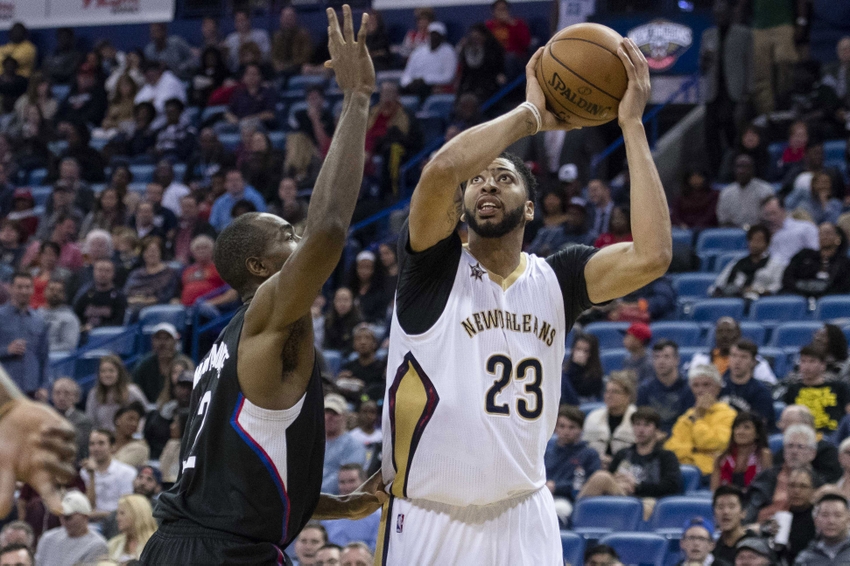 Each week, Pelican Debrief veteran Charles LaRocca (@CLaRoccaJr) will choose one player to highlight as New Orleans Pelicans Player of the Week. We'd love to hear your feedback, in the comments or on his Twitter timeline.
This week, we focus on the Big Kahuna himself, the superstar forward around whom everything Pelicans swirls: Anthony Davis.
The New Orleans Pelicans season continues to be a roller coaster ride. It has been filled with brief highs and glimpses of optimism, only to be followed by disappointing lows.
More from Pelican Debrief
Losers of their last three and having dropped five out of the last six games, New Orleans looks a lot like the team we saw at the beginning of the season. Their four-game winning streak seems more like an aberration rather than what should be expected. This Pelicans team is mired in inconsistency, and has done little to indicate that a playoff run is in the cards. However, even more concerning along the way has been the long-term health  of superstar Anthony Davis. Davis has been a workhorse for this Pelicans team, logging insane minute numbers that would make even Tom Thibodeau cringe.
This Player of the Week feature will be a bit different than normal. Lets face it, if it actually boiled down to who the Pelicans best player was, it would be Anthony Davis every single week. That's no fun though; we all know Anthony Davis is supernatural. There will some day be a longer column focusing on his greatness down the line, but for this week, we'll focus on one interesting trend.
Anthony Davis leads the NBA in minutes per game this season (38.0). His usage percentage of 34.2 is good for 4th in the NBA and is by far a career high for him. It is obvious from this past week that these large minutes are beginning to take a toll on Anthony Davis.
Davis left the Clippers game last week after injuring his shoulder in the first quarter. He then returned late in the 2nd quarter and finished the rest of the game.
The next game was against the Oklahoma City Thunder. Coming off of two days' rest, Davis would log 43 minutes and produce his usual breathtaking stat-line. And par for the course this season, Davis did not get enough support and the Pelicans lost. However, it was the news after the game that was even more concerning.
It was reported by ESPN that Davis underwent X-Rays on his foot. Davis denied the claims, but found himself on the injury report and watching the game it was clear he was dealing with some sort of ailment.
There's this
Very little effort from Anthony Davis on the defensive end coming off that right foot sprain. He's currently a -15, worst of the game so far

— Justin Verrier (@JustinVerrier) December 6, 2016
and this…
Anthony Davis noticably limping and now grabbing at his right foot after Andrew Harrison bumped into him and sent him to the ground

— Justin Verrier (@JustinVerrier) December 6, 2016
That is two straight games where Davis ended up getting hurt in some form. For a player that already has a massive injury history, it's a real concern that needs addressing. New Orleans has to find ways to get Davis rest throughout the game. The fatigue is wearing down his body and affecting his on-court performance.
Don't get me wrong, Davis has been phenomenal; otherworldly even. However, his efficiency has plummeted in clutch situations.A clutch situation is described as a 5 point game with 5 minutest to go. Davis, a 50 percent shooter on the season, sees his field goal percentage drop to 31 percent in clutch situations.  For 4th quarters as a whole, Davis is only shooting 42 percent from the field. The lack of 4th quarter efficiency is not only due to the heavy usage, but it's undoubtedly playing a part.
Its sort of a "Catch 22" for the Pelicans: Resting Davis more could help preserve him, but do the Pelicans have the depth to rest him? Is it worth risking your franchise player's health in a season that looks destined for the lottery? As the Pelicans fall further out of the playoff race, they should definitely consider easing the heavy load off of Anthony Davis's back. This team was not destined to be more than a low-seed playoff team, and thats not worth risking the long-term health of your superstar player.
This article originally appeared on