New Orleans Pelicans Need More Time With This Roster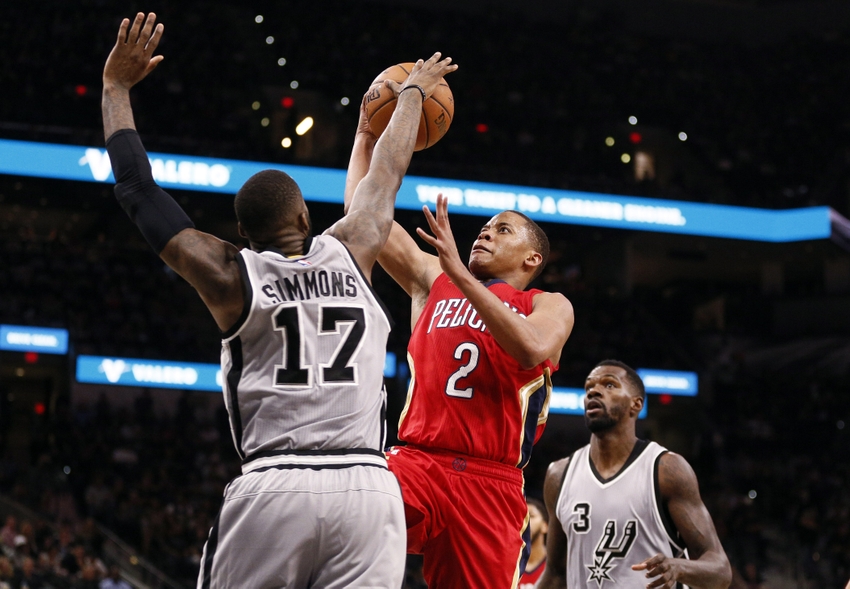 With several new players on the roster and their second-best player away from the team, the New Orleans Pelicans need more time to gel and figure it out before Jrue Holiday's return.
Another regular season, another slow start for the New Orleans Pelicans .
After a 1-11 start to last season, the Pelicans have jumped out to a 0-3 start, prompting many to question, well, everything. Should Anthony Davis demand a trade? Was Solomon Hill a bad free agent signing? Should the Pelicans fire Dell Demps and Alvin Gentry now and get it over with?
All these sentiments were vaguely mentioned on social media after their loss to the San Antonio Spurs on Saturday.
It's fair to ask. The Pelicans have missed the playoffs in six of the last seven seasons and their one playoff appearance saw them swept at the hands of the Golden State Warriors. After that season, there was an expectation of the Pelicans climbing up the Western Conference ranks.
However, injuries to the highest magnitude resulted in another season at the lottery dais in Secaucus.
New Orleans was never going to be this juggernaut in the Western Conference this year. They were slotted more with teams like Minnesota, Memphis and Dallas – teams vying for that final playoff spot in the conference.
While a 0-3 start doesn't help matters, I still envision New Orleans in that race.
The Pelicans are still attempting to incorporate several players into their system. After Anthony Davis, their next four leaders in minutes per game are Tim Frazier, Lance Stephenson, E'Twaun Moore and Solomon Hill.
The last three are new members to the Pelicans organization, while Fraizer played just 16 games with the Pelicans last season — none of them with Davis on the floor. It's a process.
I'm also slightly higher on the team's defensive potential. For the lack of offensive success, this is clearly a better defensive team. Hill is struggling on the offensive end but has provided value as a defender.
I'm a fan of players that want to be accountable on defense and bring the best out of his teammates. The perimeter defense has also improved, thanks to Moore and Langston Galloway.
As opposed to the last two seasons, the Pelicans just look like a better, smarter team on defense and when the offensive comes around, that defensive effort will only be magnified as they start to win games. That, and when they start to use Hill at power forward and Davis at center.
That's the team's best 4-5 combination on both sides of the ball.
Along with the unfamiliarity and defense, the Pelicans are once again missing some key players from their roster.
Personally, I consider Quincy Pondexter and Tyreke Evans "house money" at this point. Knee injuries could easily zap the effectiveness of a player, especially one like Evans. However, a returning Evans, even for 20 minutes off the bench, could help bolster the team's second unit.
I've never been a big fan of his game, but he can provide a scoring option off the dribble that the team lacks. He's slated to return at the end of November. 
As for Pondexter, he's slated for a return closer to January, but adding another potential 3-and-D character to your bench is a plus.
Like Evans, there's a chance he won't be the same player he was before, but if you can get even 12 minutes a game of Pondexter and his ability to space the floor and defend wings, that's a plus.
The key player in all of this is Jrue Holiday. Last season, Holiday was the 13th best point guard in ESPN's real plus-minus. Holiday is a two-way player who can get his shot, get teammates shots and stifle opposing wing players.
Sliding Holiday into the starting role and moving Frazier into a bench role creates solid — and optimal — playmaking in both units.
Between the new players on the roster and the players missing, I still feel like New Orleans has a way to go before rebounding here. However, the story remains the same since the beginning of the Anthony Davis era.
If New Orleans could just get the pieces all healthy at the same time, I think they could be something.
The Pelicans have work to do, that's for sure. They're submerged underneath the pressure of giving Anthony Davis a team he could win with. After looking like one of the five best players in the league over his first three games, it's safe to say that Davis deserves just that.
This article originally appeared on