New Orleans Pelicans: Mickey Loomis' dual roles and throwing cautionary leadership to the wind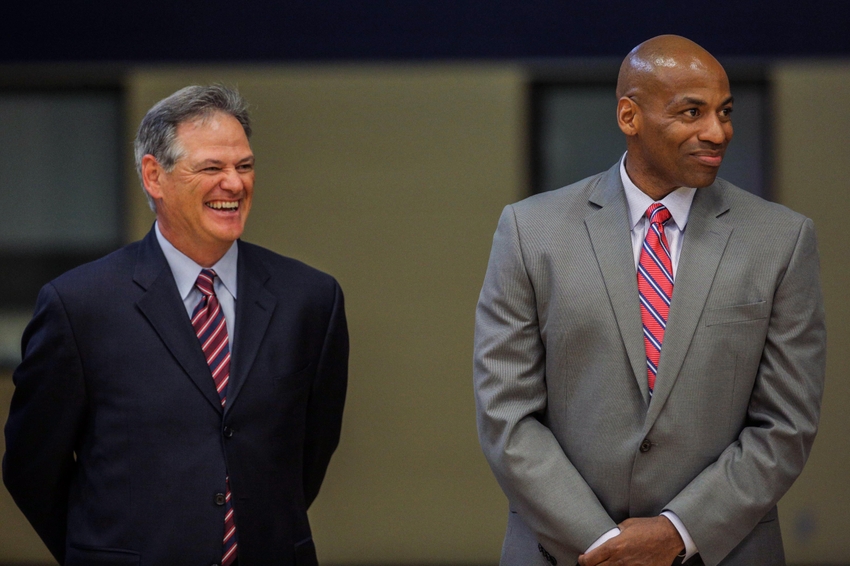 We take a long look at the New Orleans Pelicans under the leadership of Mickey Loomis and Tom Benson. Hint: We do not like what we see.
I'm here today to discuss New Orleans Pelicans Head of Basketball Operations (and, as you may have heard, New Orleans Saints General Manager) Mickey Loomis. But first, a break for Seinfeld:
To summarize the above clip, George, who works for the New York Yankees, gets an unofficial job offer for a better position with the New York Mets. The catch is that George must be terminated from his current contract to be eligible for the job offer. In typical George fashion, he goes out of his way to purposefully get himself fired, only to keep his job after each incident, ultimately losing the Mets position to his supervisor at the Yankees.
In the context of Seinfeld, the storyline underscores the fact that George is such a loser that he even fails at failing. In the context of the New Orleans Pelicans (and Saints, for that matter), it highlights the dangers of making a high-level executive "unfireable".
Which is where Loomis finds himself in his position with the New Orleans Pelicans. With owner Tom Benson halfway through his 89th year and a courtroom battle over his heirship, Loomis has stepped into acting owner for both franchises. This is an unprecedented position for a sports franchise. Loomis has the final authority of an owner, without having to pony up his own money to enact his decisions.
It also leads to situations like the salary cap hell the Saints are currently enduring. With tens of millions earmarked for players not on the roster and tens of millions more going to an almost-40 (but admittedly still awesome) Drew Brees, Loomis' approach doesn't exactly indicate he uses money wisely to plan for the future.
But this is not a Saints blog, and we are here to focus on Loomis' management of the Pelicans. Here, the lines between Loomis and General Manager Dell Demps (not to mention "special advisor" Danny Ferry) are blurry at best. Some media reports indicate that Loomis is really running the Pelicans and taking a win-now approach on the aging Benson's behalf. Others report Loomis is counting down the days until he can replace Demps with Joe Dumars because Dumars is from New Orleans, and it seems most journalists stopped doing research once they discovered that fact.
Whether or not this is little more than blog and Twitter conjecture shrouded in a veil of "sources say", is unknown. What is known is that Loomis does have the authority to fire Demps but hasn't, despite Demps not having a clear vision for the team. Loomis also gave former Pelicans head coach Monty Williams a "playoffs or bust" ultimatum, but then fired Williams anyway after the team finally made it  in before getting swept by the soon-to-be-champion Golden State Warriors (that Game 3 fourth quarter collapse by Williams is still pretty unforgivable; you know the one).
Many people still trust Loomis more than half a decade after putting together a Super Bowl Champion Saints team. The philosophy from that team is still evident on the Pelicans today: Build around a superstar with motivated, under-the-radar cast offs from other teams.
While that philosophy looks good on paper, it also shows a fundamental misunderstanding of the differences between the two sports. Brees can make virtually any receiver look like a Pro-Bowler, but Davis can't help it if he kicks the ball out to a wide-open Solomon Hill only to watch helplessly as Hill bricks shot after shot. The disparity between your team's best and worst players is far more pronounced when there are five players participating in each play instead of eleven. 
More from Pelican Debrief
This of course begs the question that if Benson has deemed Loomis "unfireable", is Benson the right owner for this team? After years of watching George Shinn's "leadership" and then NBA ownership, many New Orleanians celebrated the news of Benson purchasing the team. There was reason for optimism: the Saints were still shining in a post-Super Bowl glow, and Benson's ownership ensured the team would stay in New Orleans long-term.
But fans have short memories. That 2010 Saints Super Bowl victory erased the decades of mismanagement that preceded it. It erased all the times Benson refused to spend big on quality pieces as he Benson Boogie'd the team to mediocrity (kids, Google "Benson Boogie". I apologize in advance). And it all but wiped out Benson publicly exploring moving the Saints to San Antonio in the months following Hurricane Katrina.
Yes, Mr. Benson has the right to run his companies as he sees fit, but considering abandoning the community that bankrolled your fortune when they most need help is just plain wrong.
After several years of failing to live up to expectations, it is fair to question the merits of an ownership/executive team whose primary achievement thus far is "fell ass-backwards into Anthony Davis." But maybe we're wrong. The Pelicans are playing much better recently, and are beginning to look like a squad that may legitimately be one piece away from contending.
Gayle Benson (Tom's wife and heir-apparent) may have a different philosophy. Maybe she will tighten Loomis' leash. Maybe Loomis will make better decisions once he is reacquainted with a realistic fear of unemployment. Maybe that cold pit at the bottom of his stomach will force him to put together a top-notch front office for the Pelicans, one who will make smarter personnel decisions.
Or maybe it will all work out about as well as George Costanza's best-laid plans.
This article originally appeared on