New Orleans Pelicans lose to Indiana Pacers on MLK Day: Four Takeaways
Brendon Kleen/FanSided via Pelican Debrief

Fansided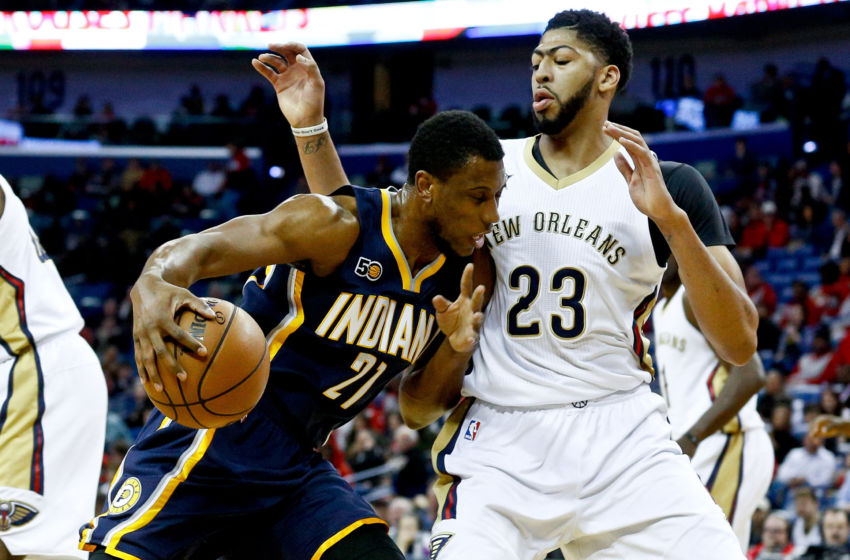 The New Orleans Pelicans lost on Monday night to the Indiana Pacers to fall to 16-26. Here are the four most important takeaways from the game.
Losses are common at this point; just keep trucking. In a Western Conference with a weak bottom half, the New Orleans Pelicans are right in the middle of things, and still within shouting distance of a .500 record. Besides, tonight wasn't all bad.
1. The Pelicans made their first-half 3-pointers!
I talk often on the site about how sometimes NBA regular season games can be as simple as overcoming trends or capitalizing on opportunity. Generally, I'm referring to things like health or playing style– areas the Pelicans have historically (at least in this era) been at a disadvantage. However, during this particular season, perhaps their greatest disadvantage has been shooting.
The Pelicans are not a great shooting team (19th in the league in 3-point percentage), so it came as a shock when they used those shots to get themselves back in this game after going down 15 in the first quarter. Langston Galloway and Dante Cunningham combined to electrocute the weak-side corner in the second quarter, and the Pacers' lead leaked to nothingness.
The success that the end-of-half unit found was even enough for Alvin Gentry to let them ride out the quarter; Tim Frazier running the pick-and-roll with Anthony Davis with shooters (Cunningham, Galloway, and E'Twaun Moore) ready for a ping their way when it opened up.
Also: Galloway currently earning end of half minutes over Hield. Buddy sitting at 8:30 of playing time heading into the half.

— Brendon Kleen (@BrendonKleen14) January 16, 2017
When you make wacky shots in the face of 7-foot defenders, you get to play more. That's been the case particularly for Galloway this season, and so it's not necessarily a surprise that his hot shooting was the primary catalyst for the comeback.
What is surprising is that an offense that has fallen to 27th in efficiency managed to make things close again at all; the Pelicans are not built to overcome deep holes. Credit Gentry for tinkering with lineups until he found one that worked, and stuck with it. Bonus for the way it allowed most of the starters to rest on the last game of a 10-day road trip.

2. The Pacers' bigs are no test for Anthony Davis
Davis was 6-9 for 14 points in the first half, and though the shooting and lineup changes were a big boost for the offense in the second quarter, most important (as always) was Davis's play. He was tremendous on both ends after checking in around the 7:00 mark.
He blocked Paul George at the rim in transition to put an exclamation mark on his return to the game before taking over the game on offense. It was the sort of stretch we've grown accustomed to from him this year: He decides the game is going some way he's not too fond of, and bends it to his will through lots of face-up mid-rangers. Myles Turner and Thaddeus Young were no help.
There is simply no player in the NBA capable of stopping Davis when he gets in this zone. He is in the 66.7th percentile of isolation scorers in the league, ahead of players like Carmelo Anthony, Paul George, and LeBron James. His 3.0 points per game in such situations rank in the league's upper echelon as well. Those clandestine numbers are a primary reason for the Pelicans ability to stay in games despite a lack of offensive synchronicity.
Davis is full of clever (and effective) new tricks to trip up opposing defenders. Most of them were on display tonight: Taking the ball coast-to-coast after a rebound, driving from the top of the key with the shot clock emptying, passing out of isolation situations. I shouldn't have been so scared that Turner would pose a new threat and take Davis out of rhythm.
In the second half on Monday, the Pacers became the latest team to be victimized by the 2016-17 Anthony Davis Show, and it was wonderful to watch. Then, he got fouled on a dunk attempt in the third, and the temperature of the game flipped.

3. Davis goes down, the world does not end.
The city of New Orleans collectively drew into its shell at around 4:00 p.m. local time, when a Myles Turner foul forced Anthony Davis to the ground following a dunk attempt:
Eek. Just after missing last week's Nets game with a hip injury, Davis suffers this nasty spill, and misses the rest of the game. The severity of the injury is unclear, for now. However, the Pelicans actually made do without him!
The bench trio of Moore, Evans, and Jones combined for 42 points overall in this game, shooting 16-36 to buoy an inconsistent offense. The Pelicans needed these performances on a night where the starting guards struggled with turnovers and Gentry seemed intent to rest them, regardless.
The Pelicans had this one in hand after the third quarter, when their offense started to get its groove and the defense locked down. Paul George barely tallied more points than shots, and no one really stepped up in his stead. In the end, it was a battle of making shots, and the Pelicans made fewer, as is often the case.
A mid-range jumper by Jrue Holiday, a floater by E'Twaun Moore, a 3-point heave by Tyreke Evans– all dry. We need to stop blaming talent, too. Those three players are fine offensive weapons, all capable of making a shot from their given spots. Tonight, they didn't, and the Pelicans lost for it.

4. Too many guys is a good problem to have
One of the most interesting pieces of Pelicans content to be put out this week (outside of everything here at Pelican Debrief, of course!) was written by The Step Back's Senthil Natarajan, and it focuses specifically on the team's offense:
There seems to be an answer on the horizon, and Alvin Gentry understands it: the bench is regressing positively. Early in the year, players like E'Twaun Moore and Terrence Jones were forced to the bench despite occasionally nice play based on their inconsistency and failure to live up to career norms.
During the road trip, the bench has blown up. Tonight's dominance by Moore, Evans, and Jones is one of the clearest examples, made more interesting by Gentry's decision to run Holiday out for only 26 minutes and Hield for a mere 15. Even Langston Galloway, fiery out of the gate, got in a decent chunk of time, notching 24 minutes.
Now that the team has fully succumbed to a small, defensive identity, Gentry has become more confident and successful mixing and matching players. A different unit seems to come alive each night; tonight, the Evans-Galloway-Moore-Hill-Davis unit that closed the second half had the hot hand. On other nights, Gentry can play his best groups together to maximize their efficiency and balance.
Despite two consecutive losses, this is a great problem to have, and with a miserable Western Conference, there's still time to figure things out. Stay tuned.
More from Pelican Debrief
This article originally appeared on