New Orleans Pelicans: Jrue Holiday's Return Offers Hope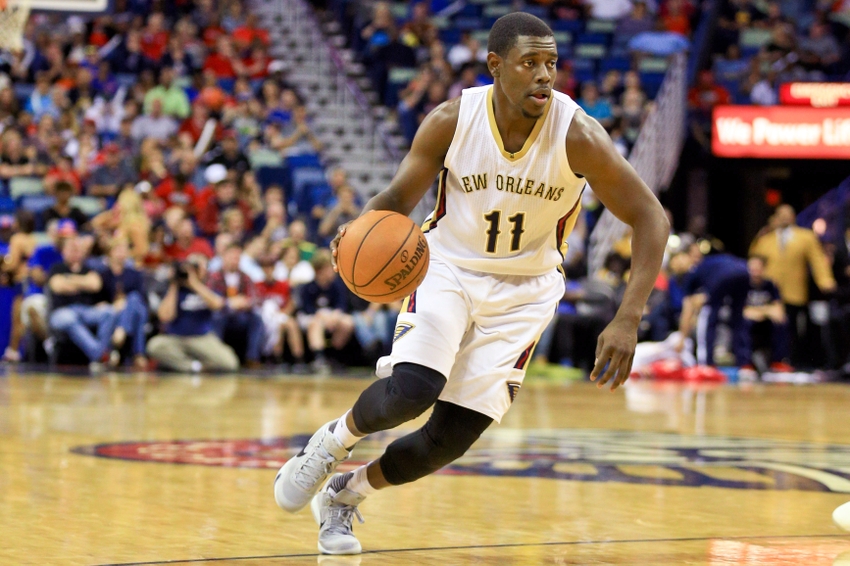 The New Orleans Pelicans have gotten off to a rough start, but the news of starting point guard Jrue Holiday's return provides hope.
The New Orleans Pelicans earned their first win of the season last night against the Milwaukee Bucks, 112-106.
As usual, Anthony Davis led the way with 32 points on 12-of-25 shooting, eight rebounds and four blocks. You can look at each one of the Pelicans' nine games and the same thing remains true: Davis leads in the majority of statistical categories and the man behind him isn't close.
The rumblings of what Davis will do in the near future have already begun. With virtually no talent surrounding him as of this moment, he seems to be wasting away what could be a spectacular career and missing out on postseason success.
Luckily for him, good news was reported by The Vertical's Adrian Wojnarowski on Friday that point guard Jrue Holiday is expected to return next week.
Jrue Holiday's return to the Pelicans is imminent, league sources tell @TheVertical. He's planning to make his season debut next week.

— Adrian Wojnarowski (@WojVerticalNBA) November 11, 2016
Holiday had been caring for his wife Lauren and his newborn child after she had brain surgery to remove a tumor in late October. The surgery was a success, but Holiday wanted to be by his wife's side during the recovery process.
There's plenty of good in this report. It indicates that Lauren is doing well, Jrue can finally make his 2016-17 season debut, and the Pelicans get their floor general back that they so desperately needed.
Live Feed

new orleans pelicans
Holiday is a huge piece to the puzzle for New Orleans along with Davis. Last season, he averaged 16.8 points and six assists per game. Thus far, Tim Frazier has been filling in as the starting point guard and while he's put together a solid season for himself, averaging 12.3 points and 7.9 assists per game, there's no question that Holiday gives them a much better chance to win on a nightly basis.
The Pelicans' starting lineup averages 67.2 points per game, which ranks 18th in the league. Davis is responsible for 31 of those points per game, or 46.1 percent. Davis is a unique talent and there's no denying that, but to expect a player to continue that level of production throughout the course of an 82-game season is unrealistic to say the least.
It's usually not the case when a team is sitting at the bottom of the league standings to claim that they still have hope, but in this particular case, the Pelicans do. Holiday's presence on the floor will bring a sense of calmness. Not only will he take a major portion of the workload off of Davis, but he can also be the spark plug to help rookie sharpshooter Buddy Hield get going.
After leading the country in three-point shooting his senior season at Oklahoma, Hield has gotten off to a rough start shooting an abysmal 23.5 percent from deep. Holiday is a seven-year veteran who understands how to make those around him better. With him on the floor, it'll take some pressure off of Hield and will result in a few open looks that Hield can gain some confidence on.
It's a long shot to say that the return of Holiday will help the Pelicans get into the playoff race. However, there is plenty of time left to start making steps towards doing so. Tyreke Evans is projected to make his return from nursing a knee injury sometime in late November to mid- December.
It isn't time to throw in the white towel on this team. It's imperative that we wait to see how they function when all of their weapons are back in the lineup. It could be a lot worse for a 1-8 team, but New Orleans continues to gain hope.
This article originally appeared on