New Orleans Pelicans: Jrue Holiday's Return Comes Just In Time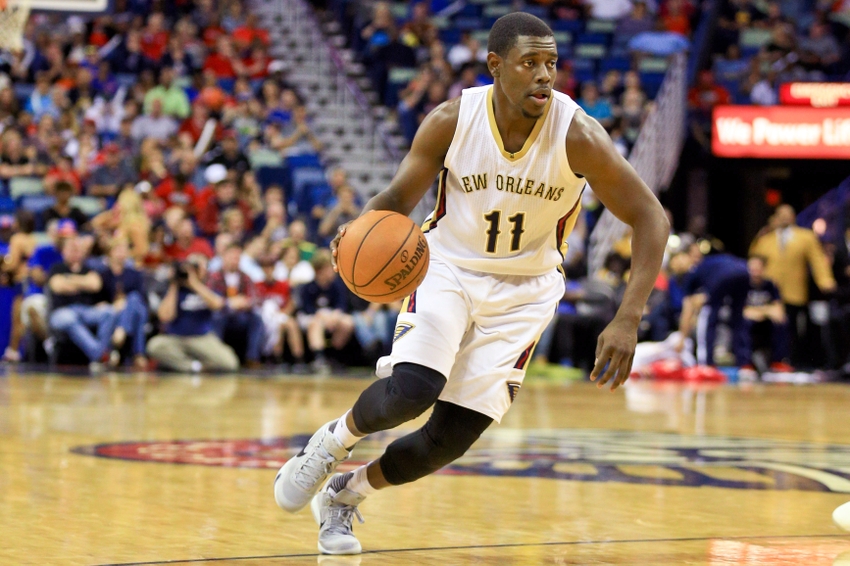 The return of Jrue Holiday to the New Orleans Pelicans comes right in time, as the team looks to turn it around after a slow start.
The New Orleans Pelicans have been a mess recently. Anthony Davis has been unstoppable to start the season, but it's not enough.  
After Davis, it's been E'Twaun Moore and Tim Frazier as the team's best scorers. Buddy Hield is shooting just 38 percent from the floor and he's not alone, with guys like Solomon Hill and Langston Galloway shooting less than 40 percent.
To make matters worse, the injury bug popped up again when Lance Stephenson, a late roster addition, got injured and was waived for former Suns guard Archie Goodwin. Goodwin has already been replaced by Anthony Brown — another combo guard/forward to help their depth issues.
Tyreke Evans and Quincy Pondexter are still out dealing with injuries, with Evans being the closest to return. 
But it was a return of another guard that helped New Orleans change its fortune and contributed to the team's first win streak of the season. 
Jrue Holiday returned to the Pelicans lineup on Friday, playing point guard and giving the Pelicans another solid player around Davis. In his first three games back with the team, Holiday is averaging 19.3 points and 6.7 assists and the Pelicans are 3-0 since his return.
We've seen a bit of everything the Pelicans needed from Jrue — good scoring, additional playmaking and another sturdy defender on the perimeter.
The return of Holiday brings back New Orleans' best backcourt player and the Robin to Anthony Davis' Batman. Last season, Holiday averaged 16.8 points, 6.0 rebounds and 1.4 steals per game.
On a minutes restriction, Holiday provided the Pelicans a stable two-way player, something they lacked over the last few seasons. On a team without creators, Holiday's playmaking gives New Orleans solid creation on both units, moving Frazier back into the backup slot.
That last point is important. In the midst of New Orleans' spending spree this offseason, the Pelicans fixated on one thing: defense. As a result, they signed several players who offered an improved defensive tactic but lacked skill on the offensive end.
Hill, Galloway, and Moore all providing solid defense, but all three could be better offensive players when created for. 
2015-16 Data (via Basketball Reference.com)
Player
USG%
% AST'd
Solomon Hill
13.2%
62.4%
Langston Galloway
15.6%
59.3%
Terrance Jones
19.3%
74.7%
E'Twaun Moore
15.9%
55.6%
And then there's the defense. New Orleans' improvement on the defensive end has gone under the radar because of their slow start. After six seasons ranking in the bottom half of the league, the New Orleans Pelicans are 15th (and consider that they played the Warriors twice).
The Pelicans have the pieces on the perimeter to bother and pester teams and the combination of Hill and Davis should be a nice 4-5 combination.
Now, add Holiday into the mix. At 6-foot-4 with a 6-foot-9 wingspan, Holiday can dabble and defend both guard positions.
He'll battle and contest with some of the bigger point guards and was even asked to handle some of the smaller shooting guards -= J.J. Redick, C.J. McCollum among them — with no problem.
Though his Defensive Real Plus-Minus was only 0.94 last season, Holiday was a steady defender on the floor on a roster without many. Now, the Pelicans have several players who can not only defend, but defend several positions on the floor.
Hill should be spending time at both forward spots, while Moore and Galloway have experience defending both guard spots. For the solidifying Holiday does on the offensive end, it's the defensive end that provides the most intrigue.
Some already view New Orleans as done, but the return of Holiday has created a jolt to the roster.
The upcoming schedule isn't easy, but the combination of Holiday and Davis, plus several role players who can benefit from another playmaker, the Pelicans could take a step forward and get back into the thick of the Western Conference.
This article originally appeared on