New Orleans Pelicans Jrue Holiday Rank Among the Best NBA Point Guards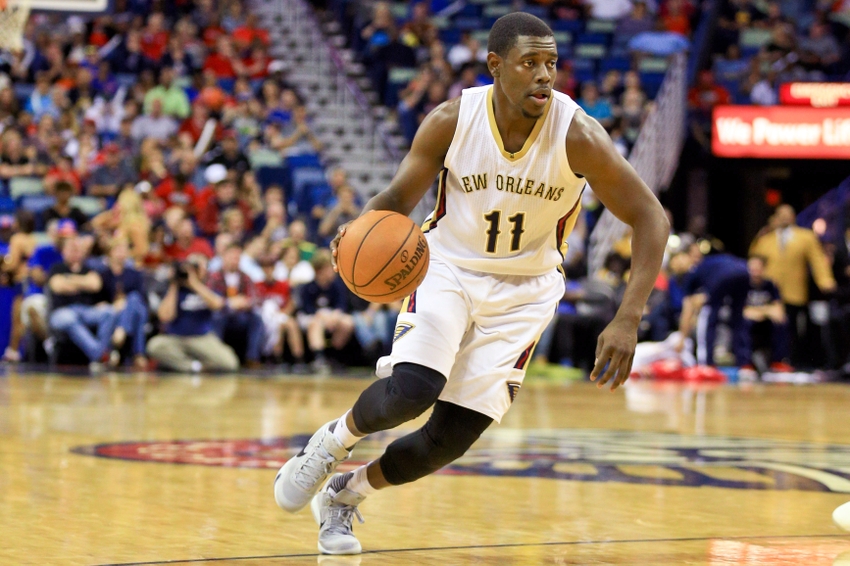 Where does the New Orleans Pelicans second best player in point guard Jrue Holiday rank among the talented list of NBA point guards?
The New Orleans Pelicans desperately miss starting point guard Jrue Holiday.
The Pelicans' team building strategy has been heavily scrutinized, since they drafted Anthony Davis. A question that is commonly proposed is who can New Orleans build around, beside Anthony Davis.
Most Pelicans fans would answer Jrue Holiday as that player. But something this offseason has highlighted is the vast difference in the way Pelicans fans view Jrue Holiday and the way those not following the team view Jrue Holiday.
Every year, there is a number of offseason lists made to rank NBA players. A common theme among these list (besides inciting fan bases) is that Jrue Holiday is frequently bottom tier. For example here is SI's top 100 players list.
Notice that not only does Jrue not make the top 100, 14 other point guards make the list. This is just one example. If you do a simple google search of top point guards, you will seldomly find Holiday in the top tier.
Saying this it is not an attempt to discredit any list. It is simply to uncover why there is such large discrepancy in the way Pelicans fans view Holiday. Most Pelicans fans see Holiday as the long-term option at point guard.  At the moment though, many outside of New Orleans see him as a low end middle tier guard.
HEALTH
Lets get this disclaimer out quickly. Health obviously plays a major factor in the way fans currently view Jrue Holiday. Holiday has not had a healthy season since coming to New Orleans. This has placed a black cloud over his otherwise impressive numbers.
In fact, Holiday ranked 5th in PER last season among guards 25 or younger. That is ahead of players such as Reggie Jackson C.J. McCollum, and Klay Thompson. The difference, however, is that those players are on winning teams and our essential to their teams success.
Holiday has not been afforded the same respect, due to his injuries. When the Pelicans inched into the 8th seed, it was without Holiday for most of the year. That pushed Tyreke Evans to the forefront. After the run, he was seen as the teams number two player.
Last year clearly put that thinking to rest, as Holiday proved superior to Evans in nearly every way. Since the team was losing, no one cared and it went unnoticed. Fair or unfair, that is how it works.
UNDERATED OR OVERRATED? 
Jrue Holdiay is probably one of those players who fall into both categories.
Holiday is superior to guards like Derrick Rose and Rajon Rondo, but that is usually where he finds himself grouped. This is contrary to Pelican fans, who rate him as a top 10 point guard. Fans are also guilty of overvaluing him.
In this chart (which is sorted by tov%) , it lists the players that averaged at least 15 points and five assists per game last season. When initially scoping the list, it does not make Holiday standout much. But when it is taken to account he played the fewest minutes per game on that list, it helps his case.
To average out the minutes, below is three unidentified players per 36 minutes stats.
Player A: 21.4 ppg, 7.7 Apg, 3.8 Rbpg, 3.3 Tpg, 43.9%, 33.6 3p%,
Player B: 24.8 ppg,  6.9 Apg, 3.3 Rbpg, 3.0 Tpg, 42.8%, 35.9 3p%
Player C: 21. 1 ppg, 5.3 Apg , 4.5 Rbpg, 2.1 Tpg, 42.7% 37.1 3p%
Player A is Jrue Holiday, player B is Isaiah Thomas, and player C is Kemba Walker.
All have fairly similar per 36 numbers, yet Jrue Holiday is viewed in a different light. Team success is what it comes down to and because of their team success, they deserve to be viewed more favorably.
The talent argument says Holiday is much closer to a fringe top ten guard than a bottom half starter. Now, how big of a gap is their separating the middle of the pack point guards? The answer is not much. These mid tier point guards are interchangeable by year, but often times Holiday is the forgotten man.
The lack of court time has contributed to Jrue Holiday falling off the radar. But anyone who has followed the Pelicans the last three seasons knows. A healthy Jrue Holiday is very fun and very good. Now it is time for him to remind the rest of the NBA just what he can do.
More from Pelican Debrief
This article originally appeared on