New Orleans Pelicans Grades: Pelicans Dominate Blazers in Jrue's Return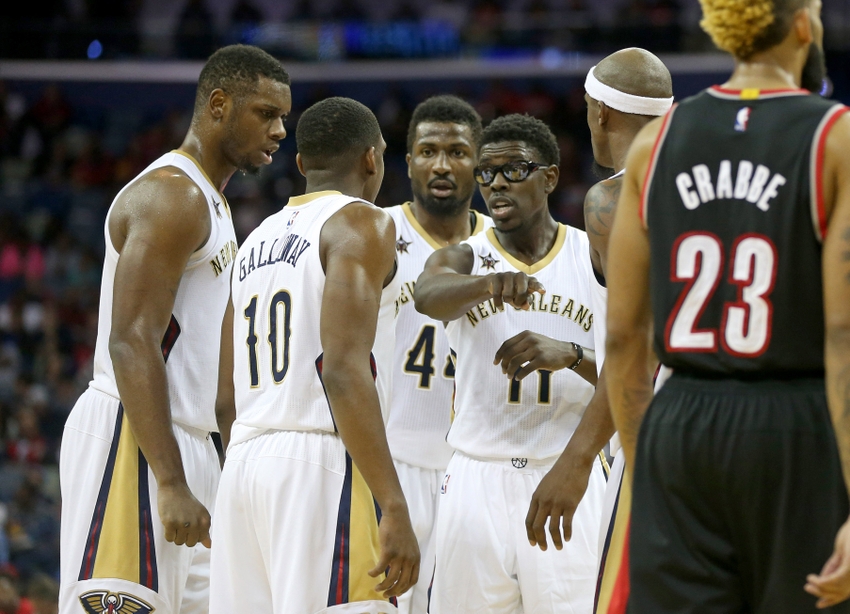 The New Orleans Pelicans were able to finish a convincing win against the Portland Trail-Blazers in Jrue Holiday's return to the team.
Let's save the holiday puns and get straight to it:
Tonight's 113-101 victory over the Blazers proved Jrue Holiday is the Pelican's second best player. Tonight he reminded us of that.
In his season debut, Jrue scored 21 points, dished seven assists and reminded the Pelican faithful why him and Anthony Davis running the pick 'n roll together could end up in an exhibit at the Smithsonian some day.
The Pelicans came out with fire tonight. They had defensive lapses. No question. But, they played hard and they made shots. A recipe for success against a puzzling Blazers squad.
Its tough not to come away optimistic after the way Jrue and AD played tonight, so the grades reflect that.
Don't call it a comeback! Jrue looked fantastic in his season's debut; his long arms on defense (evident by that block on Vonleh's dunk attempt), his ability to effortlessly get into the paint or his grasp of running the pick 'n roll with AD. What I'm trying to say is, we missed you, Jrue.
Moore had a nice all around game. He had the second best +/- on the team. Moore also had an efficient 11 points.
Tonight felt like a Tim Frazier revenge game in the first quarter, but it turned into some out of control moments throughout the rest of the game. With the slow starts this team has had, his tone-setting start deserves to be recognized.
Buddy played a little over 5 minutes and made both shots. What more did you want from the rookie tonight?
Anthony Davis looked to be moving just fine tonight, as he poured in 38 points to go along with nine rebounds and six assists. Despite struggling in the first quarter, he found other ways to impact the game by dishing out five assists. Then, he caught fire and never looked back. I've said it once and I'll say it again; we are blessed.
Dante
Cunningham
SF/PF,
C+
Dante Cunningham had a quiet game from the floor again, as he scored four points and pulled down three rebounds in his 25 minutes of action.
Omer's clumsiness will always hold a special place in my heart. But tonight, I thought he appeared surprisingly adequate when he switched on guards. Overall he continues to play hard and play within himself.
Jones has really started to find his groove here the last three games. Along with his 15 points, Jones also had seven rebounds, two steals and four blocks. His intensity on defense tonight was able to hide some of his mental errors on that side of the court.
Watching Solomon Hill knock down a three that was called off after an offensive foul away from the ball, then hit the side of the window on his next attempt was a microcosm of his season. Even with Dante Cunningham leaving the door open for Hill, he still hasn't proven he deserves it.
Langston
Galloway
SG/PG,
C+
Galloway is a streaky shooter and tonight in his 19 minutes of play, Galloway struggled from the field.
The New Orleans Pelicans will be back in action tomorrow for the second game of a back-to-back, as they host the Charlotte Hornets at home. Tip-off is scheduled for 6:00 PM CST.
More from Pelican Debrief
This article originally appeared on