New Orleans Pelicans Grades: Pelicans Collapse Late Once Again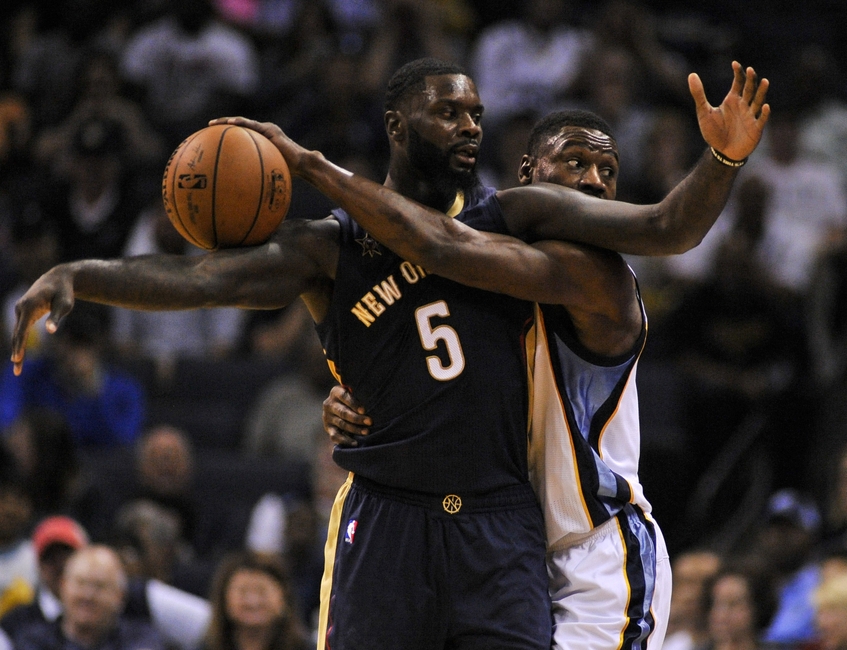 The New Orleans Pelicans had a chance to beat the Memphis Grizzlies, yet poor offensive execution earned them their fifth straight loss of the season.
The New Orleans Pelicans squandered a great chance at the first win of the season, in a 89-83 overtime loss to the Memphis Grizzlies.
It was a tale of two different Pelicans teams tonight. The first and third quarters were a disaster, as New Orleans were outscored 46-24.
The second and fourth quarters became the bright spot, as the Pelicans outscored Memphis 51-29.
The Pelicans had their best quarter of the season tonight, scoring 35 points in the second quarter. However, the overtime became their downfall, giving up 14 points in just five minutes.
It was a painful night for Anthony Davis. Davis scored just 10 points to go with seven rebounds and three blocks. The Grizzlies gameplanned against Davis all night, cutting off his lanes to the basket and physically grinding him all game.
The team was lead by Lance Stephenson, Buddy Hield and Langston Galloway. Stephenson put up 21 points to lead the team. He added six assists and four rebounds to his box score. Galloway and Hield scored 18 points a piece to finish right behind Lance.
Omer Asik was also fantastic, grabbing 11 rebounds and giving Marc Gasol problems all night.
Due to their fantastic performance, the Pelicans bench became the staple of their team tonight. However, when Head Coach Alvin Gentry went with them late and into overtime, the lack of offensive execution and defensive switching became the team's Achilles Heel.
New Orleans is now 0-5 to start the year. As a result, panic is growing more and more with each and every loss.
Tim Frazier had a very poor game tonight. Mike Conley gave him constant problems throughout. His lack of size and Conley's speed with the ball put him in poor defensive positions. On offense, he could not get to the basket with ease versus the Grizzlies size. He was a non-factor on both ends.
E'Twaun Moore looked like a poor man's Tony Allen tonight. Against Tony, he could not find much space on the offensive end. On defense, he played pretty well. However, that's all he could bring to a team that desperately needed some offensive firepower. When having to choose between Moore and an offensive weapon off the bench, Gentry passed on the starting shooting guard. Not a great game overall.
Dante
Cunningham
SF/PF,
D
Dante Cunningham became a liability right out of the gate. Two fouls in five minutes and two misses from deep put the Pels in a hole. He saw the bench right afterwards and never got off. Tough night for someone who looked to have great potential for the season.
Solomon Hill did not have a horrific game, but just like the rest of the starters, his minutes were cut largely due to his minimal offensive capabilities. Hill had some good moments on defense, but they were not enough to keep him on the floor when he was a part of every Pelicans cold spurt.
Anthony Davis has returned to planet earth. Memphis has always given Davis some problems in the past. Tonight was no different. Davis put up just 10 points on 3-13 shooting, with seven rebounds, three blocks and two steals. His five turnovers and five fouls showed his struggles versus a tough frontcourt for the Grizzlies. The Pels had a shot to win before overtime, yet the play set up Davis for a three-pointer. In hindsight, it might not have been the best decision.
Buddy Hield had his first solid NBA game. Hield shot 6-15 from the field and 4-9 from behind the arc for 18 points. His firepower helped the Pelicans claw back from two massive deficits, after the first and third quarters. Was his defense fantastic? No, but it was enough to give problems for the Memphis guards on switches. Hield is getting comfortable in the NBA. This is the kind of game fans want out of him.
Lance
Stephenson
SF/SG,
A-
Lance Stephenson had a game of great plays with some very questionable decision making. While you can hark on him for his late-game decision making, the Pelicans would have had no chance without his offensive explosion. Lance put up 21 points, six assists, four rebounds and four turnovers in the contest. While his play was crazy, he was the only Pelican attacking the Memphis defense inside. The Pelicans have been way too passive on offense this year. They need someone to be aggressive. Even if it's not the most controlled, Lance is a necessity for New Orleans. He gave them a chance at a win tonight. Just not enough.
Omer Asik was the MVP of the Pelicans tonight. Yes, you heard that correctly. His offense was non-existent, but that's not his job. His job is to command the paint and be huge on the defensive glass. He did that to perfection. The Grizzlies shot 35% from the field, greatly due to Omer's interior presence. His 11 rebounds inside help shut down any second chance opportunities for the Grizzlies and got the Pelicans on the break, where they could attack Memphis. It was a fantastic game from him. Hopefully, this will give him some rhythm for the season to come.
Langston
Galloway
PG/SG,
A-
Langston Galloway's offense has come to life! After what's been a horrific start to his New Orleans career, Langston put up 18 points on 6-13 shooting from the floor. His 4-7 shooting from behind the arc forced the Grizzlies defense to the three-point line and open the floor up for others. It's been a tough grind for Galloway on the offensive end. He's been open a lot and has failed to cash in during previous games. Tonight, he delivered. His defense still needs some work, but he handled the switching well until overtime.
Terrence Jones played about as well as can be expected from him. Being matched up with Zach Randolph all game, he had to battle someone bigger and tougher. He still held his own, forcing Z-Bo to shoot 5-18, while Jones shot 3-8. His seven rebounds and two blocks were big on the defensive end. Still, his offensive limitations and struggles to run in transition make it tough for him to see extended minutes. He did thrive with the energy-filled bench unit tonight and helped keep the Pelicans in it.
There has to be a section for the head coach tonight, mostly due to his questionable decisions late in this game. The one decision that became a positive was to roll with the likes of his bench late in the game. It helped New Orleans get the advantage in the final minutes. However, everything else was suspect. When the Pelicans rebounded a Grizzlies miss with 23 seconds left, Gentry did not take a timeout to set up a final play. It backfired greatly. In overtime, he stuck with his bench unit, which had no point guard. Not only did New Orleans collapse on offense, they gave up 14 points in overtime. The defense was not there and Memphis found out how to guard the aggressive bench unit, once overtime came. With the team being 0-5, there will be a lot of people who will probably start to question every decision Gentry makes. However, his decisions may have very well cost the Pelicans this game.
Other Observations:
The Pelicans turned the ball over 21 times tonight, which goes against one of the biggest keys for this team's offense. They have been known as one of the best ball-handling teams so far. Tonight was a different story.
The star of the night for Memphis was JaMychal Green, who put up 21 points and six rebounds. On a team that usually relies heavily on Mike Conley and Marc Gasol, the youngster stole the spotlight.
The New Orleans Pelicans are in a very tough spot early into the season. With an 0-5 start, the panic will fully set in all over the NBA spectrum. While the job security of many involved in New Orleans will be questioned, the team needs to focus on whoever they are playing next and avoid the noise. This is a young team that has players who can develop into key pieces going forward long-term. Their progress in the NBA should not be thrown in the back seat because of drama.
The New Orleans Pelicans will head back home Friday night to play the Phoenix Suns, in search of their first win of the year. Tip is scheduled for 7:00 PM CST.
More from Pelican Debrief
This article originally appeared on