New Orleans Pelicans Grades: Pelicans Bullied in Loss to Kings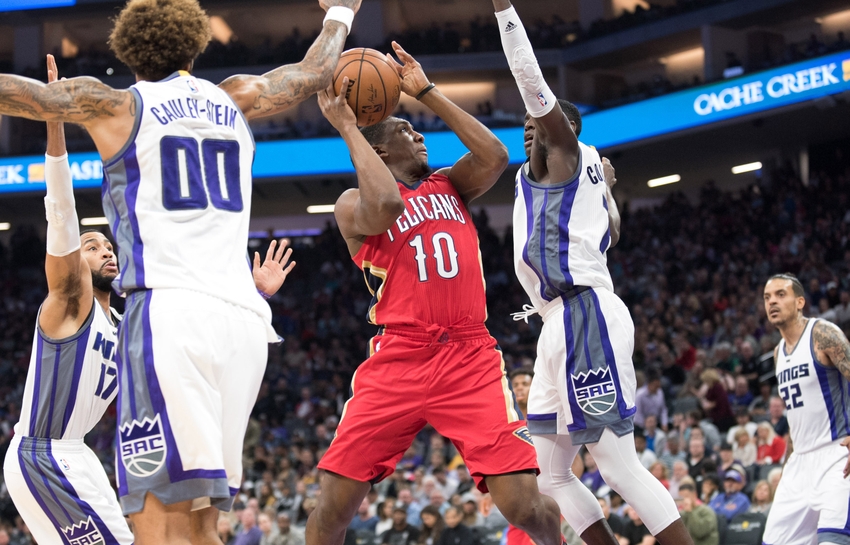 The New Orleans Pelicans could not find their first win of season, as they got bullied by the Sacramento Kings all night.
The New Orleans Pelicans could not fight through an overpowering Sacramento Kings team, as they lost their eighth game in a row to start the season.
Positives are becoming harder to find for a team that can not win a game in the first month of the season. This ties the worst start in franchise history with the 2004-2005 New Orleans Hornets team.
Throughout the game, New Orleans looked bullied inside and out. DeMarcus Cousins got his position in the paint and took full advantage. While Omer Asik has displayed a strong start to the season, tonight became a battle he could not win.
Anthony Davis did all he could once again, with 34 points, eight rebounds and four blocks. However, his supporting cast shot 24-62 from the field to score 60 points in the entire game.
Sacramento held the lead for the entire game. New Orleans kept striking closer and closer, yet could never make up the deficit. It's a telling sign for two teams that were suppose to be very evenly matched.
At the end of the day, the Pelicans were outplayed by a young, rising Kings team.
Tim Frazier did not have a great game. He did have nine assists, yet became a liability on the offensive end when he tried to score. He did make a three and had five rebounds. Still, his three turnovers and chaotic presence all night in a game New Orleans needed to be calm was not a positive.
It was not a completely solid game from Moore, but his perseverance was nice to see. Early in the game, Moore left the floor with an injury to his ankle. He returned to the game and put up 13 points, only one of three Pelicans to do so. His defense was still shaky and he looked to press too hard, but he did what he could on the offensive end.
Solomon Hill is the biggest disappointment for the Pelicans so far. A guy who was given a lot to be the key wing for the Pelicans has not answered the bell on offense. Hill has taken at least seven shots in just three games so far this year, and has made over three field goals in just one. He does not look comfortable in the offense at all. Rudy Gay also did a number on him on the defensive end. Not a good game at all for Hill, which is becoming a worrying theme.
Anthony Davis put up 24 points, eight rebounds, four blocks and two steals. He's been the catalyst for a team that does not have the tools to win games. There's nothing else to say. This man needs a hug.
The Kings are a really tough matchup for Omer Asik to succeed in. Still, the Pelicans needed him desperately tonight and he did not show his best. Asik has been known as a defensive rebounder who anchors the team. Tonight, the Kings went right at him with DeMarcus Cousins and won. Asik got demoralized inside when he tried to score and demoralized by Boogie's comfortable presence on offense.
Terrence Jones had an average game, yet he did not have a great impact tonight. The Kings bigs pushed him around like a rag doll and he could not find the shot to space them out. He did have some defensive highlights, but they were overshadowed.
Dante Cunningham's a fill-in player for a role left voided by an injured player. However, he does not have a personal strength. The Pelicans are asking way too much of him in this offense. His shooting has regressed to the mean with his defense. He can keep the bench units a float, but he doesn't bring much to the overall scheme on his own.
Langston
Galloway
PG/SG,
C-
Langston Galloway is not a point guard. He's a shooter in this offense. He's a hit or miss shooter at that. Tonight was a miss. A 2-9 shooting effort and 0-5 from behind the arc does not cut it for a team that could not keep up with the Kings bully style in the paint.
Give the rookie this, he's trying. Even though he shot 6-16 and made plenty of mistakes, the aggressiveness is nice to see from someone who looked scared to make plays early in this season. With Lance Stephenson gone, someone has to step into that role. It may be ugly, but Hield developing an attacking mentality can be seen as a positive for the future.
Final Observation:
The New Orleans Pelicans are now 0-8. The only other team in the NBA without a win is the Philadelphia 76ers. Looking into the team any deeper than that is difficult. Until they are able to show they can win an NBA game, it's tough to see this team ready to do much of anything but develop. The hope is development will come soon and be the future of this team.
The pursuit of win number one continues Thursday night in Milwaukee against the Bucks. Tip is scheduled for 7:00 PM CST.
More from Pelican Debrief
This article originally appeared on